I would like to profile two small bio-pharmaceutical companies with interesting products and varying success. Discovery Labs (DSCO) is a small company that has managed to gain FDA approval for a novel product, but has had trouble with marketing. Exelixis (NASDAQ:EXEL) has been able to create some really great drugs, and has also formed some important partnerships with "big-pharma."
Discovery Labs
This is a small company (market cap $135M) that is focused on producing something called surfactant. This is a small molecules produced by the body that helps keep the lungs open.
Their cornerstone drug, Surfaxin, was introduced to the market at the end of 2013. Gaining market share has been difficult. There are other surfactants already on the market, and Surfaxin does not have a huge advantage. The company's selling point is that Surfaxin is artificial, whereas the other surfactants are all animal based (pig, bovine).
Their 2013 report outlines the intense competition in this sector. One of the competing products, Curosurf, is produced by an Italian company, Chiesi, which actually has an artificial surfactant currently in trials.
Below is an image of Discovery Labs' product pipeline: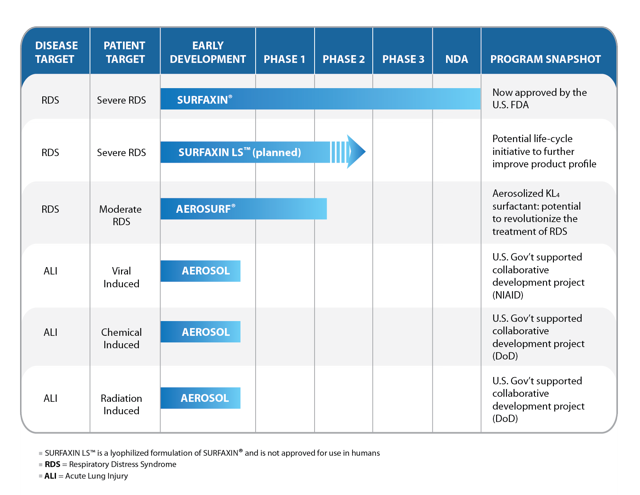 (Source)
They do have another product in the works, currently in Phase 2 trials, Aerosurf. Unlike other surfactants that require intubation (a breathing tube to be put down the patient's throat), this medication can be given as an aerosol -- like an asthma inhaler. They claim this has the potential to revolutionize the treatment of respiratory distress syndrome. I have serious doubts. However, even if aerosurf is wildly successful in trials, the market is very small.
Sales for FY 2013 were $346K, EPS of -0.7. This company has a long way to profitability. Their best chance at staying afloat is a buyout. There was some speculation of a possible acquisition in 2012, but there has been virtually no talk of it since.
They have a good product, but only one, and they are struggling with sales. The marketing ability of a larger pharmaceutical company would go a long way.
I have sold all but a few shares of DSCO from my portfolio.
Exelixis
Like the previous company, Exelixis has just one product approved for just one disease, Cometriq for thyroid cancer. Unlike the previous company, however, Exelixis has five Phase 3 trials underway investigating Cometriq for prostate cancer, kidney cancer, liver cancer. Another product, Cobimetinib, is being developed by Roche (OTCQX:RHHBY) and Genentech in collaboration with Exelixis for the treatment of melanoma that cannot be surgically removed.
Prostate cancer is the most common cancer in men in the United States, as well as the second leading cause of cancer-related deaths. However, there have not been very many new treatment introduced for some time. The mainstay of treatment for localized disease are radiation and surgery. Chemotherapy is used when the cancer has spread beyond the prostate, and can be divided into two main categories (1) castrate sensitive and (2) castrate resistant. Prostate cancer is usually highly sensitive to male hormones, and chemically blocking those hormones is often very effective in stopping or slowing the cancer. The second category refers to prostate cancer that does not respond to blocking these hormonal pathways, and has been the focus on more recent prostate cancer chemotherapy R&D.
Jannsen (NYSE:JNJ) came out with Zytiga for castrate resistant prostate cancer in 2011. This is a very popular medication, however, results are not overly impressive. About 10%-20% of patients on this medication have a reduction in their PSA levels, and the average time the cancer remains stable after starting the drug is only 2.7 months (pubmed). The most recent earning reports from JNJ show worldwide sales for Q2 2014 of $562M vs. $395M during the same period in 2013, a 42.3% increase Y/Y.
Another chemotherapy for castrate resistant prostate cancer is Xtandi from Medivation (NASDAQ:MDVN) released at the end of 2012. It has decent effect on patients who have never been treated with chemotherapy, but as a second line agent it has limited efficacy. It is probably for this reason that they have had trouble with sales. From their 2014 SEC filing: Net sales of XTANDI in the United States for the year ended December 31, 2013, as reported by Astellas, were $392.4 million, an increase of $320.9 million, or 449%, from $71.5 million for prior year.
EXEL's two phase 3 trials (COMET-1, COMET-2) are specifically looking at patients with castration resistant metastatic prostate cancer. These trials are measuring both survival and pain relief.
This market continues to grow, and if we get positive results from COMET-1 or 2 it will be a huge boost to the bottom line at Exelixis. Based on sales of Xtandi and Zytiga, Cometriq could bring in $500M to $1B per year within the first few years of release.
Exelixis understands its limits -- it is a small company with limited resources. They have been very successful in creating partnerships with the Roche, Genentech, Sanofi (NYSE:SNY), Merck (NYSE:MRK) and Brystol-Myers Squib (NYSE:BMY) in developing drugs that are now in varying levels of development (preclinical to phase 3). For a list of collaborations click here.
I recently wrote an article on Gilead (NASDAQ:GILD), and in some ways EXEL seems like a smaller version of it. Strong products, strong marketing and a strong pipeline of relevant drugs.
Summary
These two companies have both had difficult years, and in fact EXEL has done a little worse. However, in the long term I believe EXEL will continue to succeed. They have already gained FDA approval of Cometriq for the treatment of thyroid cancer, and it is likely to be approved for a number of other cancers as well. In the long run, EXEL is a strong pick.
Disclosure: The author is long EXEL. The author wrote this article themselves, and it expresses their own opinions. The author is not receiving compensation for it (other than from Seeking Alpha). The author has no business relationship with any company whose stock is mentioned in this article.