By Brian "Newman" Rayl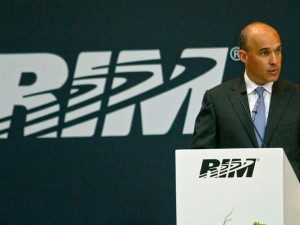 In an interview Tuesday at the Web 2.0 Summit in San Francisco, Jim Balsillie, co-CEO of Research In Motion (NASDAQ:RIMM), maker of the BlackBerry, was interviewed by Federated Media's John Battelle regarding the future of Research In Motion and its products. While the interview highlighted several positive aspects of the company, what was shocking were some of Balsillie's answers, especially when it comes to the intended use of the company's smart phones.
Balsillie said that many smart phones have led to "appification" of the web. He said that you do not need apps to use the web. Balsillie said the approach of the company is not about a specialized set of tools, or appifying the Web. He said the BlackBerry Messenger was one of the rare cases where they have moved forward in the app space by using push protocols for peer-to-peer content, but that was an exception, not the rule. In the end, there is a huge role for apps, but Balsillie basically said that apps on mobile devices is something of a fad.
This will be the downfall of Research In Motion. Perhaps in the business world, apps are more of a fad as companies develop specialized programs and software specifically for their company, but when it comes to the retail consumer, apps are vital. Battelle said that "consumers are tired of getting told by Apple (NASDAQ:AAPL) what to think." In reality, apps do not tell you what to think, they simply allow you to do what you want to do faster and easier. Apps allow you to maintain huge medical databases at the tip of your fingers, check bank accounts and transfer funds in a matter of seconds, perform technical analysis and trade stocks at the touch of a button, and a variety of other functions that consumers not only want, but demand. It makes sense why the Android marketing slogan has been "Yeah, there's an app for that." It is because these apps provide a level of intuition, functionality, and ease of use that a single company could never provide on its own.
While Research In Motion is still ranked number one in overall market share according to ComScore, they have been losing this market share rapidly. September numbers show a drop in market share of 2.8%, another 4.1% drop in August, and yet another 1.8% drop in July. Research In Motion still has a significant edge in market share however, claiming 37.3% of all smart phones out on the streets today with Apple's iPhone coming in a distant second place with 24.3% and Google's (NASDAQ:GOOG) Android platform tailing with 21.4% market share, but at this rate the lead won't last long.
With new phones coming out every week it seems for the Android platform from AT&T (NYSE:T), Verizon (NYSE:VZ), Sprint (NYSE:S), and Deutsche Telekom's (NYSE:DT) T-Mobile, and the rumored Verizon iPhone which is speculated to be out early next year, RIMM's market share will continue to decline. If Research In Motion wants to continue to focus on business clients, then that is certainly their prerogative, but if they want to stay in front of retail consumers, apps need to take a front seat in their business model.
In an ironic turn of events, Balsilli was asked what he thought the future for Nokia (NYSE:NOK) was. Balsillie said that he would not comment on another company, but then said that the core aspect of the question is how well is the company adapting to a world shifting to mobile devices, in essence saying that in order to stay competitive, you have to adjust to the current market. Those are strong words to live by, and perhaps Balsillie needs to take a look in the mirror and ask himself that very same question about his own company.
Disclosure: Long GOOG, AAPL. Taking a new long position in VZ on 11/17.