The Dividend Champions spreadsheet and PDF have been updated through 7/31/14 and are available here. Note that all references to Champions mean companies that have paid higher dividends for at least 25 straight years; Contenders have streaks of 10-24 years; Challengers have streaks of 5-9 years. "CCC" refers to the universe of Champions, Contenders, and Challengers.
Activity Picks Up
The slow pace of dividend-increase announcements in May and June gave way to a slight acceleration in late July, with the number of Dividend Champions, Contenders, and Challengers rising from 543 to 550 companies, a trend that should continue in August. July featured the promotion of the latest Champion, National Retail Properties (NYSE:NNN) and six promotions from Challenger to Contender status. And the Near Challengers listing wasn't diminished by the seven latest "graduations," as the continuing wave of firms headed toward declaring a fifth year of increases in 2015 featured 22 "NEW" notations appearing in Appendix B (on the Notes tab), bringing the number of Near-Challengers to another new record of 273 companies, keeping the CCC universe on pace to top 600 companies by year-end and 700 by mid-2015.
One small cloud on the horizon may be the adverse affect of a strong dollar on foreign firms' payouts (after currency translation). That could translate to a number of Near-Challengers failing to increase their dividends (in US$) this year, or even to the deletion of some existing CCC companies because of the negative translation. But it may be some time before I can be certain of the proper action for each company, since I focus on the actual payment, which can lag the Ex-Dividend Date by as much as two months, during which time the currency exchange continues to fluctuate.
July closed with a big sell-off and the average price of CCC stocks, which $1.06 in June, dropped $2.31 in July, while the new Challengers pushed the average "age" of the dividend streaks from 16.4 down to 16.3 years. The average yield rose from 2.71% to 2.82% and the average of the Most Recent Increases moved from 9.86% down to 9.76%, possibly because of the numerous firms (mainly Master Limited Partnerships) that boost their payouts (by smaller amounts) on a quarterly basis, generally in the first month each quarter.
As always, please use the CCC only as a starting point for more in-depth research. Feel free to leave any suggestions in the Comment area below.
Quick Summary
The Summary tab includes a table comparing the composite numbers from the latest update to those from the previous month and the end of the previous year. Below that is a summary of the latest month's activity, in terms of companies added, deleted, or promoted. That is reflected below:
Quick Summary:

7/31/14

Champions

Contenders

Challengers

Total

No. of Companies

107

236

207

550

Ave. No. of Years

40.1

14.4

6.3

16.3

Average Price

62.95

63.56

58.08

61.38

Average % Yield

2.64

2.76

3.00

2.82

Ave. MR % Increase

8.15

8.22

12.69

9.76

6/30/14

Champions

Contenders

Challengers

Total

No. of Companies

106

231

206

543

Ave. No. of Years

40.2

14.5

6.4

16.4

Average Price

66.14

65.79

60.07

63.69

Average % Yield

2.48

2.64

2.92

2.71

Ave. MR % Increase

8.02

8.64

12.42

9.86

12/31/13

Champions

Contenders

Challengers

Total

No. of Companies

105

210

161

476

Ave. No. of Years

39.8

14.5

7.1

17.6

Average Price

64.42

65.14

57.74

62.48

Average % Yield

2.49

2.60

3.06

2.73

Ave. MR % Increase

8.68

8.78

11.10

9.49

MR = Most Recent

Additions:

Calamos Asset Management Inc. (NASDAQ:CLMS) to Challengers

CBOE Holdings Inc. (NASDAQ:CBOE) to Challengers

Hershey Company (NYSE:HSY) to Challengers

Interface Inc. (NASDAQ:TILE) to Challengers

KLA-Tencor Corp. (NASDAQ:KLAC) to Challengers

Littelfuse Inc. (NASDAQ:LFUS) to Challengers

Marathon Oil Corp. (NYSE:MRO) to Challengers

Deletions:

(None)

Promotions:

Bank of Marin Bancorp (NASDAQ:BMRC) from Challenger to Contender

Crane Company (NYSE:CR) from Challenger to Contender

Duke Energy Corp. (NYSE:DUK) from Challenger to Contender

Landstar System Inc. (NASDAQ:LSTR) from Challenger to Contender

National Retail Properties from Contender to Champion

Ryder System (NYSE:R) from Challenger to Contender

StoneMor Partners LP (NYSE:STON) from Challenger to Contender
(Table from author; may include underlying data from FinViz.com)
Every Picture Tells a Story
As a bonus, I'm inserting one of Chuck Carnevale's F.A.S.T. Graphs below, highlighting one of the companies listed above. When the price line is in the green area, it suggests possible undervaluation.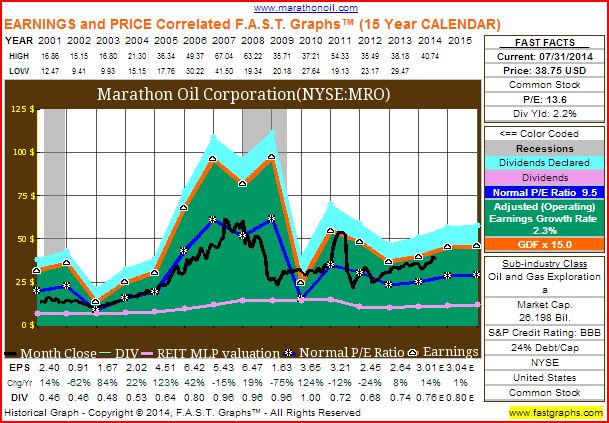 Disclosure: The author has no positions in any stocks mentioned, and no plans to initiate any positions within the next 72 hours. The author wrote this article themselves, and it expresses their own opinions. The author is not receiving compensation for it (other than from Seeking Alpha). The author has no business relationship with any company whose stock is mentioned in this article.