Amazon.com, Inc. (NASDAQ:AMZN) has always been about the long run. While competitors have criticized the e-commerce giant of undercutting prices, it has also been a highly innovative company. Amazon Web Services, Kindle and Prime are all great innovations. But it seems like investors are getting impatient about Amazon as the stock plunged 10% after another quarterly loss and weak guidance.
Is it time for Amazon and Jeff Bezos to seriously consider changing its business model and seek profits actively? Let's look to answer this question by seeing what Amazon has been doing; both right and wrong.
Have shareholders gotten a bad deal?
If you bought Amazon stock a year ago, you would have gotten a 4.14% return on investment. Considering that Amazon pays no dividend, you could have done much better elsewhere. However, it must be said that the stock has been on a roller coaster ride over the past year or so. It did peak at $407.05 per share on January 21, 2014. If you had bought at $300ish and sold at this peak, then you would have made a whopping 25% return.
So there is a value in owning Amazon stock if you play your cards right. And it's all about investing for the long term. Amazon has been on quite the run over a 5-year or 10-year period. From the looks of things, this trend should continue. There doesn't seem to be anything stopping it. Remember that Amazon is a flashy stock, so the old adage of buying low and selling high is important to keep in mind. When there is negative press, the stock tends to drop and this is a good time to buy. It will be time to sell when there is a lot of positive coverage and traders have started buying in sending the stock price up.
Besides, things are still looking good for the e-tailer going forward. According to a Euromonitor study, the North American online retail market is projected to reach $360 billion by 2017. There is a lot of ground to cover for digital commerce since 94% of total retail sales are still generated at brick-and-mortar stores. A risk remains in that shoppers have tended to prefer shopping in physical stores as opposed to online. But when customers have needed an e-commerce solution, Amazon has been able to deliver handsomely.
It has been the customer that has driven Amazon's shareholder value and investors should recognize this fact for what it is.
Amazon versus eBay
Let's get this straight. Amazon and eBay (NASDAQ:EBAY) are really two different companies. eBay does not actually sell any of the products it offers online. It just connects buyers and sellers.
Where Amazon has failed to impress, eBay has succeeded. From 2009 to 2013, Amazon grew its retail revenue by $50 billion, but there was no increase in profits. In the same period, eBay increased its revenue by $7.3 billion. But when it came to profits, eBay added almost a billion dollars to its bottom line.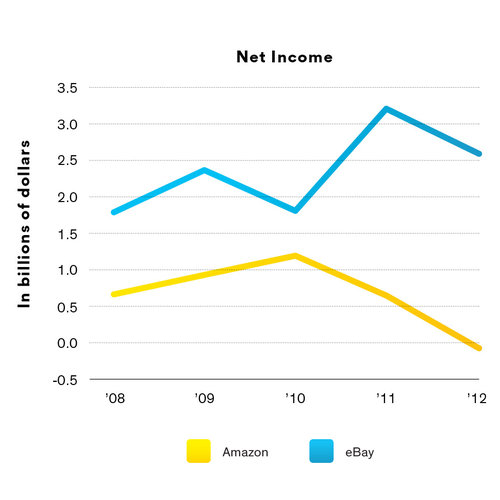 Source: New York Times
eBay might be ahead when it comes to profits, but Amazon is the clear winner when it comes to revenue growth and size. Its distribution centers and ease of use make it hard to beat. So eBay has to resort to a different tactic to level the playing field. PayPal is the jewel that eBay currently boasts with 137 million active users. In 2013, $180 billion was transferred through PayPal spanning 26 currencies and 193 countries. But even here Amazon has answered with its Kindle-based payment system that will enable its 240 million customers to send money to each other and buy stuff in stores.
It appears that mobile payments is where the winner will be decided. It is already tightly contested with names like Apple (NASDAQ:AAPL), Google (NASDAQ:GOOG), Visa (NYSE:V) and MasterCard (NYSE:MA) making plays in addition to eBay and Amazon. For eBay, the downside is that spinning off PayPal into a separate company is what analysts feel would be the most prudent thing to do right now. Investors have agreed with this notion with activist investor Carl Icahn leading the way. PayPal was purchased by eBay for $1.5 billion in 2002 and many considered this an outrageous price. Now PayPal is worth more than $35 billion and analysts opine that its value would increase even more if it were to operate alone sans eBay.
The Alibaba threat
Now let's come to the elephant in the room; the question of Alibaba. Here is a company that has more sales than Amazon and eBay combined. The number is $240 billion. What is more, the Chinese e-commerce market is expected to take off in the coming years. Based on an iResearch study, it is estimated to hit $713 billion by 2017.
Then there is the Alibaba IPO that is expected to take the U.S. by storm. But it isn't going to go perfect by the looks of things. The company should raise at least $20 billion with a valuation of over $200 billion, but it will have issues. For one thing, it will require a large amount of stock to be sold and so there may not be much in terms of stock appreciation. We saw this with Facebook (NASDAQ:FB) and to a lesser extent with Groupon (NASDAQ:GRPN).
Also, expanding to North America is not going to be easy. There are major competitive threats. Moreover, it will be interesting to see if Alibaba manages to keep its dominant position in China. The online direct sales and marketplace JD.com (NASDAQ:JD) is fast approaching Alibaba's popularity after it had a successful IPO.
Another competitor could likely be Tencent (OTCPK:TCEHY) which operates the messaging service WeChat - China's largest online messenger.
Amazon is still very much a feared e-tailer. The company has a strong brand name and amazing customer analytics. There is also the nationwide network of 40-plus huge fulfillment centers that will be tough to compete with even for the likes of Alibaba. Then there is Amazon's mobile app that features a bar-code scanner allowing a customer to compare prices while they are in a store and get that same item shipped to their home.
Conclusion: Buy Amazon on the dips
Hopefully, it seems pretty obvious by now that investors need to watch for pullbacks in Amazon stock and buy in. The drop set off by the July 24 earnings release was one such instance. It is still not too late to purchase some Amazon shares. Anyway, let's look at some raw numbers. They tell a captivating story. Amazon has a forward P/E of 148.25 and trailing P/E of 499.63. This is an astronomical valuation and it seems to be even more so when compared to eBay's forward P/E of 15.64 and negative trailing P/E.
So let's go to the PEG ratio. Here again, Amazon's PEG of 90.03 far exceeds eBay's PEG of 1.41. These figures indicate that Amazon's stock price is overvalued as its growth rate doesn't justify its high P/E.
But it still must be said that Amazon is growing at a tremendous rate. When you take into account the projected explosive growth in e-commerce in coming years, it seems that Amazon still has the edge over eBay.
Mobile is where the battle will be won for Amazon when it comes to its competitors Alibaba and eBay. The Seattle, WA based tech giant has made big investments in mobile technologies through Kindle and the Fire Phone. Time to load up on Amazon shares.
Disclosure: The author is long AMZN. The author wrote this article themselves, and it expresses their own opinions. The author is not receiving compensation for it (other than from Seeking Alpha). The author has no business relationship with any company whose stock is mentioned in this article.