When managing a clients' money, it is just as important for professional investors to be able to avoid potential torpedoes in the market, as it is to discover the next attractive investment opportunity poised to deliver a return home run.
Since ValueExpectations.com spends a sufficient amount of time providing readers with attractive investment opportunities it is now a good time to help our readers identify a few small and large cap stocks that rank poorly according to key AFG criteria, including Economic Margin, Management Quality (MQ) and Valuation Rank. These three variables have proven through back-tests to identify stocks likely to underperform sector peers and benchmarks. The MQ variable is used as an exclusionary variable that eliminates companies doing the wrong things or management teams destroying shareholder wealth. All of the companies included in our list have been flagged as companies following a wealth destroying strategy.
In the table below you will find 12 large cap companies from the S&P 500, as well as 14 small cap companies from the Russell 2000 that look unattractive according to key AFG investment criteria. If you own or are considering adding one of these companies to your client portfolios, you may want to take a closer look into these companies and reconsider whether or not they are worth adding/owning.
When creating our list of unattractive stocks we looked for companies that fit the following criteria.
• Unprofitable from an economic standpoint
• Expected to experience a decline in economic profitability
• Wealth-destroying management teams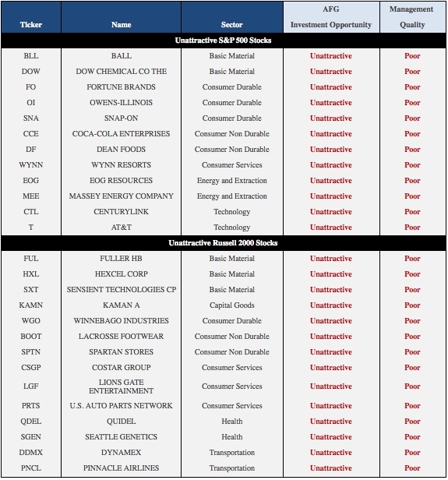 Disclosure: None