Introduction:
The S&P 500 fell a notable 2% on Thursday and closed out Friday even lower. Is this an adjustment? The CAPE Ratio as explored by Robert Shiller would seem to indicate that the market is overvalued. Prior to Thursday the CAPE for the entire S&P 500 was around 26.50 and now it is around 25.50 (still much higher than where the safe zone is considered to be for CAPE).
Should we have considered the CAPE Ratio as the early indication that the market was overvalued?
I have no idea and I won't begin to pretend to know. Why? Because it is unnecessary to know the answer in order to generate strong returns. If the CAPE Ratio can be used to show us where individual pockets of deep value plays exist, then we can purchase shares that are already depressed before a market correction occurs. If one does this, then the stocks stand little chance of going much lower. I do believe that the CAPE Ratio is best used in this manner.
About a year ago I started a site called caperatio.com which was devoted to the exploration of the CAPE Ratio (Cyclically Adjusted P/E Ratio) as a method to find deep value plays within the market. The site was the first to offer the user the ability to find the CAPE Ratio for an individual stock instead of simply finding the CAPE for the entire S&P 500. The usefulness of this approach was based on the assumption that there might be hidden pockets of value on an individual stock basis. These deep value plays would stand in contrast with the possibly overvalued market. By investing in deeply discounted stocks one might see greater gains then the more properly valued or possibly overvalued stocks, and since this is a relatively unused method of determining value one could capitalize on being at the forefront of a new investing approach.
What is the CAPE Ratio?
Chances are that most Seeking Alpha users are already aware of the CAPE Ratio. Furthermore there is a good chance that most readers will already have a strong opinion on the effectiveness of the metric. For those who have not heard of it, and for those whom might need a refresher, here is a brief description of the CAPE Ratio.
The Cyclically Adjusted Price-Earnings ratio also known as the P/E 10 ratio was developed by Dr. Robert Shiller and Dr. John Campbell in a paper written in 1988. Since that time, Dr. Shiller has won the Nobel Prize in Economics for his work (awarded on 10/14/13). The ratio can be traced to the principles of Dodd and Graham who originally suggested utilizing a P/E ratio based on 10 years of earnings as opposed to a single year in order to find suitable stocks for the potential investor based on the value investor paradigm.
Dr. Shiller's twist on the 10 years of earnings was to adjust this component in the denominator by the rate of inflation. The modern day approach to Graham's ratio can therefore be summed up as follows:

For the most part, when the CAPE Ratio is mentioned by the media (see CNBC) it is in tandem with opinions that the market is overvalued. At the moment the CAPE for the entire S&P 500 is over 25.00 which is not a good place to be (read all about it in Shiller's book Irrational Exuberance). However once again, if it is possible to invest in an overvalued market by investing in the few heavily discounted stocks within that market then perhaps a cohesive strategy can be devised.
Has This Been Done Before? A Brief Summary of Specific Prior Research:
There are three people/groups that have utilized CAPE in a similar but different manner.
1. Shiller developed an ETF in conjunction with Barclay's that utilized the CAPE Ratio by applying it to specific sectors within the pre-defined S&P 500 pool of stocks. While not investing in specific individual stocks, the idea of investing more heavily in areas that represented more value and using CAPE to make this determination is not necessarily a brand new idea. You can read about all the math right here in this article by Barclay's.
2. Meb Faber developed the concept that one should apply the CAPE Ratio on a more global basis. In his book on Global Value Faber lays out the foundation for investing in specific economies that represent large value as indicated through the CAPE Ratio.
3. Wes Gray put together a paper in conjunction with Jack Vogel which attempted to ascertain the merits of utilizing the CAPE Ratio along with other Cyclically Adjusted metrics for individual stock selection. While it was determined that the CAPE Ratio was not the most effective valuation metric in comparison with others (CA-BM is better), it was still found to be effective and "market beating" when picking individual stocks within the backtesting period selected.
Shiller began, with Barclay's, to find smaller pockets of value by sector within the U.S. market based on CAPE. Faber expanded on Shiller by using the CAPE on an even larger scale to find value internationally. Gray continued this idea through the back-testing of CAPE through individual stocks. The next step in the progression is to simply utilize the CAPE Ratio in a portfolio of individual stocks.
Assumptions For Utilizing The CAPE Ratio For Individual Stock Analysis:
1. One should only use the CAPE Ratio for stocks within some pre-defined group that represents a major part of the economy. We therefore only use the lowest 10 stocks for the entire S&P 500 as the S&P 500 already has other parameters that measure a given companies economic integrity (for lack of a better term). So when we discuss the idea of "lowest CAPE" we are already excluding many thousands of other stocks that might also make that list just based on items such as market cap, etc.
2. We are assuming that earnings and the methodology behind the recording of those earnings is the same and consistent during the subsequent 10 year period. This is not always the case and may from time to time need adjustment with respect to what stocks are picked (discussed more below).
Using Individual CAPE Ratios to Double The Markets Return:
Shortly after I created the site at caperatio.com, Meb Faber requested and posted a short list which I created of the S&P 500 stocks ranked by lowest CAPE Ratio value to highest. He put the list on his blog on 9.25.13 based on the numbers I ran the night before. I will use this list for a short demonstration on the effectiveness of utilizing CAPE as a method for individual stock selection (it should be noted that other lists could be used from subsequent newsletters with better and worse results).
Here are the lowest ten stocks from that list with 10 years of data (CLF, C, GM, X, JCP, BAC, APOL, AA, PBI, BEN) and how they have performed up to 10 months later: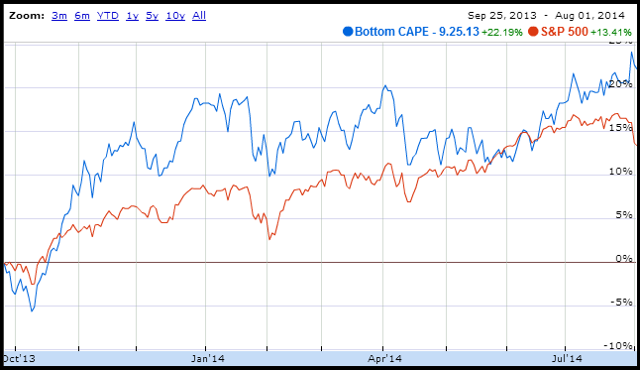 Blue represents the group of 10 stocks from the Bottom CAPE list while Red represents the S&P 500 performance.
As one can easily see from this chart, there is some merit to dumb/blind stock picking based on simply choosing stocks based on their CAPE Ratio value. While some of the stocks within this small group have done very well, others have really done poorly since 9.24.13. This is therefore not a perfect method for stock picking.
But let's consider a few things that were said last year concerning the validity of the CAPE Ratio in the wake of Shiller earning the Nobel Prize in Economics. During last summer there was a healthy debate waged by Jeremy Siegel concerning the current accuracy of the CAPE Ratio. Siegel argued that it was necessary to consider how earnings were recorded. You can read about this in his working paper, or in his more famous Financial Times piece, and if you don't have a subscription to the Financial Times then you can read the re-cap at Business Insider (yes, I apologize in advance for sending you to that site).
The central thesis of the Siegel argument was that, FASB changed mark-to-market rules which resulted in a change to earnings. If this change was adjusted for, then earnings would be higher and the resultant CAPE would be lower. This change in FASB rules effected Banking stocks to a greater extent than it did other stocks.
According to Liz Ann Sonders of Schwab:
More recently, the move toward fair-value accounting standards resulted in security losses having a devastating effect on the reported earnings of financial institutions during the recent financial crisis. Yet that effect now appears to have been transitory. If an accounting item is deemed non-recurring, it's common practice to ignore it when determining underlying earnings (i.e., using 'operating' instead of reported earnings). But CAPE continues to reflect the effect of non-recurring items for the 10 years that follow their initial recognition in reported earnings.
It can therefore be assumed that the banking stocks previously listed in our bottom 10 grouping might in actuality be even lower then listed.
There are then two methods of confronting this problem:
One can continue to include these stocks because they might very well be the lowest CAPE Ratio values on the entire S&P 500 (the issue also here is that an arithmetically lower CAPE could also be negative which destroys the integrity of the metric).
Or, we can decide that because the data is tampered with we should simply discard those stocks.
From a diversification perspective it might also be wise to move away from the banking stocks since that sector seems to also be over represented within our list of stocks.
Here are the Bottom 10 CAPE Ratio Stocks for the S&P 500 when we exclude all the Banking stocks and take the next lowest stock (list includes CLF, GM, X, JCP, APOL, AA, PBI, MRO, VLO, FTR).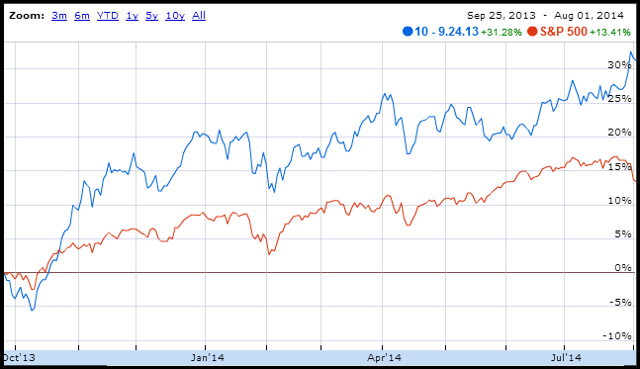 As one can see from this chart, the portfolio would represent a 31.28% net gain at the 10 month mark after the list was posted versus the S&P 500 return of 13.41%.
It is hard to devise a more simple approach that can beat the S&P 500 by quite this large a margin. Clearly more work should be done in this area, but hopefully this methodology points the way forward for some investors out there.
For those interested in a possibly less volatile and more traditional portfolio with more stocks then one can construct a list with the bottom 25 versus the bottom 10 CAPE Ratio values. The bottom 25 as of 9.25.13 were as follows: CLF, C, JCP, GM, X, BAC, AA, APOL, PBI, BEN, MRO, MS, VLO, FTR, MO, EXC, BTU, STI, NBR, KEY, ETR, HIG, CTL, GS (and DELL which I'm forced to exclude here because it was taken private during the period in between 9/25/13 and now).
Here is how that list worked out: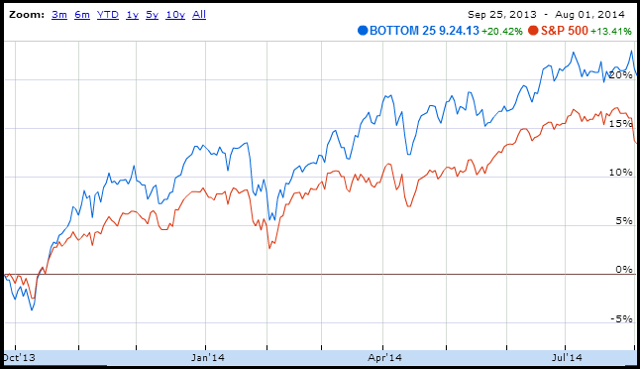 Once again we see the merits of just picking stocks purely on the CAPE Ratio. As unsophisticated as this system might appear to be, it would seem to have some merit. Once again if one excludes the banking stocks one will get better results.
Limitations and Future Research:
First and foremost, this is not meant as a research paper; but rather, as an article that might help the potential investor develop better asset allocation strategies. Most investors and groups I have spoken with have utilized this as simply another metric in an already large repertoire of tools to do their fundamental analysis. It is probably best to utilize the CAPE Ratio in that manner instead of relying strictly on the CAPE Ratio as the only method for developing a portfolio.
I have not done a risk adjusted rate of return through utilization of the Sharpe Ratio for the portfolios listed. I have also not done extensive back-testing although the authors of the above cited article have done this with some success.
This article should be understood in its proper context. Through research and some programming, we have developed a simplistic method towards asset allocation that might be of tremendous benefit to an investor. While future research should be done to test the success of these results in more varied circumstances, it would still appear from last year's results that this method has some merit.
Conclusion:
It was concluded in some prior research as referenced earlier within this article, that the CAPE Ratio might be a good method for individual stock selection. We have chosen here a group of stocks as ranked by the CAPE Ratio in order to do a very brief and limited analysis of a proposed system for stock selection. This system would appear to work rather well and does, with a minor adjustment, double the return of the S&P 500. While most people have discussed the merits of the CAPE Ratio as a metric to determine whether or not the overall market is overvalued, it would appear that it can also identify pockets of discounted value as well.
As an individual investor, it would seem that the CAPE Ratio provides far greater value as a stock screener using a similar plan as presented herein, then it does as a mere market indicator. Based on the prior research conducted within this area that would seem to support these results, as well as the historical proof presented here, we propose that the investor at least consider utilizing the CAPE Ratio as a strong stock screening tool when considering their own portfolios future.
Additional Disclosure: The individuals and or groups mentioned throughout this article have in no way contributed to the writing of this article and should in no way be considered as supporting any of the statements, hypotheses, and/or conclusions contained within this article.
Disclosure: The author is long JCP, AA, PBI. The author wrote this article themselves, and it expresses their own opinions. The author is not receiving compensation for it (other than from Seeking Alpha). The author has no business relationship with any company whose stock is mentioned in this article.