The last time I wrote about AT&T Inc. (NYSE:T) I stated, "With the dividend ex-date looming shortly I'm going to buy a smaller batch than I normally do during the week, but I'm not too enthusiastic about it." Since the article was published the stock has decreased 0.23% versus the 1.82% drop the S&P 500 (NYSEARCA:SPY) posted. AT&T is a provider of telecommunications services in the U.S. and worldwide.
On July 23, 2014, the company reported second quarter earnings of $0.62 per share, which missed the consensus of analysts' estimates by $0.01. In the past year, the company's stock is down 0.76% excluding dividends (up 4.52% including dividends) and is losing to the S&P 500, which has gained 13.81% in the same time frame. Since initiating my position back on August 20, 2013, I'm up 2.83% inclusive of reinvested dividends and dollar cost averaging. With all this in mind, I'd like to take a moment to evaluate the stock to see if right now is a good time to purchase more for the technology sector of my dividend portfolio.
Fundamentals
The company currently trades at a trailing 12-month P/E ratio of 10.39, which is inexpensively priced, but I mainly like to purchase a stock based on where the company is going in the future as opposed to what it has done in the past. On that note, the 1-year forward-looking P/E ratio of 13 is currently inexpensively priced for the future in terms of the right here, right now. The forward P/E value that is higher than the trailing twelve month P/E value tells us the story of earnings contraction in the next year. However, next year's estimated earnings are $2.72 per share while the trailing twelve month earnings per share were $3.4, I never like that. Next year's estimated earnings are $2.72 per share and I'd consider the stock inexpensive until about $41. The 1-year PEG ratio (2.69), which measures the ratio of the price you're currently paying for the trailing 12-month earnings on the stock while dividing it by the earnings growth of the company for a specified amount of time (I like looking at a 1-year horizon), tells me that the company is expensively priced based on a 1-year EPS growth rate of 3.86%. Below is a comparison table of the fundamental metrics for the company for when I wrote all articles pertaining to the company.
| | | | | | | | |
| --- | --- | --- | --- | --- | --- | --- | --- |
| Article Date | Price ($) | TTM P/E | Fwd P/E | EPS Next YR ($) | Target Price ($) | PEG | EPS next YR (%) |
| 27Aug13 | 33.82 | 25.62 | 12.56 | 2.69 | 40 | 3.09 | 8.28 |
| 08Oct13 | 33.11 | 25.08 | 12.37 | 2.68 | 40 | 3.05 | 8.21 |
| 11Jan14 | 33.62 | 23.84 | 12.57 | 2.68 | 40 | 2.94 | 8.12 |
| 13Feb14 | 32.92 | 9.69 | 11.84 | 2.78 | 42 | 1.98 | 4.90 |
| 31Mar14 | 35.07 | 10.31 | 12.56 | 2.79 | 42 | 2.18 | 4.73 |
| 28Jun14 | 35.41 | 10.32 | 12.83 | 2.76 | 41 | 2.44 | 4.23 |
| 01Aug14 | 35.33 | 10.39 | 13.00 | 2.72 | 41 | 2.69 | 3.86 |
Financials
On a financial basis, the things I look for are the dividend payouts, return on assets, equity and investment. The company pays a dividend of 5.21% with a payout ratio of 54% of trailing 12-month earnings while sporting return on assets, equity and investment values of 6.3%, 19.9% and 12.8%, respectively, which are all respectable values. Because I believe the market may get a bit choppy here and would like a safety play, I believe the 5.21% yield of this company is good enough for me to take shelter in for the time being. The company has been increasing its dividends for the past 30 years at a 5-year dividend growth rate of 2.4%. Below is a comparison table of the financial metrics for when I wrote all articles pertaining to the company.
| | | | | | |
| --- | --- | --- | --- | --- | --- |
| Article Date | Yield (%) | Payout TTM (%) | ROA (%) | ROE (%) | ROI (%) |
| 27Aug13 | 5.32 | 135 | 2.7 | 8.0 | 6.2 |
| 08Oct13 | 5.44 | 136 | 2.7 | 8.0 | 6.2 |
| 11Jan14 | 5.47 | 130 | 2.7 | 8.5 | 6.2 |
| 13Feb14 | 5.59 | 54 | 6.7 | 20.8 | 12.8 |
| 31Mar14 | 5.25 | 54 | 6.7 | 20.8 | 12.8 |
| 28Jun14 | 5.20 | 54 | 6.6 | 20.6 | 12.8 |
| 01Aug14 | 5.21 | 54 | 6.3 | 19.9 | 12.8 |
Technicals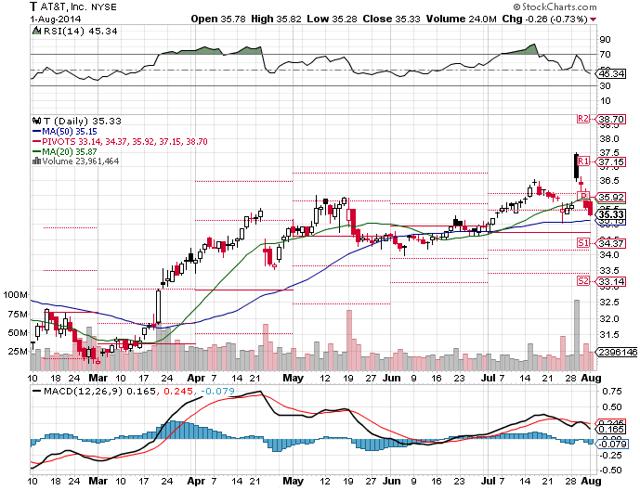 Looking first at the relative strength index chart [RSI] at the top, I see the stock in middle-ground territory with a current value of 45.34 and downward trajectory. I will look at the moving average convergence-divergence [MACD] chart next. I see that the black line is below the red line with the divergence bars decreasing in height. As for the stock price itself ($35.33), I'm looking at $35.92 to act as resistance and the 50-day simple moving average (currently $35.15) to act as support for a risk/reward ratio which plays out to be -0.51% to 1.67%.
Average Revenue Per User Increases At DirecTV
A metric by which DirecTV (NYSE:DTV) is measured is the average revenue per user, and the company saw that metric increase during the second quarter. DirecTV which is being acquired by AT&T saw a 4.5% gain to $103.26 per user in the United States. I've been concerned of late about the American consumer and our spending habits decreasing due to economic uncertainty after hearing several companies announce layoffs during these past couple of weeks on earnings calls. But this revenue increase per user at DirecTV shows that the American consumer is not yet ready to give up on entertaining themselves. The main linchpin to keeping the AT&T and DirecTV merger together is the renewal of NFL Sunday Ticket on DirecTV. I still haven't heard anything yet with respect to the deal, but DirecTV CEO Mike White says he's confident the agreement with the NFL will be renewed by the end of the year. If the deal is renewed I have no doubt that the average revenue per user can increase even more in the coming years (at least during third and fourth quarters).
What Does T-Mobile Bid Mean For AT&T?
If you haven't heard yet, France's Iliad has made a bid for 56.6% of T-Mobile USA (NASDAQ:TMUS) with $15 billion in cash. The terms of the deal mean the shares will be purchased at $33 per share and T-Mobile currently carries a market cap of $26.6 billion. So what does this mean for AT&T? Well, previously, Sprint (NYSE:S) and T-Mobile were about to merge with Sprint lining up a $40 billion package to make the buy. Sprint being able to gobble up T-Mobile would have decreased the United States telecom oligopoly from four to three competitors. But with an outsider coming in to pick up T-Mobile it still leaves four telecom companies vying for consumer dollars. With competition remaining the same in quantity you can guarantee there will be cut-throat pricing techniques utilized which would help out with what I believe to be a cash-strapped consumer these days. However, if the number of competitors were to be reduced, each company could pinch the consumer by increasing prices to bring in more revenue.
Conclusion
I just have this gut wrenching feeling that the American consumer is about to get pinched in the next coming quarters as I've been hearing about more and more layoffs recently. Layoffs come in two different types mainly, either by acquisition synergies or by cost-cutting for bottom line growth. There has been quite a bit of both types of layoffs recently. I believe consumer related stocks like AT&T may get a bit of a hit as the consumer tries to find lower prices. The DirecTV metric I mentioned earlier seems to buck that trend for now, but my concern is for a couple of quarters from now.
Fundamentally, I believe the stock to be inexpensive on next year's earnings estimates but expensively valued on short-term earnings growth expectations while next year's earnings estimates keep decreasing. Financially, the dividend is awesome; however, the financial efficiency ratios have decreased since the last quarter. On a technical basis the stock seems to have a risk/reward ratio which is favorable to me right now. I don't like that I'm paying more now for next year's earnings than I was last year at this time for this year's earnings and will more than likely be selling the shares in the next couple of weeks.
Because I swapped out Cracker Barrel Old Country Store, Inc. (NASDAQ:CBRL) for AT&T in my dividend portfolio, it is only fair that I provide an update from the swap-out date. From August 20, 2013, AT&T is up 4.55% while Cracker Barrel is down 2.41% and the S&P 500 is up 16.96%. My change out is performing decently against the trade itself, but not against the overall market.

Disclaimer: This article is meant to serve as a journal for myself as to the rationale of why I bought/sold this stock when I look back on it in the future. These are only my personal opinions and you should do your own homework. Only you are responsible for what you trade and happy investing!
Disclosure: The author is long T, S, SPY. The author wrote this article themselves, and it expresses their own opinions. The author is not receiving compensation for it (other than from Seeking Alpha). The author has no business relationship with any company whose stock is mentioned in this article.