Summary
iDreamSky Technology Limited (Pending:DSKY) is China's leading independent mobile game publisher with more than 98 million monthly users. Company's core business is redesigning and optimizing popular third-party applications in accordance with the preferences of local mobile users. iDreamSky is also responsible for the distribution, marketing and monetisation of the products. Company's portfolio consists of 40 trending titles including Temple Run 2, Subway Surfers and Fruit Ninja. Prime revenue generator is in-game virtual items sale including additional skills, customize avatars and other privileges. The company is based in Shenzhen, China, and currently employs 404 people.
iDreamSky's market debut is scheduled for 8th August when the it will try to find market for 7.7 million American Depository Receipts (or about 18% of the total shares outstanding). Leading underwriters are Credit Suisse and JP Morgan who could exercise 15% embedded greenshoe option. The anticipated price range is 12-14 USD a unit which translates into market capitalisation of $551m - $612m. The lock-up period is 180 days ending on 5th January 2015. According to the prospectus, proceedings from the IPO will be used towards acquisitions of gaming licenses and other intellectual properties; future M&A activities and working capital purposes.
In order to fully understand the potential and risks the company faces, a walk through iDreamSky's operations is taken.
Deep dive into company's business
The prime function of iDreamSky is to act as an intermediate between game developers and end users:

How does it work? First, it is a hunt for a game which possess a potential to suit China's taste and demand. Once a good application is founded, iDreamSky enters a contractual agreement with the game developer with a topical length of one to three years. Next step is context and design adjustment, as well as deployment and pricing of virtual items.
When the application is optimized and compatible with the local mobile carriers, the focus shifts to its distribution. While official app stores, such as Google Play the Apple Store, are widely used overseas, third-party app stores are the dominant distribution channels in China due to the fact that Google Play is not currently operating in China and local users are generally less mindful of the differences between official and third-party distribution channels.
About a third of iDreamSky's downloads and activations come from in-game cross-promotion and proprietary self-operated channels. The iDreamSky Game Center app is equivalent of Google Play in which users can download games, patches, items and more. Its web-based correspondent is www.uu.cc. For the rest of the traffic iDreamSky relies on third-party channels ranging from app stores to hardware producers and social media websites. Monetisation mainly take place in terms of SMS billing which is facilitated by company's excellent relations with local carriers.
Industry snapshot
By being the most populated country on earth, the fact that China has the world's largest Internet user base should not surprise anyone. What grabbed my attention, however, is the forecasted pace at which figures are expected to grow in the following years. The increasing availability of mobile Internet and smartphone popularity coupled with constant improvement in the living standard and relatively young population are prime determinants of the exponential growth in country's mobile game market size:

It is worth mentioning that other independent research companies are suggesting even faster growth levels. According to one of them the Chinese mobile game market size will hit 50 billion CHY by 2016.
Here are some quick calculations on China's mobile internet affordability. The absolute minimum salary is 8 CNY per hour; arbitrary unlimited monthly connection from China Mobile is 68 HKD per month or approximately 54 CNY. Hence, one should work 7 hours at most in order to pay for subscription which is approximately twice the time required in the UK.
Prospects become even brighter when we consider how these profits are split. According to Analysys report, China's typically revenue sharing range from 75%-85% and 15%-25% for publishers and developers, respectively.
Where does iDreamSky fit into this whole picture?
As already mentioned, the company is a leader on the publishing stage, serving more than 30% of the market:

The following snapshot illustrates company's progression when it comes to attracting new customers. I believe it should be used as an indicator of current management team's capabilities and be taken into consideration when future growth rates are suggested:

Due to the lack of historical data and quick pace of development, the company's income statement cannot be used for further analysis. The only important taking, in my view, is company's ability to generate substantial profit even at this stage; maintaining a net profit margin of 0.188 in most recent quarter.
Moving to the balance sheet - iDreamSky Technology lacks any long-term liabilities which guarantees cheap capital and hence flexibility in case new opportunity arises. This point is further supported by company's strong cash position which is expected to become even stronger if the IPO is successful.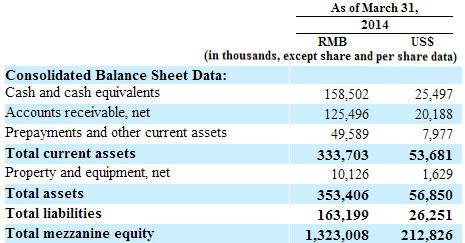 What are the associated risks?
First and most importantly, due to the large fragmentation, low entry barriers and hence competitiveness of the Chinese mobile game publishing market, it is vital for iDreamSky to maintain its current position and continue to grow with a pace, aligned to the one of its competitors. The company is dependent on game developers, mobile carriers, third-party distribution channels and the Chinese government, each of which could extensively harm if not destroy the company. In order to attract developers of the most attractive applications, company might be forced to decrease its profit margins which will dilute the effect of the growing user base.
In terms of competition, iDreamSky faces other leading domestic mobile game operators, such as Chukong Holdings Limited and China Mobile Games. Additional concern comes from China's leading Internet and technology companies, which may capitalize on their significant financial and technical resources and their large user base to develop and publish mobile games.
Financial ratios and valuation thoughts
Throughout the following section I use iDreamSky's most recent quarter results, as well as anticipated midpoint share price of $13. As a comparables I use 1) China Mobile Games and Entertainment Group Limited (CMGE.OQ) which is engaged in the development, operation and sale of feature phone and smartphone games, as well as the provision of handset design products and services; 2) King Digital Entertainment plc (KING.N) is a casual games producer whose portfolio includes Candy Crush Saga and Bubble Witch Saga. Data is obtained from Bloomberg and Reuters. DSKY Sales are adjusted to its current levels.
| | | | | |
| --- | --- | --- | --- | --- |
| | $DSKY | $CMGE | $KING | IND AVG |
| MarCap | 581.7 | 469.1 | 6 125.4 | |
| 2015 Est P/E | 9.6 | 11.7 | 8.2 | 16.5 |
| Price/Sales | 4.9 | 4.2 | 3.1 | 6.0 |
| LT Debt/Equity | 0 | 0 | 0 | 8.09 |
| Operating Margin | 25.0 | 5.46 | 35.43 | 16.38 |
| Net Profit Margin | 18.8 | 15.6 | 28.0 | 11.3 |
As seen, the company is relatively close to its peers metrics, as well as over-performing industry's averages in all components. If we assume that the price to sales ratio will stay relatively constant in long term and the company manages to capture the industry's action, we can expect annual return of more than 40%. Considering company's historical results, management objectives, market position and associated risks, iDreamSky offers attractive risk-return trade off to future investors. I believe it is safe to classify iDreamSky as a good investment opportunity possessing enormous growth potential while bearing limited risks.
Disclosure: The author has no positions in any stocks mentioned, and no plans to initiate any positions within the next 72 hours. The author wrote this article themselves, and it expresses their own opinions. The author is not receiving compensation for it (other than from Seeking Alpha). The author has no business relationship with any company whose stock is mentioned in this article.