Microsoft (NASDAQ: MSFT) reported its fourth-quarter and full year fiscal 2014 results that showed that the company met topline expectations by analysts, but missed on bottom-line expectations partly due to expenses related to the company's acquisition of Nokia's (NYSE: NOK) handset division. Microsoft reported fourth-quarter revenue of $23.38 billion, slightly above consensus analysts' expectations.
But, the company posted a net income of $4.61 billion, or an EPS of $0.55, well below analysts' expectations of net income of $5.04 billion and EPS of $0.60. The profit miss can be directly chalked up to expenses related to Microsoft's acquisition of Nokia's handset business, and a $900 million write-down on Surface RT tablets related to a price-reduction. The handset business lost the company $0.08 per share, while the Surface RT write-downs cost Microsoft $0.11 per share. Microsoft had, however, failed to provide investors with guidance for the impact of the Nokia handset business acquisition when it completed the purchase in April this year.
How long can investors expect the Nokia business to continue pulling down Microsoft's profits? Well, apparently not for too long, if Microsoft's predictions are anything to go by.
Nokia business to become profitable in fiscal 2016
Although Microsoft failed to provide guidance on the impact the Nokia business would have on the company this year, the company had done this during an investor presentation in September last year. Judging by the just ended fiscal year results, Microsoft was a bit conservative with its estimates. According to Microsoft's predictions, the Nokia business would make a GAAP loss of $0.12 per share in fiscal 2014, a loss of $0.06 in fiscal 2015, and a profit of $0.04 in fiscal 2016. The actual GAAP loss from the Nokia business in fiscal 2014 was, therefore, 33% less than what Microsoft had predicted.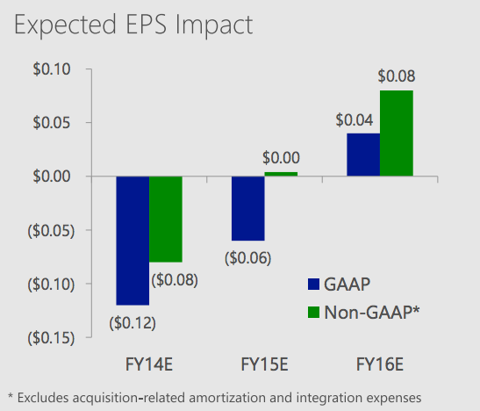 Source: Microsoft Pg 21
If Microsoft was equally conservative with its predictions for fiscal 2015 and fiscal 2016, then the Nokia business might break even around the third-quarter of the current fiscal year. It's quite possible that the Nokia division might start impacting positively on EPS in the fourth-quarter of the current fiscal year.
Microsoft also said during the presentation that it expected the Nokia acquisition to bring in cost synergies of $600 million just 18 months after closing the deal. That should be somewhere in the second-quarter of fiscal 2016.
What about the Surface write-downs?
Microsoft said that without the Surface write-downs, the company could have reported fourth-quarter EPS of $0.66 instead of $0.55. This means that the write-downs cost the company $0.11 per share, or a total of $900 million.
Judging by Microsoft's June announcement that it was planning on making huge price cuts for Windows devices with screen sizes of 7, 8, and 10-inch, investors should brace themselves for more Surface write-down related expenses in the coming quarters. Microsoft's vice president of OEM partners Nick Parker also pointed out during the announcement that some Windows Phone will be selling below $200 after the price cuts.
Microsoft has been losing money on Surface Tablet sales. The company, however, is willing to stomach these losses because the tablets help people connect to Microsoft experiences such as Skype, Office 365, and Bing Search. This is in line with the company's new motto of ''Mobile First, Cloud First.''
Microsoft is also willing to lower the price points of its Windows Phones to become as competitive as possible with Android smartphones especially in the lower end markets. This will help the company gain better mobile traction. The IDC predicts that Windows Phones will sport an ASP similar to Android smartphones from 2016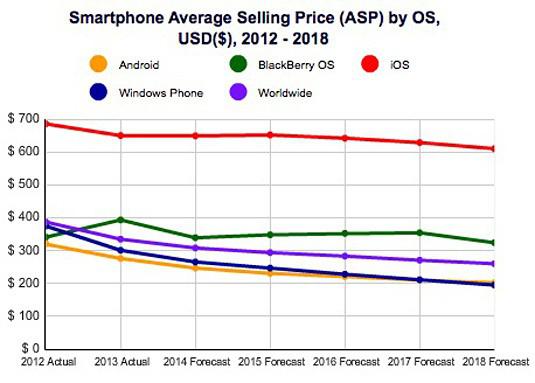 Source: iCharts
Microsoft, however, should have little trouble offsetting these losses with earnings from fast-growing divisions such as its Windows Azure cloud. Microsoft said during the earnings call that its cloud revenue grew at a blistering 147% annual clip, and had reached an annual run rate of $4.4 billion. Microsoft's cloud is now only second to AWS in terms of revenue, and is the fastest growing among all major cloud vendors.
Conclusion
If Microsoft's projections are accurate, the Nokia handset will start impacting positively on EPS in fiscal 2016. The Surface Tablet is, however, likely to continue losing money as Microsoft continues lowering its price points in a bid to become a ''mobile first, cloud first'' company.
Disclosure: The author has no positions in any stocks mentioned, and no plans to initiate any positions within the next 72 hours.
Business relationship disclosure: This article was written by Alex Kimani, the chief analyst of Syncopy Research. We are not receiving any compensation for this article, other than from Seeking Alpha.