Last Monday, I wrote an article about the case for Approach Resources (NASDAQ:AREX). In that article, I laid out the case to buy Approach at these levels given they are trading at a very steep discount to some of their peers. I also made the case that Approach, although their acreage in the south is inferior relative to their peers in the north, is realizing operating efficiencies that give them a strategic advantage compared to their peers.
With that said, Approach reports Q2 operating results this upcoming Tuesday. Here are some of the things I am looking for.
I want to see how many wells were drilled in Q2. They drilled 16 wells in the first quarter and have provided guidance that they will drill 70 in FY2014 meaning they will have to drill 18 on average these next 3 quarters in order to reach 70.

I am interested to see if they have gained any more efficiencies regarding well cost. During the Q1 conference call, the CEO Ross Craft said they wouldn't gain more efficiencies until their water recycling program was in full effect which he also said won't be fully ready until EOY 2014. It will be interesting to hear the CEO's comments regarding their water recycling program.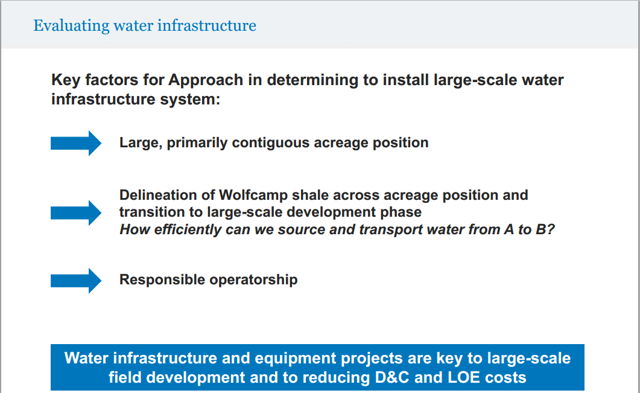 Approach already has the lowest D&C (development & completion) cost in the area as they illustrate here in this bar graph.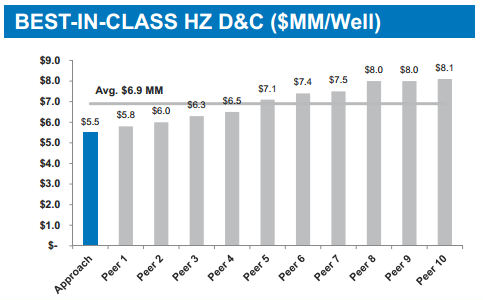 In their Q1 report they say they are testing stacked-wellbore development and optimizing well spacing and completion design. It will be interesting to hear if they've made any progress in this area. They also said this about the results from the Q1 stacked wellbore program. "Results from our stacked wellbore program continue to be in-line with the Company's expectations, and we believe these results largely de-risk the Company's stacked wellbore development outlook." Based on these comments, success should continue to be the result but we will see when the report comes out.
Here is a graphic outlining the strategy of moving to a stacked well development program.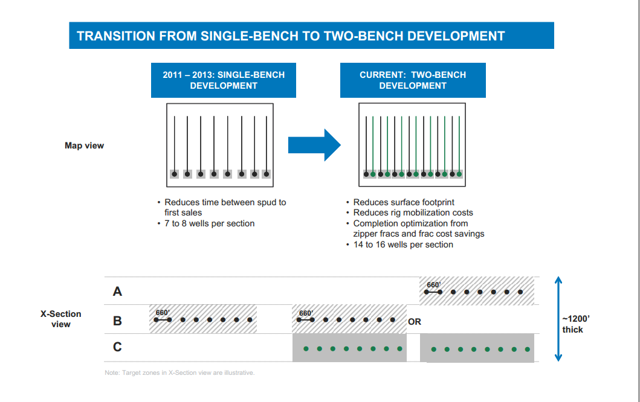 In light of my previous article, I feel I failed to talk about Approach's Hedging Program. I want to bolt that on to this article because in light of what oil & gas has done over the past week or two, Approach may be vulnerable to declines in oil price.
Here is their current hedge position.
Right now, Approach is projected to be producing between 14,000 and 15,000 BOE per day by year end 2014. If that is the case, they've said their current production is about 44% oil. That means that roughly 6,500 BOE/d of the 14,000 BOE/d is oil production. Based on the above chart from Approach's hedge position, less than half of their oil production is hedged out to year end 2015. This is probably normal but given the past few week's decline in oil price, even with all of the political turmoil in the Middle East, I can only expect oil prices to continue downward. Even worse, a bullish piece of news came out yesterday that oil inventories declined 3.7 million barrels and yet the price still declined substantially.
In fact, I wrote an article with compelling technical evidence that oil prices will decline following the same path gold prices have taken. That may be what is starting to happen in the oil markets. With all of this said, I will be looking at Approach's hedge position in the Q2 results to see if they added any new positions out into 2015. I'm hoping they did or plan on it.
Disclosure: The author is long AREX. The author wrote this article themselves, and it expresses their own opinions. The author is not receiving compensation for it (other than from Seeking Alpha). The author has no business relationship with any company whose stock is mentioned in this article.