The problem with buying Twitter (TWTR) directly is that the company's stock is expensive based on most valuation metrics. The social-media player is growing revenue at a fast clip, so any investors expecting it to grow into and beyond its current valuation face a dilemma regarding whether they should invest now or wait for a dip in the stock price.
A low-risk way to invest in Twitter is through investment funds that have the company's stock as a top position, such as GSV Capital (GSVC) and Firsthand Technology Value Fund (NASDAQ:SVVC). GSV Capital invested in the company prior to the IPO and offers an extremely cheap proposition for playing the growth in Twitter and other high-growth companies. Firsthand Technology offers a more diversified opportunity to invest in Twitter, with other positions being equally important to the success of the fund.
Twitter fundamentals
Twitter is a fast-growing social-media company with 271 million monthly active users as of June 30. Analysts foresee phenomenal growth, expecting revenue to surge past $2.2 billion in 2015 based on 100% revenue growth this year and over 65% next year. Recent World Cup numbers further highlight the potential of the social service: there was record interaction during a soccer match not even involving the primary user base in North America.
Twitter is quite richly valued at 12x 2015 sales. However, the big concern is that active user growth has under whelmed despite the high level of engagement among the core user base. Investors were rightfully disappointed that the service's monthly active users only grew 25% during the first quarter, but the market appears more accepting after posting only 24% growth in users in the second quarter.
Cheap valuation
The advantage of GSV Capital is that the investment fund trades at a substantial discount to net asset value. The fund is currently heavily invested in Twitter with a 28% position at the end of the first quarter. GSV Capital trades around $10 with a NAV near $15. In essence, investors who think Twitter is going higher at the current price can obtain the company's stock at a substantial discount via a purchase of GSV. If Twitter were to dip, an investor in GSV Capital could absorb a substantial loss in that position without seeing GSV Capital's NAV fall below the current stock price
In addition, GSV Capital offers the potential of big returns from numerous pre-IPO stocks like Palantir Networks, Dropbox, and Spotify, to name a few. Of course, it also carries high risk, as these soon-to-be-public companies are unproven over a longer period of time. It is possible that a few of these companies could bomb in the public markets. See the top 10 positions list below: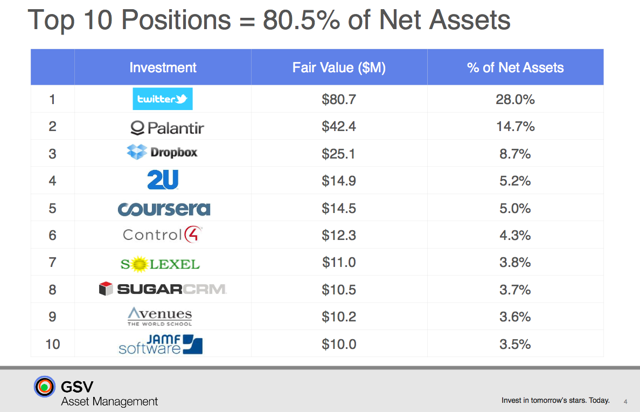 Similarly, Firsthand Technology Fund ended June with an NAV of more than $27, though the fund currently trades around $21. At that time, the company owned roughly 1 million shares in Twitter for a 18.7% position in the fund. The fund was slightly less invested in Facebook at 16.3%. By contrast, Twitter is the largest position owned by GSV Capital by far.
The biggest concern with these investment funds -- and part of the reason they may never trade at NAV -- is the constant management fees that will eat into returns. In the case of GSV Capital, it pays GSV Asset Management an investment advisory fee equal to 2% of gross assets under management and an incentive fee equal to 20% of the capital gains during each calendar year.
Bottom line
Ultimately, these investment funds are a good way to obtain access to private firms or Twitter at a discount. The risks of private firms and the high management fees will usually leave these funds trading below NAV, but the discount is too large to pass up for risk tolerant investors.
GSV Capital is the preferred investment vehicle over Firsthand Technology for those who like the Twitter angle and a larger investment in private firms. Remember that Firsthand Technology not only has a large position in the mega-cap Facebook, but also has nearly 17% of the fund in cash.
Disclosure: The author is long GSVC. The author wrote this article themselves, and it expresses their own opinions. The author is not receiving compensation for it (other than from Seeking Alpha). The author has no business relationship with any company whose stock is mentioned in this article.
Additional disclosure: investor.twitterinc.com/releasedetail.cf...