Michael Kors (NYSE:KORS) is due to report earnings on Monday before the market opens. Consensus expects EPS of $0.81 (+32% y/y) on $851m (+33% y/y) in revenue, which is on the high-end of management guidance of $840-850m in revenue and $0.78-0.80 EPS. Over the past three months, KORS has been down 10% compared with +3% of the S&P. The market is clearly concerned about a potential sales and earnings downside, and a soft guidance. However, I am still a buyer of the name because of its strong position in the accessories and handbag segment, coupled with a positive global growth profile. While I do not expect a "beat and raise" quarter, I see any pullback following the print a good buying opportunity. Reiterate my bullish view ahead of the Q. (Please see my initiation: Michael Kors: Building A Fashion Empire)
Time to get greedy
KORS shares have taken a hit over the past three months, down 10% vs. S&P's 3% advance. Investors' sentiment of a beat-and-raise quarter has shifted to the potential of an earnings miss and soft guidance, which pushed the valuation down to 17x next years earnings compared with its peer average of 20x.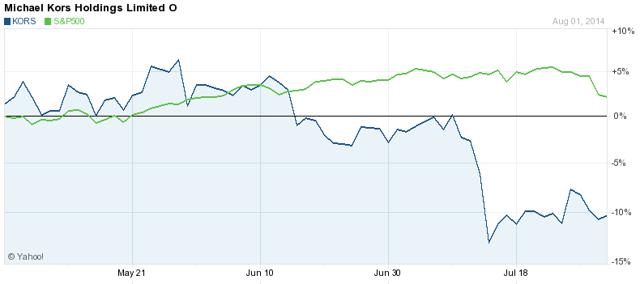 I see the pullback before the earnings as a good set up for a positive surprise especially when KORS has beaten consensus by on average $0.16 over the past four quarters despite undergoing an investment cycle. That said, I will be a buyer heading into the quarter as I see KORS's focus on accessories and handbags allows the company to withstand the structural shift towards cheaper alternative brands (ie. H&M and ZARA) and its investment in ecommerce and international to drive the next leg of revenue and earnings growth.
Discount is not as bad as it seems
After visiting several malls where competing brands such as Coach (NYSE:COH), Calvin Klein, and Kate Spade are all located, I came away feeling positive that KORS is not aggressively marking down the product as its peers. In my view, aggressive pricing often dilutes the brand and results in lower brand loyalty. By keeping the price discount to the minimal, KORS user base are unlikely to switch to a competing brand due to brand dilution. New users, on the other hand, would perceive KORS as higher quality and less mainstream, and prefer to own a KORS product to differentiate from the mainstream group. On my visit to the department stores over the weekend, I noticed that KORS' discounted items usually have an average discount of 25%, compared with Calvin Klein at 27%, Coach at 30% and Kate Spade at 35%.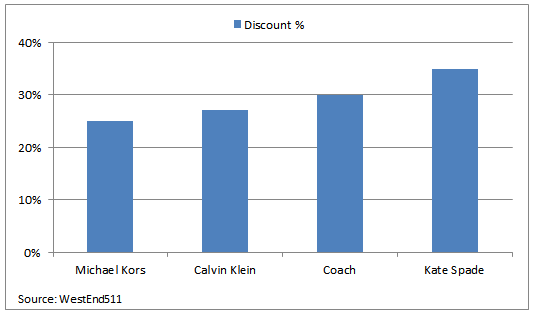 My conversation with the sales associates in the department stores suggests that sales have been steady over the past two months and "comparable to earlier this year". Although my sample is small, the trip does give me some comfort on the upcoming Q.
Looking for future expansion
I believe that international sales will continue to be a growth area with strong comps in Europe and Asia to offset the handbag maturity we are experiencing in North America. That said, investors should place particular focus on the European numbers and any insight on growth in Asia, in particular China where KORS recently opened two flagship stores in Beijing and Shanghai. Although sentiments heading into Monday is weak, investors are better off positioning themselves for a potential pullback, which I see is a good buying opportunity on a name with a balanced channel mix, rising brand equity and global growth.
Disclosure: The author has no positions in any stocks mentioned, and no plans to initiate any positions within the next 72 hours. The author wrote this article themselves, and it expresses their own opinions. The author is not receiving compensation for it (other than from Seeking Alpha). The author has no business relationship with any company whose stock is mentioned in this article.