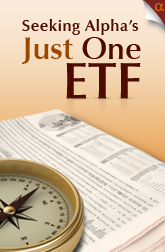 Several times a week, Seeking Alpha's Jason Aycock asks money managers about their single highest-conviction position - what they would own (or short) if they could choose just one stock or ETF.
---
Anthony Welch is co-founder and portfolio manager at Sarasota Capital Strategies, and the manager of The Currency Strategies Fund (FOREX). A CFC and CFP, he has 19 years of experience in the industry.
Which single asset class are you most bullish (or bearish) about in the coming year? What ETF position would you choose to best capture that?
We have always believed in allocating across many asset classes. This would include managed futures, commodities, and, of course we manage The Currency Strategies Fund (FOREX) to give exposure to currencies. In the equity market, there are also quasi-asset classes such as master limited partnerships, preferred securities, real estate, and so on. One ETF that we use that does a good job of pulling these together is the Guggenheim Multi-Asset Income ETF (NYSEARCA:CVY). CVY is based on the Zacks Multi-Asset Income Index.
I'd encourage readers to review the white paper on this ETF at Zacks.
How does CVY fit into your overall investment approach?
Our strategy is absolute return and our goal is to produce reasonable results with minimized volatility. In other words, try not to lose a lot of money. We've found many ways to accomplish this, including shorting, hedging and cash. However, one of our favorites is to seek out alternative types of investments that are off the beaten path.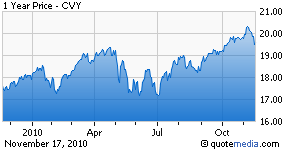 CVY differs from other high-yielding equity ETFs in that it includes a pretty esoteric mix of holdings. Because of this, there is potential to capture some of the excitement when a group of these get the attention of investors. For example, Canadian energy trusts were the rage at one time. Now, it's master limited partnerships. By owning CVY, we can tell our clients that may call with questions regarding something their neighbor told them about that they do have some exposure to whatever it is in many cases.
The goal of the ETF is to select securities that have potential to outperform on a risk-adjusted basis. The idea of adjusting for risk in a portfolio's return is an underappreciated factor with many investors today, but one of the most important, in our opinion.
Tell us a little more about the class (or classes). What makes this your top pick?
CVY is diversified across sectors and industries. However, it is heavily weighted in energy, utilities, and finance, although many of the holdings are difficult to place into standard categories. MLPs, for example, are rightly considered energy holdings, but are much different than, say, an energy stock such as Exxon (NYSE:XOM). An MLP's goal is simply to move energy supply around and pay out the income, whereas a typical energy stock's fortunes are more closely tied to the price of oil and are more complex in nature.
Another example is Real Estate Investment Trusts, which are usually classified as a financial, but actually own hard assets. We started buying CVY in March of 2009 because many of the holdings had been crushed particularly hard in 2008 and were selling for a fraction of book value. In addition, the yield at the time was over 9%. Although CVY has recovered considerably since then, many of the quasi-asset classes within the ETF still have plenty of room on the upside if the economy improves. The bonus is we get paid a nice dividend to wait for that to happen.
And for having diverse holdings, owning CVY means you don't have to deal with filing K-1s, correct?
Yes, that is correct. Following is a chart of distributions and how they're taxed. (Click to enlarge.) Some distributions are considered return of capital which may affect cost basis. Standard disclosure: Please consult your tax professional.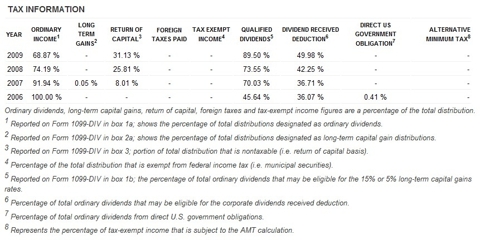 Are there alternative ETFs that could be used to capture the same theme? What makes CVY your first choice?
In addition to CVY, we use some of the standard dividend ETFs such as iShares Dow Jones Select Dividend Index (NYSEARCA:DVY). We'll also use financial preferreds such as PowerShares Financial Preferred Portfolio (NYSEARCA:PGF), and high-yield bond funds such as SPDR Barclays Capital High Yield Bond ETF (NYSEARCA:JNK) and iShares iBoxx High Yield Corporate Bond ETF (NYSEARCA:HYG).
Our theme for much of 2009 and all of 2010 has been to focus on yield with a potential for capital appreciation. We will also hedge these positions occasionally with a short on the S&P 500 which allows us to keep our income producers without having to gut the portfolio every time Wall Street gets skittish. The reason we chose CVY, as the one to own if an investor had to pick just one thing, is the others mentioned are a bit more specific.
High-yield bonds have a mind of their own and could fall out of favor at any time. Same with financial preferreds. With CVY the mix of various types of equities is attractive if we had to pick only one to hold. Of course, one of the advantages most of us have over Wall Street is we don't have to pick one thing, nor do we have to hold it through significant turmoil in the markets. The sell button is a very powerful investment tool and we wouldn't hesitate to use it on CVY or anything else if need be.
That being said, we have held CVY longer than anything else in our portfolios and if we could only pick one thing, this would be it, as long as the economy is showing signs of slow growth.
CVY's yielding 4.6% and of course has more international exposure than the all-U.S. DVY - but despite holdings like Banco Santander (STD), AstraZeneca (NYSE:AZN) and Telefonica (NYSE:TEF), it's still focused about 70% on the U.S. (85% on developed markets overall). What do you think about potential yields on internationally focused funds like PID, or ex-financials like DOO?
We have used PID in the past and find it interesting for international exposure. The distribution yield is currently 2.8%, so a bit lower than CVY. DOO is OK as well, but has almost 22% in France – not exactly a tremendous growth story. Fifty percent of DOO is concentrated in three countries.
Strictly international ETFs also carry potential currency risk that may hamper (or enhance) returns. Since this article is intended to spotlight only one ETF, we feel that CVY offers the best mix of diversification among asset classes, global exposure, and yield.
Does your view differ from the consensus in this area?
Two of the larger sectors in the fund, finance and utilities, have a cautious, if not outright bearish, sentiment these days. In the case of finance, sentiment may be correct in many cases, but the world of finance in general continues on and is definitely not dead. Due to indexing and other factors, many good-quality financial companies get painted with the same brush as is used to paint Citigroup (NYSE:C) and Bank of America (NYSE:BAC).
Meanwhile, these companies are generating income, paying dividends, and growing earnings. In our opinion, these situations offer good potential for growth while paying us to wait. Utilities are a similar case, in that some are certainly better than others. This is where we appreciate the research Zacks puts into determining the constituents of the fund.
What catalysts, near-term or long-term, could move these asset classes significantly?
Like most equity ETFs, CVY will need an improving economy in order to continue to increase in price significantly. A sudden shock to the economy would certainly affect CVY negatively. However, CVY holds a diverse group of stocks ranging from Coca-Cola (NYSE:KO) to Pengrowth Energy Trust (NYSE:PGH) to Banco Santander (STD). An investor can have exposure to income-producing holdings from all over the world representing many sectors, industries and asset classes with just one ETF.
Rising interest rates could potentially have a negative impact as yields on bonds become more attractive. The Federal Reserve has made it clear that they intend on keeping rates low for the foreseeable future, so we're not too concerned about that now, but it could be an issue for CVY.
What could go wrong with your pick?
Probably the two biggest things that could go wrong are very real - dividend taxation increases and significant increases in interest rates. An increase in the tax on dividends immediately reduces the after-tax return on the yield of the fund and makes it less attractive. Of course, that would affect anything that carries a dividend, but it may cause investors to focus on long-term capital gains more than dividends.
Increases in interest rates aren't a real problem for the fund unless it gets to a point where investors determine the potential for capital appreciation has diminished to such an extent that they're better served elsewhere.
Finally, we could have another market meltdown a la 2008. CVY, like most anything else, got taken to the woodshed, and this is where money management comes into play. It's OK for us to like CVY, but it's very dangerous to love it. Our best friend in 2008 was the sell order and we are prepared to use it on any holding we have - including CVY.
Thank you, Anthony, for sharing your thoughts with us.
Disclosure: Long CVY.
Read more Just One ETF interviews »
If you are a fund manager and interested in doing an interview with us on just one stock or ETF position you'd hold, please email us at Just One Stock.