For nearly a decade, short sellers like Manuel Asensio have called Research Frontiers (Nasdaq:REFR) a fraud. They say the company has no valuable technology, that it just recycles old news into new press releases, and that it is primarily in the business of selling stock. They might be right. Whether valuable or not, it's clear that Research Frontiers has failed to generate meaningful revenues from its proprietary SPD technology. While it has licensed the "smart glass" technology internationally, REFR pulls in less than $1M per year in license fees. According to Yahoo!, REFR pays its top executives more than $1M per year (in total), so it's difficult to make a case that its current business model — scam or not — will drive any profits to the bottom line.
But that hasn't stopped REFR stock from advancing. For the past two years it has slowly moved towards the top of a rising wedge, and now it looks poised to break out.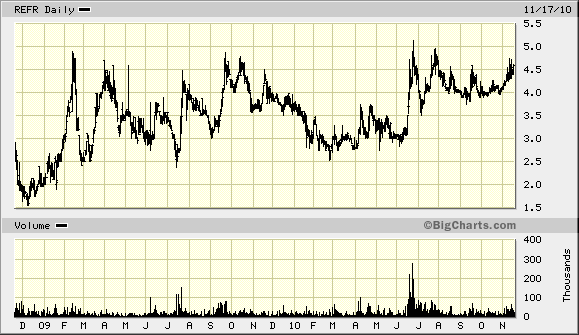 Nor has Research Frontiers run out of buyers for its stock. In September, it sold $3.375M worth of shares to raise what it calls "expansion capital."
Bottom line: Research Frontiers is at best, a low quality company and at worst, one of the world's slowest developing pump and dumps. Nevertheless, the chart looks like it will shortly break multi-year resistance. I would not be surprised to see the stock move significantly higher regardless of the fundamentals.
Disclosure: No positions