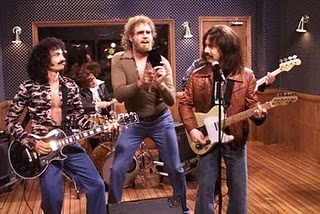 The hilarious "More Cowbell" SNL skit inspired by the Blue Oyster Cult anthem, "Don't Fear The Reaper", whether intentionally or unintentionally, nails the absurdity of the song itself. The hypnotic (not in a good way) riff and the incessant cowbell only add to the fact that the lyrics transcend cryptic and border on the ridiculous. I've heard them and read them many times over and I'm still unable to make heads or tails. I guess it's supposed to be spooky or something and maybe we shouldn't be afraid of whatever it is that we should be afraid of.

The same parallel could be drawn to the equity markets. Sometimes, what investors fear is indecipherable, possibly nonexistent, and oftentimes irrational.
Case in point, in March of 2008, investors truly did fear the Reaper. Six months prior, Lehman Brothers had failed spectacularly making sure that people who previously did not know what "systemic risk" meant have a full grasp on its definition. The fear and panic was almost tangible. However, if you feared the reaper, you missed out on multiple opportunities to double or quadruple your money. And it could've been done using strictly household names. Not some bizarre, fifteen cent Tanzanian mining stock that you had to subscribe to a newsletter to hear about.

The skies were pretty dark around March 6, 2009. Everyone was convinced the world was coming to an end. Stock and bond prices reflected that fear. But let's say you had a healthy respect for the reaper but didn't fear him outright and instead of going to the ATM and taking out a couple thousand dollars to put in the Mason jar, you decided to put that capital at risk. $2,348 (not including transaction costs) would have purchased 100 shares each of General Electric (NYSE:GE), Dow Chemical (NYSE:DOW), International Paper (NYSE:IP), and Alcoa (NYSE:AA): the four horsemen of the old, dirty, industrial economy which appeared to be grinding to a permanent halt at that moment. There's nothing exotic about those names. The biggest reason to fear them at the time would have been that their businesses are very sensitive to blips in the economy.

Had you gritted your teeth and bought that particular basket, your $2,348 would currently be worth $8,671. That doesn't include a 9.35% dividend yield. Yes. That's after the dividend cuts. And it's probably OK to hang on to some of these names despite global uncertainty. GE is at the forefront of everything and anything that has to do with alternative energy development. Wind, solar, electric cars, you name it they're getting a piece of that action. DOW has cyclical properties but also a lot of staple staying power as well. IP may be a bit long in the tooth at 50 times trailing earnings, but on the other hand, they will also be the first to the consumer recovery puck thanks to the packaging business. AA is probably the weakest of the bunch from an earnings standpoint, but they're still the world's largest aluminum producer.

If you knew the potential return was 269%, could you see past the fear, noise, confusion, and absurdity of the moment? Of course you would have, but realistically, we don't know that would have been the potential return. But if you can muster some courage, take a deep breath, and realize that there's opportunity in chaos, the market might reward you handsomely. Or you could always do nothing and be stuck listening to a cheesy, classic rock tune that makes absolutely no sense.

Well…we don't need more cowbells as much as we need to meet this week's three lil' piggies…
"First things…first"
First Energy (NYSE:FE)
Recent Price: 35.17
P/E: 12.79
Current Yield: 6.25%

The Skinny
Despite a lackluster resurgence, utilities, statistically at least, are still lagging the broader market. A lot of the better known names apparently don't know that. Southern Company (NYSE:SO), for example, is sitting on a 52 week high yielding less than 5%. Hard to find better than 5% and decent quality out there in utility-land. Enter FE. Buy rated by S&P, FE is an electric utility holding company serving 4.5 million customers in Ohio, Pennsylvania and New Jersey. FE is also in the process of acquiring Allegheny Energy. This partially explains why the shares are off 25% for the year. Perhaps this creates an opportunity as FE carries an above peer dividend yield. On its own, FE has cut expenses by 17% YOY. Dividend growth is on track for 4 to 5% which is always nice. And execution should be helped as the company realizes synergies from the AYE merger.

The Danger
The stock is obviously under pressure due to the pending merger. AYE is a major player on the coal side of the business and everyone knows the BIG question mark regarding energy policy hangs over coal and its future. On its own, FE is trying to crawl out of the earnings ditch. Last year's numbers were off 24% YOY. This year is a little better but no one is whacking the piñata just yet. FE's service area is one of the most heavily industrialized areas of the country and the sag in the numbers can most likely point to cyclical economic weakness as the culprit.

"Royal flush…"
United Utilities Group ADR (OTCPK:UUGRY)
Recent Price: 19.64
P/E: 7.59
Current Yield: 5.31%
The Skinny
If the future is water, UUGRY is the place to be. The company is a multi-utility providing wastewater, water, and electrical distribution services to nearly 7 million people in northwest England. Boring looking stock (which isn't necessarily a bad thing!). Forward P/E is identical to the trailing multiple. $10,000 invested five years ago is worth around $9,830. Kick in dividends and you're actually on the plus side. Another plus is the long term debt to capital percentage has remained relatively steady. Nothing exciting: water, sewage, power. But 7 million people will create and use a lot of all three.

The Danger
The most obvious red flag is the 65% YOY decline in income growth. That'll ruin anyone's day and can't make one feel comfortable about the safety of the dividend. The pay out ratio is also a bit of a concern. 2008's was 57%. 2009's was north of 200%. This year may be back in line, however it bears watching. And if you think economic growth is slow in the U.S., try to find any growth in the U.K. And, yes, Britain may be our 51st state, but it's still under the assumption it's a sovereign country. So, you would be holding a foreign security which may be subject to taxes. Investigate fully before acting. Right then?
"Quality Assured…"
Assured Guarranty Muni Holdings Inc. 5.6% Preferred (AGO-PF)
Recent Price: 20.49
P/E: NA
Current Yield: 6.88%

The Skinny
Despite the most recent market gyrations, the preferred space has remained fairly docile. That means, that bargains haven't been created lately with many issues trading at par or higher. High quality at a discount? Maybe this will fit. Issued by Assured Guaranty (NYSE:AGO), one of the last men standing in the muni bond insurance business, the shares carry an impressive A+/A3 rating which is very rare these days especially for a preferred (even BAC which as an A or better bond rating has preferred issues with Bs next to them). The issuer has a master rating of AA+ which is the same as GE and other top flight companies. AGO avoided the same fate as that of AMBAC and MBIA (NYSE:MBI) who blew themselves up REAL good when they decided to get into the CDO and MBS insurance business. The preferred is callable any time within 30 days at par. That gives a holder nearly $4.50 of upside should that become a reality. Not a bad deal at all.

The Danger
Why are the shares trading at an 18% discount to par? Maybe it had to do with the recent ratings downgrade of the issuer AGO from AAA to AA+. Not a terrible whack but the market never likes a downgrade. The muni bond market is also under attack. Fears of defaults by the likes of California, Illinois, and other states don't instill much confidence in a company that insures municipal bonds in the event of default. AMBAC's recent bankruptcy filing and Berkshire Hathaway's (NYSE:BRK.A) exit from the muni insurance business doesn't help either. Last, it's probably not a good idea to get attached to the 6%+ yield. Callable anytime at par in a low rate environment means that the relationship probably won't last that long.

Disclosure: Long AGO-PF in client accounts