"Only when the tide goes out do you discover who's been swimming naked." - Warren Buffett
Investors got shellacked this week as the market had its worst one week decline in two years. The S&P 500 declined almost 2.7% during the week and the Dow Jones Industrial Average turned negative for 2014. The Russell 2000 took an even bigger hit and its underperformance against the overall market accelerated.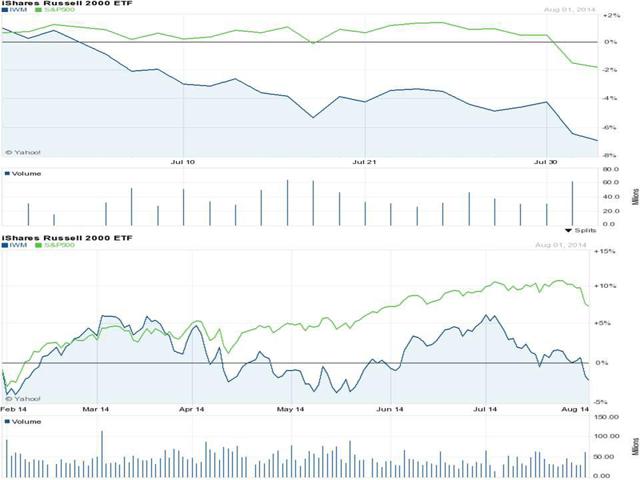 It appears after myriad false starts to possible sell-offs over the past few years; the market may finally be ready to experience the real deal. This makes a lot of intuitive sense for those of us that believe the Federal Reserve has been a primary driver of the rise of the market over the past five years even as the economy continues to be muddled in the worst post war recovery on record.
The average annual GDP growth experienced since the recession ended in July 2009 is right at 2% and that looks to be what 2014 will produce when all is said and done. To put this performance in perspective, the other nine post war recoveries saw average annual GDP growth north of 4% in the four years after their recessions were marked officially ended.
The timing of this decline must be making believers who hold that a good part of the five year rally has been "artificial" and would dissolve once the Federal Reserve ended its latest easing program chuckle. After all the market declined more than 15% in response to the ending of "QE1" and more than 10% after the end of "QE2", it does not seem to be illogical to assume the market would react negatively to the ending of "QE3" which should be completed by October.
As I wrote in Mid-July, your view of market has to depend on how much you "Trust the Fed". My own view given the institutions lousy economic forecasting record, as explained in the article, is that ending basically what has been six years of various easing programs and then winding down an over $4 trillion balance sheet would have more negative hiccups than were priced into the market at the time.
Although I am critical of the Fed's past economic forecasting and skeptical of their reluctance to remove the "training wheels" from the economy over the past few years, their intervention in the markets during the crisis and its immediate aftermath was necessary to prevent a much deeper economic crisis.
Their intervention also bought time for domestic companies and banks to deleverage their balance sheets, refinanced their debt at lower rates and sell non-core assets. Overall corporate balance sheets are very strong.
I am concerned on the amount of stock buyback activity this year - S&P companies bought more stock back in Q1 of this year than in all of 2009. A lot of this buyback activity is being financed by debt to take advantage of low interest rates at home and avoiding paying taxes on repatriating funds from their overseas cash holdings.
Unfortunately governments across the globe have not been as prudent in getting their balance sheets in order or making their economies more competitive. We are already starting to see some cracks in the foundation of the global economic system.
This week Argentina went into technical default, Puerto Rico is offering legislation that will make it easier to file bankruptcy ala Detroit - Puerto Rico has total debt of four times that of Detroit and this event could roil the municipal bond market given how many "state" muni funds actually hold a significant portion of Puerto Rican debt due to the island's triple exempt tax status.
In addition, Portugal's second largest private bank in Portugal was just caught up in the bankruptcy of the Espirito Santo - a large conglomerate. The bank reporting the largest ever corporate loss in the country's history last week rocking Portugal's and Europe's bourses. This is just one of many troubling signs throughout Europe's financial markets.
If these types of financial events six years after the financial crisis are happening when the Federal Reserve is still buying assets, what will happen when they stop and then eventually have to unwind their massive balance sheet? I think we will see a lot of "naked swimmers" over the months and years ahead.
A lot of pundits think the Federal Reserve still has the market's back and if equities turn down enough they will come to the rescue once again. I think this is a false belief. With inflation starting to turn up and with a new leader at the Federal Reserve needing to build credibility, which would be eroded tremendously if they rode to the market's aid once again; the Federal Reserve should be much more reluctant to initiate yet another easing program to bail out investors even in the face of a substantial market decline.
The more plausible scenario is the European Central Bank will engage in its own massive easing program to stave off a financial crisis there. All of these scenarios will have impacts that investors should prepare themselves for.
On Monday, we will discuss companies that should benefit from an easing program from the European Central Bank as well as a stronger dollar at home.
Tuesday, we will look at some large cap growth stocks that have outperformed the overall market recently and should continue to do so as investors stick to safety.
Finally on Wednesday, we will examine some of the recent carnage in the small cap sector. We will put together a solid "shopping list" together to be ready if this decline continues which I believe is likely.
Disclosure: The author has no positions in any stocks mentioned, and no plans to initiate any positions within the next 72 hours. The author wrote this article themselves, and it expresses their own opinions. The author is not receiving compensation for it (other than from Seeking Alpha). The author has no business relationship with any company whose stock is mentioned in this article.