As much as I try to hate Michael Kors (NYSE:KORS), I have trouble doing so. I read equity analysis from extremely smart people saying that the company may be overvalued and that the stock might not be a great investment - heck, the sentiment right now is that the company might not have a great quarter.
I disagree. Firmly.
I step out of my apartment in my city and see Michael Kors absolutely anywhere and everywhere I look. It used to just be the ladies - I would see the MK logo on a purse or on the earrings of someone walking through the city, or sitting on the train next to me. I never even knew what the brand was up until last year. My investing partner pointed them out to me prior to earnings a couple quarters ago. I bought, made some money on the report, and haven't held since.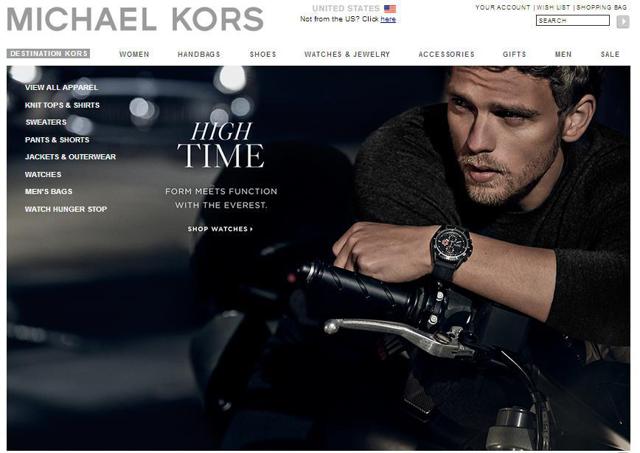 Hey, where did they get that picture of QTR on his motorcycle?!
Now, I'm seeing Michael Kors everywhere - especially more so on men. Hell, I just bought two Michael Kors ties yesterday at Macy's (NYSE:M) myself. My friend has a disgustingly awesome Michael Kors suit that I also love - my next suit will likely be a Michael Kors, as well.
Kors has been off 12.2% in the last three months amidst worries that the company wasn't going to be able to meet its hefty guidance and sales numbers heading into this report. Wall Street has really pushed their estimates, too - to the top end of what the company has been guiding for.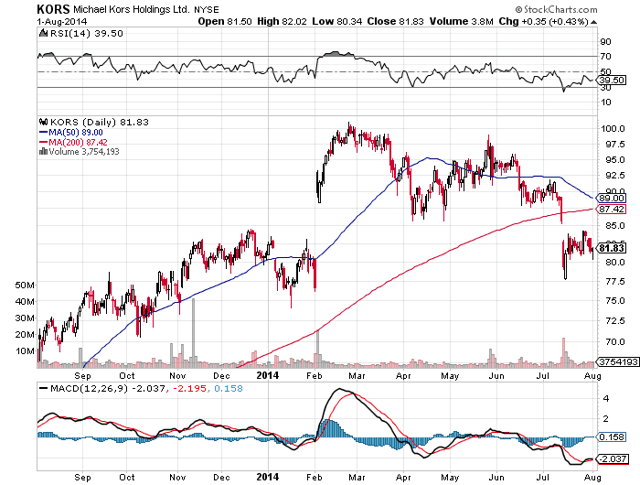 The company is set to report this Monday before the market opens. The consensus estimate is for $0.81/share EPS on $851 million in revenues. The Street's expectation is on the upper end of the company's guidance. Now, your only chance to buy before earnings is to sneak into the pre-market tomorrow early.
The company's current value puts them at a forward P/E of 20x, which is a bit light for a company that's growing as quick as Michael Kors. For instance, this quarter's EPS is slated to be up 32% and revenues are slated to be up 33%.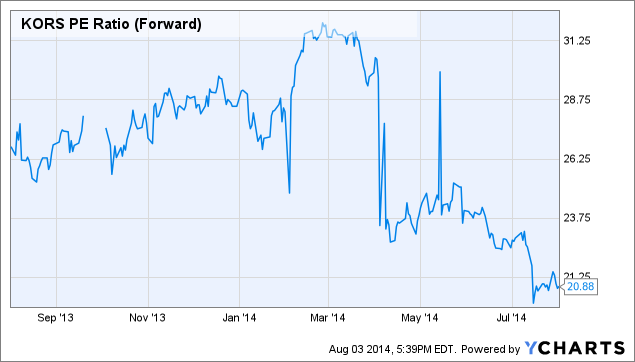 KORS PE Ratio (Forward) data by YCharts
I continue to contend that Kors is still in the meat of its adoption curve and will continue to leverage its name for both women and men going forward. SA Contributor WestEnd511 echoes my sentiments, claiming it's "time to get greedy":
I believe that international sales will continue to be a growth area with strong comps in Europe and Asia to offset the handbag maturity we are experiencing in North America. That said, investors should place particular focus on the European numbers and any insight on growth in Asia, in particular China where KORS recently opened two flagship stores in Beijing and Shanghai. Although sentiments heading into Monday is weak, investors are better off positioning themselves for a potential pullback, which I see is a good buying opportunity on a name with a balanced channel mix, rising brand equity and global growth.
On the pullback heading into earnings, I think we could be getting Michael Kors at a significant discount and that on a beat, the equity could be heading back towards the territory near $100 that it occupied just months ago.
If you don't remember, and despite Kors' recent pullback, it is the one company that's solely responsible for absolutely crushing Coach (COH) over the last couple of years.
Additionally, KORS had moved its earnings date up one day so it was reporting first thing Monday morning before the market opens. To me, this is an insanely bullish move. Nobody changes their earnings date by one day unless they have a statement to make. That statement could be, "we want the WHOLE week of trading ahead of whatever we're going to disclose Monday morning." If I can scrap up the BP, I might take a swing as soon as pre-market opens tomorrow, before they get a chance to report and/or halt the stock.
There could be more material news than just an earnings beat on the way. The Fly reported:
After the close, Michael Kors announced that it plans to report its first quarter fiscal 2015 financial results on Monday, August 4, 2014, before the market opens. The Company also plans to hold a conference call to discuss its financial results the same day at 8:00 a.m. ET.
You could always buy pre-market on Monday into earnings - or you could even wait it out. I doubt that KORS' growth story is anywhere near its end, no matter how the numbers turn out. For those of you in this stock already, I'm on your side of the coin heading into Monday morning's report.
Best of luck to all investors in KORS tomorrow.
Disclosure: The author has no positions in any stocks mentioned, but may initiate a long position in KORS over the next 72 hours. The author wrote this article themselves, and it expresses their own opinions. The author is not receiving compensation for it (other than from Seeking Alpha). The author has no business relationship with any company whose stock is mentioned in this article.