Immersion Corporation (NASDAQ:IMMR) reported Q2 2014 results last Thursday, after market close. Here are some of the financial highlights:
Revenues for Q2 2014 were $11.8 million, up 16% Y/Y. Revenues from royalties and licenses of $11.6 million were also up 16% on a yearly basis. Revenues missed analysts' consensus by $1.43M.
Net income for Q2 2014 was $169,000 or $0.01 per diluted share, and non-GAAP net income was $1.5 million, or $0.05 per diluted share. Q2 non-GAAP EPS of $0.05 also missed consensus, by $0.03. The company defines non-GAAP net income as GAAP net income less stock-based compensation.
Immersion also guided for revenues in the $51 million to $56 million range, below $58.5 million consensus, and previous management estimates of $54 million to $62 million.
A quick look at the company's performance in the last few quarters (royalty and license revenue stream only):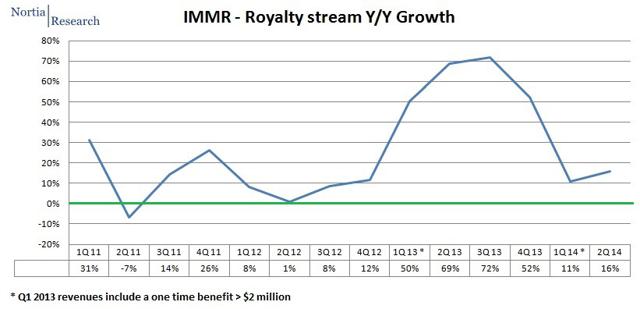 After the big increase caused by the monetization of basic haptics in 2013, Immersion's growth rate declined to 11% in Q1 2014 (+29% excluding a Q1 2013 one-time benefit) and 16% in Q2 2014.
Mobility remains Immersion's main revenue contributor
If we have a look at a few charts highlighting results per business vertical, we'll notice that mobility remains Immersion's main revenue contributor:
If we exclude Q1 2014, which was strongly impacted by Sony's launch of PS4 (strong holiday period sales recognized in arrears), we'll notice that mobility has represented in excess of 60% of total revenues, in each of the last few quarters:
A closer look at absolute numbers is useful to highlight a few data:
Revenues in the mobility vertical have been relatively stable in the last few quarters, excluding the impact of a one-time benefit in Q1 2013 (Samsung's renewed agreement that included tail revenues)
Mobility has basically been ranging between $6.6 million and $ 8.0 million per quarter, probably due to the structure of Samsung's 2013 agreement, which is mostly fixed (the Korean company represents about one third of Immersion's total revenues, and we estimate its contribution in the $5 million per quarter)
Mobility has become less influenced by the typical pattern of strong holiday sales that translate into a very strong Q1
Gaming and medical (unexpectedly) have become the verticals more influenced by seasonality in sales - an interesting information when modeling future revenues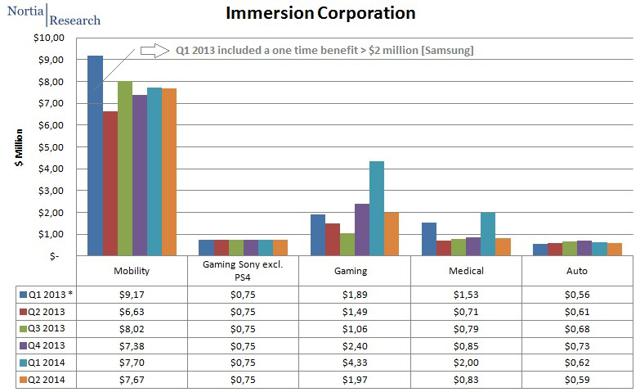 (numbers are our estimates based on company's disclosures - some roundings make a few minor data less reliable. For example, this chart shows a slight decrease in revenues in the automotive sector in Q2 2014 on a yearly basis, while Immersion experienced a 9% increase Y/Y).
If we examine the variable and fixed component of Immersion's sales, we will notice that the variable component has remained relatively stable, while fixed revenues have been growing nicely in the last few quarters ($ 6.1 million to $ 7.7 million range: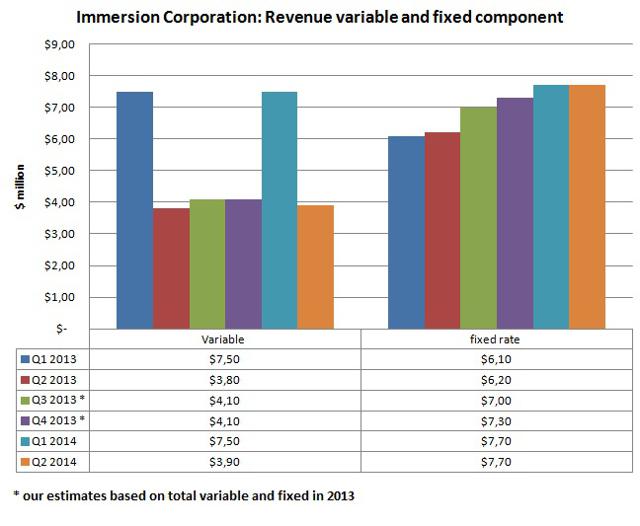 LG negotiations in focus
Immersion's management blamed the timing of new agreements and the pace of certain negotiations, including renewal talks with LG, for the revenue miss and lowered 2014 guidance:
As Vic mentioned, due to the timing of deals and the pace of certain negotiations including our renewal negotiations with LG Electronics, we now expect revenues for 2014 to be in the range of $51 million to $56 million, an increase of 7% to 18% over 2013. Non-GAAP net income for 2014 is anticipated to be in the range of $6 million to $12 million.
We believe there are two main expects that should be analyzed : the impact of LG negotiations and the delayed revenue benefit from variable deals like Huawei (or any other, new Chinese deals that may have a similar structure).
The LG negotiation seems to be mainly a matter of price, rather than a discussion about the value of haptics:
As we continue to advance our OEM business and deploy rich new haptic features, we have also been taking steps to ensure that we are able to realize the full value of our haptic innovations. In that light we have been engaged in contract renewal negotiations with LG Electronics one of our large OEM customers. Our current agreement with LG has now expired and we have not yet entered into acceptable new terms. We are currently in discussions with LG and are actively working towards mutually acceptable terms but are firmly committed to ensuring that we receive fair value to Immersion haptic technology.
To put things in the right prospective, LG sold about 12 million to 13 million smartphones in Q 4 2013 and Q1 2014 (Samsung is in the 85 million range, while Huawei sales ranged between 14 million and 17 million smartphones in the same quarters).
We estimate that the impact of a renewed agreement with LG may be in the $ 4 million range per year, or more. Here is some additional color from Immersion's management:
LG is a well established customer of ours and has a large number of models that they launch each year.
If history sometimes repeats itself, we definitely hope it is the case here and we vote for a solution similar to what happened with Samsung at the end of 2012, when the company came out with very different press releases at just a few days distance:
Our current license with Samsung expired at the end of 2012, and we believe we are in a strong position to seek substantially higher compensation for Samsung's use of our TouchSense and Integrator software solutions, as well as for its prior and future shipments of mobile devices containing Basic Haptic technology.

However, given the health of our existing business, we are pleased that even absent a new agreement with Samsung, our current guidance for 2013 revenues is in the range of $28 million to $32 million," concluded Mr. Viegas.

"Having entered into this important customer agreement, we are now in a position to raise our 2013 guidance, as we expect revenues for the year to be in the range of $44 million to $48 million.
Unlike the Xiaomi agreement, it looks like the recently announced Huawei deal is structured in such a way that the impact on revenues will be delayed in time - and by the way management noticed that even other new announcements coming in the second half of 2014 might be impacted from a similar revenue recognition pattern:
Huawei is a new customer and one that is launching individual models. As you would expect in an early relationship, they'll launch a handful of models. And since they're on a per unit basis that revenue will ramp as they increase the number of models.

I would add to that on the some of the Chinese deal just as an example, you are right there are structural and timing elements that could impact the 2014 revenue but wouldn't be indicative of the overall value of the contract for example when we do a per unit deal as opposed to a fixed deal, we're going to typically recognize at quarter if you think about the fact that we've got now a little less than, half that left in 2014 you are going to have relatively smaller period of time to recognize revenue on a per unit deal.
Conclusion
If the LG negotiation will be resolved positively, and hopefully in a relatively quick way, investors will most likely be given an updated, narrowed 2014 guidance, which should also put them in a position to estimate the impact of this key renewal going forward.
Even in this best case scenario, Immersion's management will be probably associated with a "not letting investors sleep well at night" attitude, as shareholders have already experienced a few road bumps while invested in this company. This doesn't seem a stock for the faint-hearted, although we hope the post-earning stock price collapse may be remembered as another buying opportunity over the longer term.
In the meantime, as a distraction to watching the deep red color in our portfolio, we may suggest looking at this very recent short video that shows how Immersion's TouchSense software may come very useful in wearables for gesture control technologies. A glimpse into a bright and easier future, to temper the increased difficulty of this investing journey.
Disclosure: The author is long IMMR. The author wrote this article themselves, and it expresses their own opinions. The author is not receiving compensation for it (other than from Seeking Alpha). The author has no business relationship with any company whose stock is mentioned in this article.