Robotics will be one of the main drivers of the next phase of industrialisation of the world economy.
Increasing global competition along with the need for energy efficiency, the use of new materials, growing consumer markets, the decreasing life cycle of products and the increasing variety of products require modernization of production facilities. This modernization process is happening simultaneously in both the developed and the developing world. As manufacturers generate increasingly complex products and the added value in production rises, manufacturing tools and processes are requiring sophisticated technology. Here is where robots come in.
Industrial robots
The development described above has led to an increase in the use of Industrial robots over the last fifteen years (see figure 1). Robot sales increased by 7% per year between 2008 and 2012 to $8.7 billion, according to the International Federation of Robotics ("IFR"). Based on quarterly statistics the IFR estimates that some 168,000 industrial robots were sold in 2013, 5% more than in 2012 and an all-time record.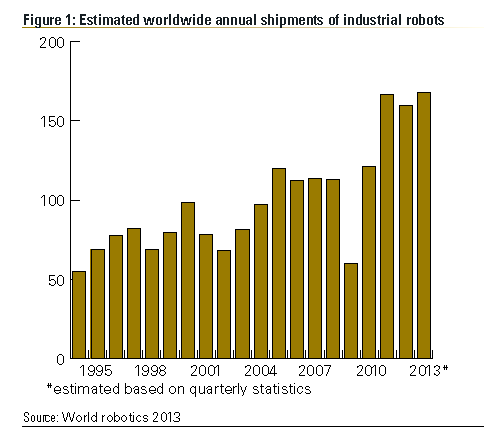 Industrial robots are being used in many different sectors and industries: from automotive, electronics, chemical, rubber and plastics to the food industry. The use of robotics is concentrated in the U.S., Japan, China, Germany and South Korea. The new record in robot sales was mainly the result of impressive demand in the Asian market.
With the increased use of robots, the average robot density in the world has also increased, reaching 58 robots per 10,000 employees in 2012. As the potential for robot installations in the non-automotive industries is still tremendous, robot density will undoubtedly increase further. Robot installations are estimated to increase by 6% on a compounded annual growth rate ("cagr") from 2014 to 2016. A small-cap company specialized in robotics is Adept Technology (NASDAQ:ADEP). The company I already described in two prior articles here and here.
Service robots
Besides industrial robots, the use of service robots is also increasing. Service robots are used in both the professional and personal environment. An example of professional use is in the medical field, where robots assist in surgery and therapy. Another example is the military, where robots are being used in drones or to dispose of bombs and booby traps. In the personal sphere, household robots help with vacuum cleaning and lawn mowing or provide entertainment and leisure as well as education. One important manufacturer and developer of service robots is iRobot. Total sales of service robots amounted to $3.42 billion in 2012 and are expected to increase substantially in the coming years (see figure 2).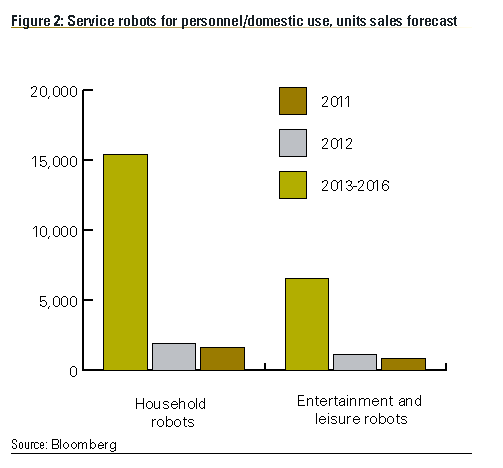 In the medical field, robotics is gaining momentum through the development of bionic suits. The latter, also called exo-skelotons, are mobile machines that primarily consist of an outer framework worn by a person and designed to increase the wearer's strength and endurance. They are essentially used as rehabilitation robots to help a patient move and help disabled people and the elderly to take care of themselves more easily. Demand for these robots is high, as the world is ageing and health costs are rising. An American company that produces these robots is Ekso Bionics Holdings (NASDAQ:EKSO). We are still some way from seeing widespread use of exoskeletons, as functionalities need to improve further.
A company that deserves some further research is iRobot (NASDAQ:IRBT). Founded by MIT researchers in 1991, iRobot designs small, artificially intelligent consumer and military robots. The company went public in 2005.
The company's most successful product is the automatic Roomba vacuum cleaner. This robot is part of the company's Home Robot business which is expected to rake in $500 million in revenues this year.
Take Away
In recent years robots have become cheaper to produce, which has in turn increase their usage. This is evident in for example, the improved sensor and processor technology from iRobot. More on this company, you will read in my next article. In my upcoming article, I will explain why the company is a worthy investment.
Disclosure: The author has no positions in any stocks mentioned, and no plans to initiate any positions within the next 72 hours. The author wrote this article themselves, and it expresses their own opinions. The author is not receiving compensation for it (other than from Seeking Alpha). The author has no business relationship with any company whose stock is mentioned in this article.
Editor's Note: This article covers one or more stocks trading at less than $1 per share and/or with less than a $100 million market cap. Please be aware of the risks associated with these stocks.