I was flying back home Friday night and I read an article on the plane called The Perils of Active Investing. The anonymous author on THE WEEK made the argument that "average index funds outperforms the average actively managed investment fund over extended periods of time." This ETF "cheerleader" seemed to be waving his pom-poms as he wrote:
ETFs are relatively cheap, provide more liquidity, and offer more flexibility because they trade throughout the day in real-time value.
Hmmm. Seems like the title to the article, Perils of Active Investing, should be fitting for mine, except I flipped the words around as follows: The Perils of REIT ETF Investing. Let's get started…
Why ETFs?
Exchange Traded Funds (ETFs) are a simple, relatively inexpensive method of gaining investment exposure to different asset classes or indices. They tend to have low management fees and closely track their benchmarks. An unstated, though fundamental, element to purchasing many of the widely held equity index ETFs: Buying the good, the mediocre and the bad equities. The counteracting factor for owning the universe of stocks in an index is diversification. After all, diversification is a powerful force, reducing portfolio volatility (risk) and allowing an investor to execute simple, passive investment strategies.
The ETF industry has exploded as US ETFs reached $1.7 trillion in assets (in 2013) up 33% from the previous year. The U.S. market dominates the global ETF space, with roughly 72% of global ETF assets. ETF.com in January predicted that within 10 years, total ETF assets will reach $15.5 trillion and eclipse the size of the mutual fund industry.
Boy. That's a crowded sector and while "cheap" and "liquidity" seem to be fabulous marketing words, the demand for easy solutions is also infinite - any investor who can conceive of an ETF strategy, is likely to see such platform being implemented.
Equity ETFs track everything from nuclear energy to social media to the S&P 500 Index. The ease of buying and selling ETFs allows an investor to build a portfolio emphasizing specific investment strategies. The simplest way to bring a specific exposure to a portfolio is to buy an ETF.
ETFs have a broad base of growing admirers - their simplicity attracts both retail investors and financial advisors. It's easy since retail investors can invest on their own without having to understand the company-specific fundamentals associated with constructing a portfolio. Conversely, a financial advisor can construct a humble portfolio of a few index ETFs and hold the client's preferred exposure to equity.
Also ETFs are simple to explain to clients, and they limit the amount of career risk for advisors who can blame the movements of broad indices, not their own stock-picking ability. The ETF portfolio will perform in line with the indices, and the advisor can charge fees in addition to the underlying ETF fees. The ability to mimic the indices, without the risk of deviating far from them, is a boon for financial advisors.
It is worth noting that there is a difference between index underperformance and underperformance from asset allocation. An ETF portfolio can underperform due to misallocation between sectors or asset classes on the part of financial advisors. Since there will typically not be noticeable index underperformance in an ETF portfolio, the chances of the advisor being fired are minimized.
It is a beautiful thing: Gaining market exposure without the risk of significant underperformance, without the necessity to understand company specific fundamentals, and without having to pay for active management. However, these attributes come with caveats.
An ETF does not discriminate between the good, the mediocre, and the bad companies within the index it tracks. This is the reason they are relatively cheap - there is no need to hire a research team to filter the good and bad.
Conversely, an investment manager has the task of understanding industry and company fundamentals to differentiate between equities that will outperform and underperform the broader index. The manager must have a team trained in current accounting principles, economics, portfolio management, business management, and other professional disciplines. Performance above an index is the single most important task for an active manager.
Managers often have a team of analysts, access to third party research, and years of experience to gain conviction on an overweight or underweight relative to the index. An equity index ETF is constrained to the singular objective of mimicking the index, and will not make an investment decision based on a fundamental analysis.
The Perils of ETF REIT Investing
An ETF simply buys the basket of equities in, for instance, the MSCI US REIT Index or the FTSE NAREIT All REITs Index, and rebalances periodically in accordance with the index. This precludes the ability to adjust weightings for qualitative or quantitative characteristics, and this keeps the investment moving in lock step with the underlying index. This seems ideal, but there is a hidden condition to this quality: The ETF will never outperform the index.
In fact, because ETFs have embedded fees for the "management" of the fund, they can never even meet the return of the index. Granted, many active managers will underperform their benchmark indices, but it is at least possible to beat their index return.
ETFs are extolled as a way to quickly diversify a portfolio, and therefore reduce volatility. Financial professionals know there are benefits to diversification, but also understand the rewards are not limitless. At a certain point, the volatility reduction becomes minimal and the portfolio begins to lose expected return. This concept is known as the volatility trumpet.
Peter Lynch, one of the greatest investors of all time, calls this "di-worse-ification." By purchasing the ETF, an investor has di-worse-ified a portfolio. An active manger can avoid holding the universe of an index, and invest in the companies that are the best in class and provide the greatest return.
Of course, ETFs have their place. For managers of niche strategies, they provide unique ways of gaining exposure to the market or specific sectors in a cost effective manner. ETFs are useful for sophisticated hedging strategies, as the manager can target a specific source of risk in a portfolio. Tradability and liquidity allow for easy entrance and exit for investors seeking short-term market exposure. However, as an unmanaged asset, equity ETFs are not the most effective instrument for long-term wealth creation.
Show Me The Money
Jerry Maguire is one of my favorite movies and in case you missed it, Maguire (played by Tom Cruise) is a sports agent who produced this popular quote:
Show me the money!

In a recent Kiplinger's article, Kathy Kristof (one of my favorite staff writers) explained:
Index funds flunk Risk Management 101 for three reasons. First, index funds don't hold cash. They buy all the securities in the index they track, and they remain fully invested at all times, whether stocks are cheap or expensive. I, on the other hand, hold more cash when stock prices look dear…

Second, big companies tend to dominate broad-market index funds. That's because traditional index funds are weighted by market capitalization. The bigger a company's value on Wall Street, the bigger its shares of the index…

Most important, my portfolio lets me be picky about the stocks I hold. That's something index funds can't do. An index fund must invest via formula. It can't ask: Do I understand the business a particular company is in and the prospects for its industry? Do I like the firm's leaders and the direction they're taking? Do I believe the company is generating enough cash to keep paying its dividend and, better yet, boost it?
Hats off Kathy! You nailed it (again) and I think all investors should pay close attention to the primary metric for REIT investors - DIVIDEND SAFETY.
Warning: The investment relationship with ETFs is complicated. Investors shouldn't get lulled into accepting consistent, slight underperformance, because of a desire to avoid large deviations from index returns.
Remember: An equity manager employs a research team for a reason: Actively select the stocks that will outperform the index over time, and avoid the stocks that will underperform. By not holding the entire index and concentrating on the stocks with strong fundamentals, active managers can avoid constructing a portfolio that suffers from di-worse-ification. Selecting a manager that best fits an individual's investment strategy requires effort, but the rewards can surpass those of ETFs.
Most Importantly: It's not hard to see why investors are attracted to the idea of high-dividend-paying stocks. On the surface, these investments seem to offer the best of both worlds: the potential for long-term capital appreciation and a steady income stream. But this perception rests on a fundamental misunderstanding of how dividends work and specifically the notion that REITs, unlike any other form of security, pays dividends based on a disciplinary law that requires at least 90% of their taxable income to be paid to shareholders annually.
I have a portfolio in my newsletter called the 3D portfolio and that stands for "Disciplined and Durable Dividends". The reason I created the portfolio was to measure the performance of consistent paying dividend stocks versus other portfolios, including REIT ETFs. The most important attribute for my 3D portfolio is that the companies included must have NEVER cut a dividend and the companies must have been around prior to the Great Recession. So you will not see American Realty Capital Properties (ARCP) or STAG Industrial (NYSE:STAG) on the 3D list.
I can't provide you with specific details because I owe my dedicated subscribers the content; however, I can tell you that my tactically-weighted portfolio has returned over 21% year-to-date and the overweighted positions include REITs such as Digital Realty (NYSE:DLR) - see my latest article HERE, Omega Healthcare Investors (NYSE:OHI) - see my latest article HERE, and Realty Income (NYSE:O) - see my latest article HERE.
Now. Let's compare my tactically-managed 3D portfolio with one of the more heavily traded REIT ETFs, Vanguard REIT Index ETF (NYSEARCA:VNQ). This fund is comprised of 137 publicly traded REITs with a total portfolio size of $23.1 billion. The top two holdings in the market cap-weighted VNQ include Simon Property Group (NYSE:SPG) and Public Storage (NYSE:PSA).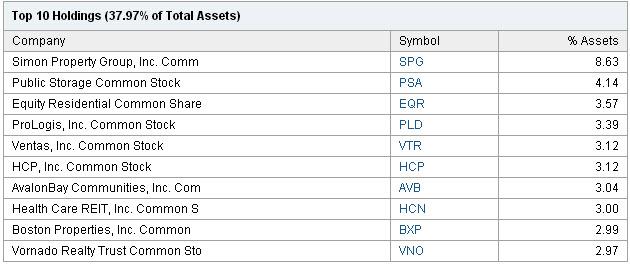 Now let's take a look at VNQ's performance year-to-date: Total Return of 17.76%.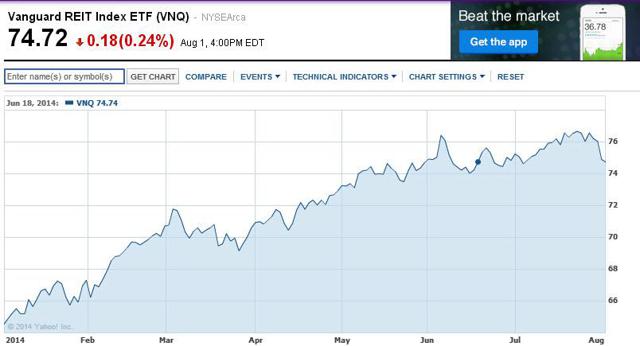 Now remember, REITs have been on a roll since January and many of the big names like Simon, Prologis, and Ventas (NYSE:VTR) are up simply because Mr. Market decided that REIT-dom has recognized the solid fundamentals that have boosted REIT shares. In addition, demand for commercial space has soared with the average occupancy rate across all REIT portfolios now at 93.6%, near its last occupancy-rate peak of 94.3% in 2007.
In other words, it's easy to out-perform when the wind is behind your sails; but I prefer to focus on the most important REIT metric - dividend safety - when formulating my own tactical income portfolio. In other words, I have no interest in owning a big basket of large-cap REIT securities weighted based on market cap.
Some argue that REITs are becoming too pricey with values soaring to moderately expensive levels; however, on an adjusted funds from operations (or AFFO) basis, a metric for valuing REITs, the asset class looks neutral. However, relative to bonds, an asset class some investors often use REITs in place of, REITs remain attractively valued.
In closing, I liked what Kathy Kristof (of Kiplinger's) had to say:
Are the shares simply too expensive for my taste? Some critics of index funds say that the traditional formula of weighting companies by market cap results in the funds becoming overloaded with stocks that have become overpriced. The more expensive an Apple or an Exxon-Mobile becomes, for example, the greater its market cap and the greater its weight in the index.
As Josh Peters (author of The Ultimate Dividend Playbook) reminds us:
The safest dividend is the one's that's just been raised.
So why not model your REIT portfolio around the safest securities and the companies that have maintained steady and reliable earnings histories? Be confident, be nimble, and be focused and remember to avoid the perils of ETF Investing...and most importantly, ALWAYS, ALWAYS, protect your PRINCIPAL at ALL COSTS.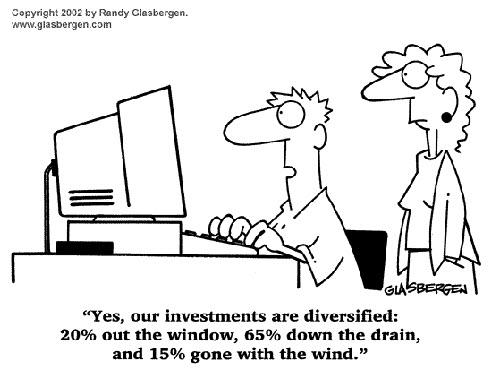 For more information on REIT newsletter, cick HERE.
Disclaimer: This article is intended to provide information to interested parties. As I have no knowledge of individual investor circumstances, goals, and/or portfolio concentration or diversification, readers are expected to complete their own due diligence before purchasing any stocks mentioned or recommended.
Disclosure: The author is long O, DLR, VTR, HTA, STAG, UMH, CSG, GPT, ARCP, ROIC, HCN, OHI, LXP, KIM, WPC, DOC, UDF, EXR. The author wrote this article themselves, and it expresses their own opinions. The author is not receiving compensation for it (other than from Seeking Alpha). The author has no business relationship with any company whose stock is mentioned in this article.