It looks like QE2 (the second round of "quantitative easing" wherein more dollars are put into circulation in an effort to stimulate the U.S. economy) is the dominant theme for this set of weekly selections from my ETF Pullback model (see Appendix below for explanation and performance data). Here's this week's ETF list:
This is last week's group.
Claymore/NYSE Arca Airline (NYSEARCA:FAA)

Global X InterBolsa FTSE Colombia (GXG)
Nuveen New York Inc Municipal

(NUN)

IQ South Korea Small Cap (NASDAQ:SKOR)
SPDR S&P Pharmaceuticals (NYSEARCA:XPH)
Last week seemed like as random a hodge-podge as I can recall since launching this strategy in late July. This week, however, silver plays predominate with a 60% weighting. The QE2 connection here is clear. Silver is an inflation play and, hence, something to consider for those who fear QE2 will lead to more inflation. Silver also works if increased inflation is accompanied by improved economic activity (that being the main idea of QE2) since silver is used for industrial purposes, more so than gold.
The emerging market portions of the list, ETFs focusing on Thailand and Colombia, are a bit more perplexing since increased U.S. inflation and a lower dollar would not seem to benefit them. Among the two, Thailand might cope better since its exports tend to be more value added and, hence, less reliant on rock-bottom pricing. Both countries, like much of the developed world, need to worry about global currency revaluation leading to an uncomfortable pace of capital movement. Hot money which flows in and out at the blink of an eye is the last thing emerging markets need and I expect many wouldn't blink at imposing or tightening controls if need be. In any case and all things considered, I'd still find it hard to fundamentally think highly of Thailand or Colombia when I seek inflation hedges, so for this week's listing, I'll just accept them as providing diversification, stakes that could be preferable if QE2 moves to the back burner in the week ahead.
Speaking of QE2, I should mention that personally, I think it's a good idea. For many, the notion of printing money, which when all is said and done is what QE2 is about, sounds frightening and reckless. Actually, though, this may reflect not so much bona fide economics as generational habit.
It's a shame we don't talk much any more about the early 1980s and the Regan administration. We've lost touch with what a watershed it was in Twentieth century economic history, one that's still very much relevant today for the context it established.
Before then, inflation had been a generational problem, dating mainly to the mid-to-late 1960s, when we tried to simultaneously boost spending for LBJ's Great Society program and the Vietnam war. By the late 1970s, it had seemed hopeless. We were reduced to laughing as we thought of the W.I.N. ("Whip Inflation Now") buttons President Ford tried to persuade us to wear, and sighing as we contemplated President Carter's well-intentioned but ill-fated efforts to cope with just about anything. Eventually, the prime lending rate topped 20% and even the least sophisticated consumers expected CD rates to be well into the teens. Meanwhile, Coca Cola (NYSE:KO) was relegated to having the second most well-known cola brand. To most, COLA meant "Cost Of Living Adjustment," which became the mantra of unions, and government program recipients and budgeters. We even forced accountants to force corporations to report various kinds of inflation-adjusted EPS. (It's not as if anybody figured out what to do with these new numbers, but we felt we did right by making companies give them to us.)
That was the way the U.S. was when Ronald Regan moved into the White House, when monetary economist Milton Friedman became a household name and when respectable authorities were tempted to turn their heads and spit whenever they heard the name Keynes. Then, contrary to what everybody except a few crackpots in and around the White House, the newly militant Federal Reserve and, perhaps, the University of Chicago thought possible, we pounded inflation into the ground (accepting a pretty brutal recession along the way and taking advantage of the political climate to kick big-time labor unions to the ground).
The attitudes we have today about inflation (and also government spending, taxation and deficits) come from this transition. I'm not suggesting politicians, investors and commentators who worry today about such issues remember or even heard of W.I.N. buttons, but the sentiments they express are pretty-much parroted once or twice removed from those who were active or came of age back in the day.
That's why the anti-QE2 rhetoric rings so hollow to me today. It's all just a rehash of 1970s-era boilerplate being applied to conditions that are now very different.
Today, we're finding economic activity strangled by a monetary system with more clog and blockage than a high-cholesterol patient who gorges on 30 ounces of steak per day. Yes, I remember well what happens when the pendulum swings too far toward increased money flow and so, too, do many in emerging markets that struggled with hyper-inflation well after we'd conquered out problems. But there's a time and a place for everything and right now, we need to worry about the pendulum having swung too far in the inflation-phobic direction, something that afflicted Japan and caused what should have been an ordinary recession to wind up causing a multi-decade economic mess.
Essentially, QE2 is like cholesterol medication for the economy. We need to recognize that zero inflation is not nirvana and unclog our monetary arteries.
Meanwhile, don't take seriously the nonsense you see from whiners who manage to get their faces in front of TV cameras. They're followers, not leaders. If, in a few years, we find annual inflation at, say 5%-7%, I assure you those same talking heads will be screaming against measures taken by the Fed to tighten the reigns, just like they did a generation ago. The challenge, for investors, isn't so much QE2 or even the whiners, but the extent to which short-term market action is influenced by the latter. I'm hoping that a technical model like the one I'm using here can do a tolerable job keeping me on the right side of that sort of thing. We'll see.
Anyway, Figure 1 is a screen shot from my account showing my performance with this strategy at FolioInvesting.com.
Figure 1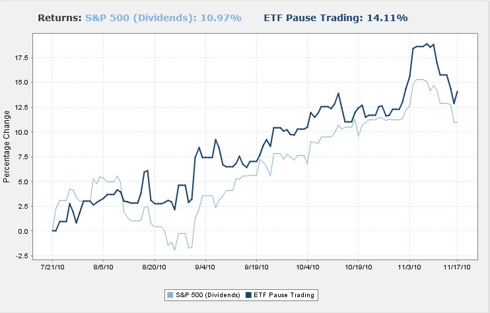 As you can see, last week, the one with no discernable theme, was not memorable although, at least, it finished better than it started. My confidence level for the week ahead is middling at best since it seems the model is struggling to stay ahead of the particularly rapid pace at which sentiment has been changing. (I've seen this situation with many kinds of quant models this year.) The long term track record (see below), however, is what encourages me to stick with it.
APPENDIX
To create this model, I started with a very broad-based ETF screen I created in StockScreen123.com.
Eliminate ETFs for which volume averaged less than 10,000 shares over the past five trading days

Eliminate HOLDRs (I don't want to be bothered with the need to trade in multiples of 100 shares)

Eliminate leveraged and short ETFs (I think of these as hedging tools rather than standard ETF investments of even trading vehicles)
Then I sorted the results and select the top 5 ETFs based on the StockScreen123 ETF Rotation - Basic ranking system, which is based on the following factors:
120-day share price percent change - higher is better (15%)

1-Year Sharpe Ratio - higher is better (15%)

5-day share price percent change - lower is better (70%)
The idea of using weakness as a bullish indicator is certainly not new. But often, it's an add-on to other factors that, on the whole, emphasize strength. Here, the weakness factor is dominant, with a 70 percent weighting.
This model is designed to be re-run every week with the list being refreshed accordingly. I trade through FolioInvesting.com, where I pay a flat annual fee rather than a per-trade commission, so I don't care about the fact that turnover form week to week is often 80%-100%. If you want to follow an approach like this but do have to worry about commissions, the strategy tests reasonably well with three ETFs, or even with one. (Cutting the number of ETFs is far preferable to extending the holding period.)
Figure 2 shows the result of a StockScreen123 backtest of the strategy from 3/31/01 through 10/7/10.

Figure 2
Figure 3 covers the past five years, a very challenging market environment that witnessed the fizzling of many strategies that had succeeded for a long time.
Figure 3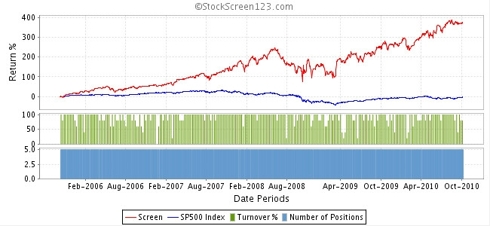 Disclosure: Long DBS, GXG, SIVR, THD, SLV