After rising for six straight weeks, gold and silver prices fell for the third week in a row as several bearish forces strengthened, the most important being an improving U.S. economy that has led many investors to think the Federal Reserve will raise interest rates sooner rather than later. Though the disappointing labor report on Friday cast new doubt on the pace of the recovery and led to a gold market rally, data released earlier in the week on economic growth and wage increases pointed to a less accommodative central bank and a stronger dollar later this year and early in 2015.
Safe haven demand continues to be one of the very few positive near-term catalysts for precious metals and, given recent developments in Ukraine and the Middle East, this could drive prices sharply higher at any time. But the lack of Asian buyers over the summer and the ongoing weakness in broad commodity markets will make it difficult for metal prices to rise in the month ahead and positive seasonal factors may not help either.
For the week, spot gold fell 1.1 percent, from $1,308.30 an ounce to $1,294.20, and the silver price dropped 2.2 percent, from $20.75 an ounce to $20.30. Gold is now up 7.4 percent so far in 2014, still one-third lower than its record high of over $1,920 an ounce almost three years ago, and silver has risen 4.4 percent so far this year, now 59 percent below its all-time high near $50 an ounce reached in early 2011.
The gold price fell below the key $1,300 an ounce level on Tuesday and added to those losses after better-than-expected GDP growth was reported on Wednesday and rising wages were reported on Thursday.
The metal ended July with a loss of over two percent and, as shown below, has recently made a mockery of the regular seasonal patterns by moving opposite the norm over each of the last four months.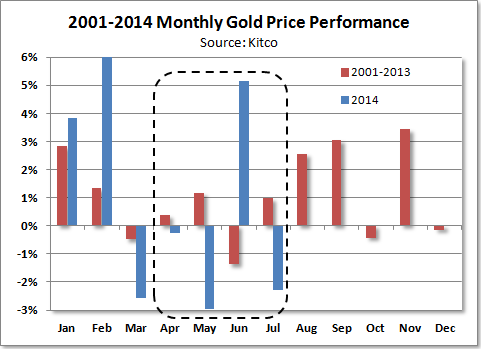 This should raise concern amongst precious metals bulls that the August-to-November period may not follow the favorable seasonal trend either, particularly with the growing list if bearish factors that have emerged.
To be sure, safe haven demand stemming from geopolitical concerns is the only short-term bullish driver for precious metals at this time. Much of the June gains for gold and silver were driven by violence in Ukraine and Iraq and, when combined with more recent developments in Gaza, conditions are clearly getting worse, not better. However, after months of negative news headlines from half way around the world, this just isn't having the same impact on U.S. investors and traders as it is being more than offset by positive news on the U.S. economy and what this implies for monetary policy.
The policy statement from the Federal Reserve last week was clear - the economy is improving, but they are in no rush to raise interest rates. Yet, there has been hawkish rhetoric from regional Fed presidents who think the central bank may already be too late in normalizing policy and this has combined with reports of rising wages and rising inflation. This somewhat mixed message has caused even more knee-jerk reactions by traders to economic data as witnessed last week and more of this should be expected in the period ahead, that is, until there is some clarity on interest rates.
Expectations for rising rates helped push the trade-weighted dollar to just below a 10-month high last week and this has become a strong headwind for precious metals prices due to the high negative correlation between the two. Last month, the U.S. dollar index posted its biggest monthly advance since February and, after recent developments, the dollar rally seems likely to continue, keeping a lid on metal prices.
As shown below, the broad commodity market has struggled this year as the summer energy rally appears to have ended.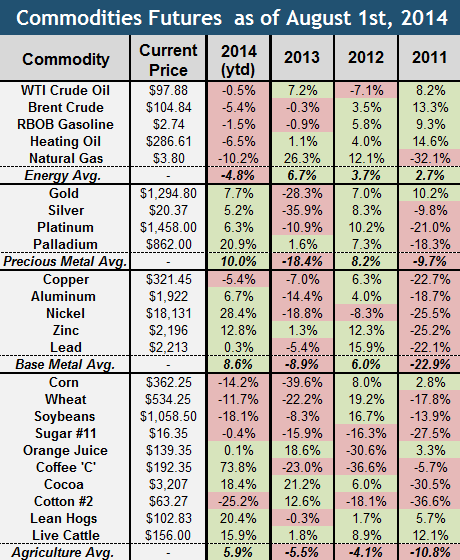 Prices for major agricultural goods (i.e., corn, wheat, soybeans) are now down double-digits in percentage terms and all major energy products are similarly in the red.
All of the key market-weighted commodity indexes are now in negative territory for the year and, after last week's sell-off, there may be more to come. Historically, the biggest gains for gold and silver have come when commodity markets are advancing, so, this makes a near-term precious metals rebound less likely.
Long-term investors are showing little new interest in precious metals if the holdings of the SPDR Gold Shares ETF (NYSEARCA:GLD) are any indication. For only the third time this year, there were no changes to the "tonnes in the trust" for GLD last week. At 802 tonnes, the holdings are up less than one percent for the year.
Metal continues to exit the iShares Silver Trust ETF (NYSEARCA:SLV) where another 24 tonnes left the trust over the last two weeks and a falling premium for the Sprott Physical Silver Trust (NYSEARCA:PSLV) indicates less interest in the metal in North America.
Demand from Asia is unlikely to provide much support for metal prices at current levels in the month ahead. Wedding season buying in India will soon rise but it remains unclear what, if any, rollbacks to import curbs will be enacted by the new government.
According to this Mineweb report, the Reserve Bank of India saw fit to, effectively, eliminate installment buying of gold at banks and this will reduce overall demand for the world's number two buyer.
In China, officially reported gold demand is running below last year's record level, however, rerouting of imports from Hong Kong to other cities where reporting is much more opaque will keep analysts guessing about the true level of demand there. In June, imports to Mainland China via Hong Kong dropped to the lowest level in 17 months.
Also, Reuters reported that quarterly gold jewelry demand in China declined for the first time in eight years during the April-to-June period, however, this too is quite misleading since it is a comparison to record buying in early-2013 after prices tumbled and demand in Asia soared. Indian and Chinese gold buyers are said to be waiting for prices to fall even more before making bigger purchases and they just might see that in the weeks ahead.
Investors and traders in the U.S. have been largely uninterested in precious metals lately and, absent worsening geopolitical conditions, prices are likely to move lower during thin trading early this month. But as summer vacations come to an end, the outlook should improve, particularly if last week's stock market rout turns into something much worse and the dollar rally fades.
After three years of disappointment, gold and gold stocks remain two of the best performing asset classes this year and this has not escaped the notice of institutional investors and hedge funds who, in recent months, have been buying gold stocks when the broad stock market falters. If this carries over into the underlying market for gold and silver, a return to following very positive seasonal trends this fall could be in store.
Disclosure: The author is long GLD, PSLV. The author wrote this article themselves, and it expresses their own opinions. The author is not receiving compensation for it (other than from Seeking Alpha). The author has no business relationship with any company whose stock is mentioned in this article.
Additional disclosure: I also own gold and silver coins and bars.