GoPro (NASDAQ:GPRO) has been on the radar every day for most investors, due to it being force fed to them from the media since the company's IPO. But, alas, with every day that goes by, GoPro continues on its way to just being another big board stock that lights up at 9:30am like the rest of them. As such, the company's stock price will also eventually start to normalize.
The company's stock has swung wildly since its IPO, amidst downgrades, upgrades and initial coverage from analysts. When the company first IPO'd, I wrote about it, suggesting that "GoPro Needed to GoProve Itself" before I'd be ready to buy. My original thesis looked something like this:
Investment thesis: Hold/Neutral, PT of $32

Make no mistake, I love the GoPro product - but the security, with the way that it's priced is a completely different animal. My friends that climb have all used GoPros to make some outstanding videos of their climbing adventures. And, there is no doubt the content that is derived from GoPro's devices is truly unique. It's for these reasons that QTR is initiating GoPro with a Hold/Neutral and a short-term price target around $32 - while we wait anxiously to see the direction this company heads over the next 6 months.
I didn't like that the CEO was selling a ton of shares into the IPO, I questioned their ability to become a media company, and I suggested we let a couple of quarters go by before passing judgment. Looking at the trading so far, combined with the company's first earnings, that's still my sentiment.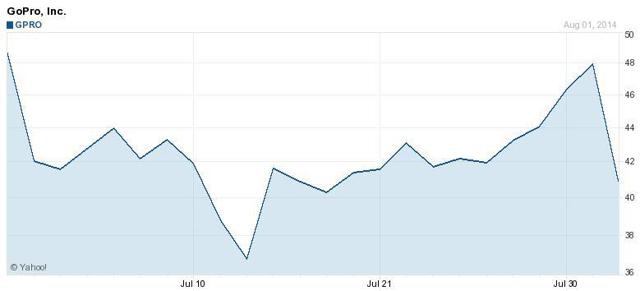 As you can see from the chart, the stock has again swung wildly to the downside and seems to be heading back for under $40. Volatility has been rampant as momentum players still continue to linger after the company's IPO. Again, eventually, the share price should normalize.
The company also just had their first report as a public company. Forbes wrote:
GoPro's ride on the waves of the public market got a little rough after the company reported earnings for the first time as a public company.

On Thursday, the San Mateo, Calif. hardware firm reported second quarter earnings that exceeded analysts' revenue targets, but showed wider losses than the year prior. The stock was down more than 11% in after-hours trading.

GoPro reported a loss attributable to shareholders of $19.8 million, or 24 cents per diluted share, compared to last year's net loss of $5.1 million, or 6 cents per diluted share. Excluding one-time items, the company had profits of $11.8 million, or 8 cents per diluted share, exceeding the expectations of analysts polled by FactSet who predicted income to come in at 7 cents a share.

Revenue was reported to be $244.7 million, up 38.1% from 2013 second quarter's figure of $177.1 million. That figure exceeded analyst forecasts for $238 million in sales.
The stock was crushed as soon as they reported the numbers. The wider losses that the company posted had analysts thinking that they were already heading in the wrong direction as a public company. Nicholas Woodman, on the company's conference call, stressed that the company still had room to grow and massive opportunity internationally. As Seeking Alpha reported on Saturday morning:
Though GoPro ( -14.6%) beat Q2 estimates thanks to strong accessory sales and a mix shift towards the costlier HERO3+ Black camera, HERO shipments missed estimates, notes Citi's Jeremy David (

Hold

). He thinks the shortfall confirms his "belief that the growth rate of GoPro is likely to continue to decelerate."
Nonetheless, David still thinks "the anticipated launch of [a] new GoPro model in Q4 is likely to keep the shares trading at a HEROic valuation - 45x our 2015 $0.93 PF EPS estimate at the current share price - through year-end."
Raymond James' Tavis McCourt (Market Perform) is more positive: He calls Q2 earnings quality "exceptionally high," and notes guidance for ~35% Q3 revenue growth is slightly better than expected. But he's not keen on a valuation of 49x 2015E EPS.
For his part, CEO Nicholas Woodman is talking up GoPro's plans to create a platform that will allow camera footage to be quickly uploaded/stored in the cloud, and more easily converted into short YouTube clips. He adds content deals for Apple TV and Roku set-tops are a natural fit.
While Jeremy David thinks the company could continue to trade at its lofty valuation, I'm sure that would be at the behest of the macro market sentiment, which looked anything but reassuring last week. I'd be inclined to wait and see how trading is going to open this coming week and how the market is going to push GPRO before ever considering getting into the stock.
My guess is that if you let GoPro cool off, we may even see it back around its IPO price. If you must be a buyer here, my strategy would be to wait.
I reaffirm my neutral on this stock with a price target still at $32.
Disclosure: The author has no positions in any stocks mentioned, and no plans to initiate any positions within the next 72 hours. The author wrote this article themselves, and it expresses their own opinions. The author is not receiving compensation for it (other than from Seeking Alpha). The author has no business relationship with any company whose stock is mentioned in this article.