The following is a list of the most undervalued large-cap stocks, when comparing the current price against the average analyst target price (used as a proxy for fair value).

Yes, there are many limitations to this approach, and we suspect there are many falling knives here. But the goal here is to give you a starting point for your own analysis.

Target price data sourced from Finviz. Full analysis below.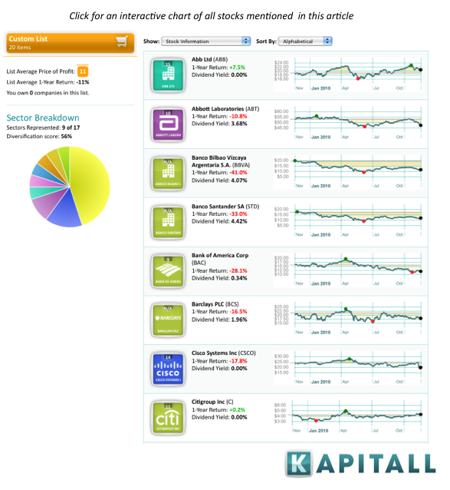 The list has been sorted by discount to analyst target price.

1. Bank of America Corporation (NYSE:BAC): Banking Industry. Market cap of $117.19B. Current price at $11.68 vs. average analyst target price at $17.99 (implies a discount of -35.08%). Short float at 0.98%, which implies a short ratio of 0.5 days. The stock has lost -26.13% over the last year.

2. Banco Santander, S.A. (STD): Foreign Bank. Market cap of $95.13B. Current price at $11.88 vs. average analyst target price at $16.81 (implies a discount of -29.33%). Short float at 0.09%, which implies a short ratio of 1.07 days. The stock has lost -30.82% over the last year.

3. Petroleo Brasileiro (NYSE:PBR): Oil & Gas Drilling & Exploration Industry. Market cap of $143.94B. Current price at $33.65 vs. average analyst target price at $45.71 (implies a discount of -26.38%). Short float at 0.49%, which implies a short ratio of 0.59 days. The stock has lost -36.09% over the last year.

4. JPMorgan Chase & Co. (NYSE:JPM): Banking Industry. Market cap of $153.16B. Current price at $39.67 vs. average analyst target price at $52.45 (implies a discount of -24.37%). Short float at 1%, which implies a short ratio of 0.99 days. The stock has lost -8.78% over the last year.

5. Boeing Co. (NYSE:BA): Aerospace/Defense Industry. Market cap of $45.85B. Current price at $62.86 vs. average analyst target price at $83.00 (implies a discount of -24.27%). Short float at 1.54%, which implies a short ratio of 2.13 days. The stock has gained 21.95% over the last year.

6. Credit Suisse Group (NYSE:CS): Foreign Bank. Market cap of $48.59B. Current price at $41.68 vs. average analyst target price at $54.93 (implies a discount of -24.12%). Short float at 0.2%, which implies a short ratio of 2.27 days. The stock has lost -23.41% over the last year.

7. MetLife, Inc. (NYSE:MET): Life Insurance Industry. Market cap of $38.05B. Current price at $39.39 vs. average analyst target price at $51.42 (implies a discount of -23.4%). Short float at 1.39%, which implies a short ratio of 1.47 days. The stock has gained 8.54% over the last year.

8. Banco Bilbao Vizcaya Argentaria, S.A. (NYSE:BBVA): Foreign Bank. Market cap of $42.61B. Current price at $11.64 vs. average analyst target price at $15.18 (implies a discount of -23.32%). Short float at 0.22%, which implies a short ratio of 3.51 days. The stock has lost -39.62% over the last year.

9. Barclays PLC (NYSE:BCS): Foreign Bank. Market cap of $52.32B. Current price at $17.90 vs. average analyst target price at $23.34 (implies a discount of -23.31%). Short float at 0.09%, which implies a short ratio of 0.93 days. The stock has lost -17.4% over the last year.

10. Wells Fargo & Company (NYSE:WFC): Banking Industry. Market cap of $140.98B. Current price at $27.55 vs. average analyst target price at $35.86 (implies a discount of -23.17%). Short float at 1.01%, which implies a short ratio of 1.29 days. The stock has lost -4.85% over the last year.

11. Visa, Inc. (NYSE:V): Business Services Industry. Market cap of $63.23B. Current price at $76.94 vs. average analyst target price at $99.24 (implies a discount of -22.47%). Short float at 3.84%, which implies a short ratio of 3.42 days. The stock has lost -5.36% over the last year.

12. Cisco Systems, Inc. (NASDAQ:CSCO): Networking & Communication Devices Industry. Market cap of $108.4B. Current price at $19.63 vs. average analyst target price at $25.28 (implies a discount of -22.35%). Short float at 0.83%, which implies a short ratio of 0.69 days. The stock has lost -19.43% over the last year.

13. ABB Ltd. (NYSE:ABB): Industrial Electrical Equipment Industry. Market cap of $45.86B. Current price at $20.61 vs. average analyst target price at $26.50 (implies a discount of -22.23%). Short float at 0.09%, which implies a short ratio of 1 days. The stock has gained 7.26% over the last year.

14. Teva Pharmaceutical Industries Limited (NYSE:TEVA): Drug Manufacturer. Market cap of $47.56B. Current price at $51.45 vs. average analyst target price at $66.13 (implies a discount of -22.2%). Short float at 0.92%, which implies a short ratio of 1.58 days. The stock has lost -2.08% over the last year.

15. Abbott Laboratories (NYSE:ABT): Drug Manufacturer. Market cap of $73.89B. Current price at $47.40 vs. average analyst target price at $60.90 (implies a discount of -22.17%). Short float at 0.61%, which implies a short ratio of 1.33 days. The stock has lost -7.31% over the last year.

16. General Electric Co. (NYSE:GE): Conglomerates Industry. Market cap of $168.31B. Current price at $16.09 vs. average analyst target price at $20.50 (implies a discount of -21.51%). Short float at 0.53%, which implies a short ratio of 0.96 days. The stock has gained 1.35% over the last year.

17. CVS Caremark Corporation (NYSE:CVS): Drug Stores Industry. Market cap of $40.53B. Current price at $30.70 vs. average analyst target price at $38.88 (implies a discount of -21.04%). Short float at 0.87%, which implies a short ratio of 1.29 days. The stock has lost -0.93% over the last year.

18. Citigroup, Inc. (NYSE:C): Money Center Banks Industry. Market cap of $121.72B. Current price at $4.28 vs. average analyst target price at $5.37 (implies a discount of -20.3%). Short float at 1.46%, which implies a short ratio of 0.89 days. The stock has lost -1.18% over the last year.

19. Microsoft Corporation (NASDAQ:MSFT): Application Software Industry. Market cap of $218.76B. Current price at $25.83 vs. average analyst target price at $32.22 (implies a discount of -19.83%). Short float at 0.94%, which implies a short ratio of 1.14 days. The stock has lost -13% over the last year.

20. Hewlett-Packard Company (NYSE:HPQ): Diversified Computer Systems Industry. Market cap of $92.91B. Current price at $41.69 vs. average analyst target price at $51.59 (implies a discount of -19.19%). Short float at 0.88%, which implies a short ratio of 0.86 days. The stock has lost -19.62% over the last year.

Disclosure: No positions