Worldwide, smart phone sales nearly doubled to 80.5 million in the third quarter, according to a report released last week by research firm Gartner. And Apple (NASDAQ:AAPL) moved into the top five bestselling manufacturers for the first time (coming in 4th place behind Nokia (NYSE:NOK), Samsung (OTC:SSNLF) and LG (OTC:LGERF)…but ahead of Research in Motion (RIMM)). But I'm not about to run out and buy more Apple shares.
Now, that's going against the grain a bit. There appears to be a growing consensus that Apple's stock is undervalued…seriously undervalued. A Robert W. Baird analyst recently initiated coverage on Apple with an outperform rating and a price target of $410. And there is a growing chorus suggesting a target of $500 (including StreetInsider.com and Hudson Square Securities). Even sell side analysts average a target price of $370 per share (shares stood at $308.03 at Friday's close).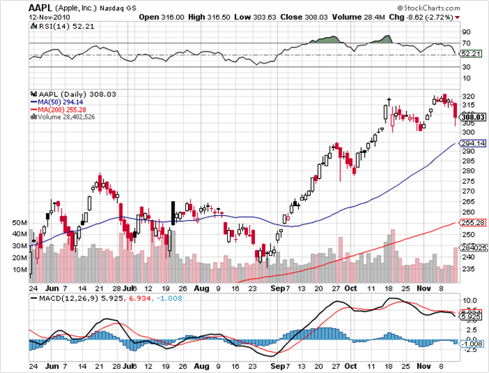 Source: stockcharts.com
Now, that sort of optimism is understandable. After all, shares have gained five fold over the last five years. And revenue from sales in China may triple over the next two years, according to Morgan Stanley, "We continue to believe investors under-appreciate Apple's growth prospects in China". And on the whole, the iPhone is sold in 89 countries, through 166 phone companies.
And now Bank of America (NYSE:BAC) and Citigroup (NYSE:C) are considering making the iPhone an alternative for corporate use for employees, replacing the Blackberry. The move is confirmation of the fact that RIM is losing its grip; the Gartner report also cited that Apple's market share in the smart phone arena has now surpassed RIM and stands second behind Google's (NASDAQ:GOOG) Android.
Beyond that, Apple is a multiplatform company, with what Trefis.com calls "an ecosystem of consumer products", giving it an edge over some of the competition.
But there are issues. Apple is the largest company by market value on the NASDAQ (with a market cap of $279.4 billion), and eventually size becomes very cumbersome.
And the company is sitting on a mountain of cash (the largest mountain in the tech sector), with cash and investments of $51 billion (up from $34 billion last year). The problem is that money is earning a meager .75%...less than the average savings account. The result: investors are increasingly leery about the fact that the company doesn't pay a dividend, and fearful that cash could instead fund a value-damaging acquisition. And Sanford C. Bernstein analyst Toni Sacconaghi told Bloomberg that the company could realistically manage a 5% dividend.
Besides that, the Mac likely faces a ceiling on its market share due to its price (according to Morningstar). And the iPhone is popular, but it's not the world's bestselling smart phone (Symbian software, on most Nokia phones, is in the lead)…and it still has to contend with the Android. According to the Gartner report, Android commands a 25.5% global market share in the smart phone space, up from just 3.5% one year ago. And Apple? Its 16.7% market share is down from 17.1% one year ago.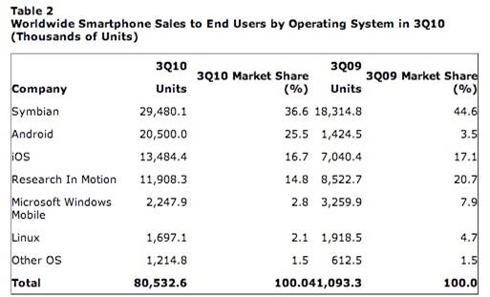 Source: techcrunch.com
Now, I like Apple, it's a great company…but today I'm not loading up on more shares.
For a broader exposure to the tech sector, consider Internet Architecture HOLDRs (NYSE:IAH): this ETF's top holdings are IBM, Apple and HP (NYSE:HPQ).
Disclosure: No positions