Results for chip giant Intel (NASDAQ:INTC) have finally started to improve, as the end of support for Windows XP has helped the struggling PC industry. Intel's most recent report was the best in years, with the company beating its already raised forecast and raising its 2014 guidance above expectations. The company also boosted its buyback by $20 billion and announced an acceleration of the repurchase plan, which helped to send shares to multi-year highs.
While things are looking better for Intel overall, one item that shareholders remain frustrated with is the dividend. Intel's last dividend raise came in 2012, and investors have been waiting for the next raise. As 2014 has progressed and results have improved, some investors thought a raise would soon come. Unfortunately, the wait will be a little longer. Today, I'll discuss the latest Intel dividend news, and what it means for shareholders and the stock.
The latest dividend declaration:
A few weeks ago, Intel issued a press release in regards to its quarterly dividend, stating the following:
Intel Corporation's board of directors has declared a quarterly dividend of 22.5 cents per share (90 cents per share on an annual basis) on the company's common stock. The dividend will be payable on Sept. 1, 2014, to stockholders of record on Aug. 7, 2014.
We knew that a dividend declaration was coming in late July, and so that was it. Unfortunately, it was not a raise, and some were certainly hoping to see one. In the chart below, you can see Intel's dividend since the start of 2009, by payment date. You can view all of Intel's dividend history here.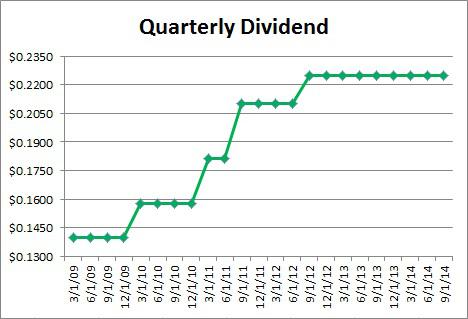 The 22.5 cent quarterly, or 90 cent annual payment, has now been the rate for 9 straight quarters. As I've detailed in past Intel articles, the company in the past was known for raises with its first payment of the year. This might mean that a raise may not come until 2015, but there are a number of other factors at play. Let's now look at some other important financial items that impact the dividend.
The buyback:
Intel repurchased a lot of stock in 2011, but the buyback slowed down tremendously in 2012 and even further in 2013. As a result, Intel's outstanding share count rose in 2013, and that continued with a slight rise in early 2014. The company didn't buy back a lot of stock in Q1, but stepped up the pace with almost $2.1 billion spent on shares in Q2, nearly 4 times the Q1 amount.
I mentioned above that Intel raised the buyback by $20 billion. This was a logical move, as I have discussed Intel's buyback nearing its completion. Intel stated it would spend about $4 billion on shares in Q3, nearly twice the amount spent in Q2. Obviously, the company is funneling a bit of cash towards the buyback, which may be one of the reasons why we haven't seen a dividend raise. Unfortunately for investors, shares are much higher now than they were in previous months, so hopefully Intel doesn't buy back shares at a peak.
The 40% target:
Perhaps the most important item in regards to the dividend is Intel's 40% of free cash flow payout target, which I've previously discussed in a lot of depth. In the past three years, Intel has been well ahead of its target, which many shareholders or prospective investors may not realize. In 2013, Intel paid out 44.50% of free cash flow in dividends. For the company to pay out the same dollar value in 2014 and hit the 40% level, free cash flow needs to rise by a little more than $1.1 billion this year. Since a number of balance sheet items went in Intel's favor last year, that feat seemed very difficult earlier this year when business conditions were less favorable.
Now that Intel's 10-Q filing is out there, we can examine the cash flow statement to see how things were after Q2. In terms of operating cash flow, or cash produced from operating activities, Intel was down $53 million for the six month period in 2014 compared to the year ago period. That's not terrible when you have roughly $9 billion in operating cash flow. The real issue is that capital expenditures were up by over $600 million for that period. That means that Intel's free cash flow was down by about $673 million in the first half of 2014, as compared to the first half of 2013. Remember, Intel needed to get free cash flow up by a billion plus in 2014 to reach the 40% target.
So what does all of this mean? Well, it means that Intel needs to have a huge second half of 2014 in terms of free cash flow in order to not exceed the 40% payout target. Intel's second half capital expenditures shouldn't be as much in 2014 as they were in 2013, so that will help. So it will all come down to those balance sheet items, which may or may not go in Intel's favor. For now, it appears that Intel will again go a bit past that 40% target, so those hoping for a dividend raise in 2014 might be a little disappointed.
Where Intel's dividend stands now:
Despite the company not raising the dividend in a couple of years, Intel still maintains one of the best yields in terms of US large cap tech. In the chart below, you can see how Intel's annual dividend yield stacks up against that of Apple (NASDAQ:AAPL), Microsoft (NASDAQ:MSFT), and Cisco Systems (NASDAQ:CSCO). Yields are as of Friday's close.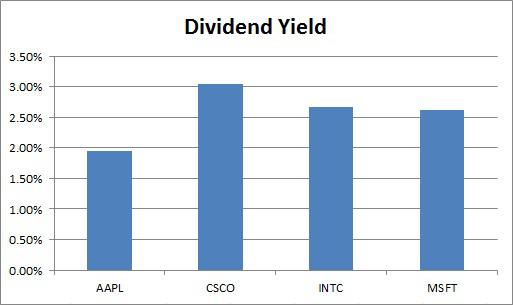 Intel comes in at 2.67%, which currently slots in second place behind Cisco Systems at 3.04%. Intel's yield has come way down in recent months thanks to the stock's rally. Microsoft is now only about 6 basis points behind Intel for second place, with Microsoft expected to raise its dividend in the next month or two. Intel might find itself in a distant third by the end of this quarter. A dividend raise would certainly help with that issue.
Final thoughts:
Even though Intel reported a great quarter and raised 2014 guidance, the company did not raise its dividend. $20 billion was added to the buyback, so the company feels that cash is better off use for share repurchases at this point. Additionally, Intel is running well ahead of its 40% payout target for free cash flow. With the chip giant's share price rising to multi-year highs, the dividend yield is in a distant second place among large cap peers. Third place may come rather soon. Dividend investors are probably feeling even more frustration with Intel due to a lack of raise, and Intel appears unlikely to raise the dividend for the final payout of 2014. For those looking for an increase, the first payment of 2015 may be your best hope at this point.
Disclosure: The author has no positions in any stocks mentioned, and no plans to initiate any positions within the next 72 hours. The author wrote this article themselves, and it expresses their own opinions. The author is not receiving compensation for it (other than from Seeking Alpha). The author has no business relationship with any company whose stock is mentioned in this article.
Additional disclosure: Investors are always reminded that before making any investment, you should do your own proper due diligence on any name directly or indirectly mentioned in this article. Investors should also consider seeking advice from a broker or financial adviser before making any investment decisions. Any material in this article should be considered general information, and not relied on as a formal investment recommendation.