RadioShack Corporation (NYSE:RSH) has been reeling due to competition from brick and mortar stores like Best Buy, Co. (NYSE:BBY) and online retailers like Amazon, Inc. (NASDAQ:AMZN). Best Buy has a wider selection of electronics than RadioShack does. Meanwhile, Amazon can sell competing products much cheaper, and in a lot of ways is a loss leader. The competition has been so stiff for RadioShack that the company has posted losses for nine consecutive quarters. The company would like to close 1,100 stores to stem its cash burn. However, lender agreements limit the number of stores RadioShack can close at once. Late last week BlueCrest Capital Management, an unsecured lender of RadioShack, announced it was willing to provide financing in order to help facilitate much-needed store closings. Below are the company's historical financial results: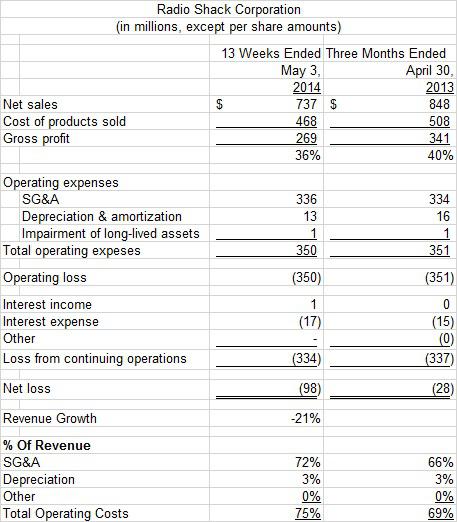 For the quarter ended May 3, 2014, revenue declined 21% to $737 million from the prior year period of $848 million. Gross margin declined to 36% from the prior year period while operating costs as a percentage of revenue increased to 75% versus 69% for the prior year period. RadioShack also suffered a net loss of $98 million.
Cash Burn
For the 13 weeks ended May 3, 2014, RadioShack suffered cash out flows from operations of $38 million. Cash out flows from investing was $10 million. The company's total cash on hand declined from $110 million to $62 million at the end of the period. Based on its current cash burn from operations of $38 million, RadioShack could potentially run out of cash over the next few quarters. Moody's thinks the company could run out of cash in the quarter ended November 1, 2015:
Without a capital infusion, RadioShack will probably face a cash crunch by the quarter ending Nov. 1, 2015, Moody's said today in a report. While the company has no debt coming due until 2018, operating losses will hurt liquidity and hobble its comeback, the credit-rating firm said. The continued cash burn could also force suppliers to pull support, it said. "Barring an improvement in the top line and margins, we think they will continue to burn cash and their liquidity position will continue to deteriorate," Mickey Chadha, a Moody's analyst in New York, said in an interview.
The stock opened last week at $0.80 per share and closed down nearly 30% to $0.58, reflecting the company's impaired status. RadioShack is set to report quarterly earnings tomorrow. It appears that without a capital raise, the company's days are numbered.
Conclusion
At this juncture, closing unprofitable stores may be too late to have an impact on RadioShack. Without a cash infusion, it looks like the iconic company's days are numbered. I recommend avoiding the stock.
Disclosure: The author has no positions in any stocks mentioned, and no plans to initiate any positions within the next 72 hours. The author wrote this article themselves, and it expresses their own opinions. The author is not receiving compensation for it (other than from Seeking Alpha). The author has no business relationship with any company whose stock is mentioned in this article.
Editor's Note: This article covers one or more stocks trading at less than $1 per share and/or with less than a $100 million market cap. Please be aware of the risks associated with these stocks.