By Michael Rawson, CFA
The rising concern about the United States dollar's value has become impossible to ignore. Gold futures recently traded above $1,400 an ounce; investors desperate for energy exposure have kept natural gas in steep contango all year; and every other day we seem to get a call or an e-mail asking about foreign currency funds such as PowerShares DB US Dollar Bearish (NYSEARCA:UDN). So what is an investor with a negative view on the U.S. dollar to do? In this article, we take a look at some of fundamental reasons why the dollar may weaken and suggest a defensive portfolio that should hold up well if the dollar declines but that will still provide better returns than simply holding foreign currency in a low-yielding deposit account.
With short-term interest rates near zero but a still high unemployment rate, the Fed has been forced to engage in unconventional tactics, resulting in fears of rampant inflation and a devalued dollar. As the Fed began to telegraph its intention to launch a second round of quantitative easing back in August, the U.S. dollar weakened and interest rates fell. Inflation expectations embedded in Treasury Inflation-Protected Securities rose slightly. But the weakening dollar sparked fears of a currency war and now long-term interest rates have backed up to a level higher than when the Fed first starting hinting at additional quantitative easing.
In the long run, there are two determinants of a currency's value: the size of the monetary base (the amount of currency floating around) and the growth of the economy underlying that currency. In the short run, the Fed is attempting to weaken the currency to spur economic growth. The U.S. faces headwinds from a large fiscal deficit and a current account deficit, while at the same time remains mired in a slow economy. One way to address U.S. overconsumption and spur an export led recover would be to weaken the dollar. However, a weaker currency reduces the wealth of a nation and leads to a lower standard of living.
In establishing monetary policy, officials are faced with a dilemma. Among interest rates, money supply, and the exchange rate, one can control only two of the three variables and the third will be determined in the market. Because the U.S. dollar is the international reserve currency, the Fed has the luxury of not having to worry about the exchange rate. But there has been increasing talk from China of moving away from the dollar as a reserve currency. This could be tremendously costly to the U.S. and could put additional pressure on the dollar. After all, a currency is essentially an IOU. The fact that foreigners are forced to hold our currency as a reserve and to facilitate transactions means that they hold debt that we never have to repay.
We believe that the dollar will likely depreciate over the next decade relative to other currencies. However, we feel that the depreciation is likely to be fairly mild and could take years to materialize. In the meantime, the dollar may rally during periods of high volatility, as it did during the financial crisis. So it may be dangerous to place to large a bet on a declining dollar in your portfolio, as that bet may go against you just when you need it most.
All those caveats aside, we decided to draw up a model portfolio for anyone with a more bearish opinion on the world's biggest currency. When we kept hearing questions about foreign currency funds such as UDN or the WisdomTree and CurrencyShares lineups, we worried that investors seeking to profit from a dollar downturn might be barking up the wrong tree. These funds, although the most direct bets against the dollar in the ETF universe, are merely cash accounts with an overlay of foreign currency exposure. They will not provide much economic return aside from changes in exchange rate and do little good as a small supplementary holding in a typical portfolio. So what if your Chinese yuan fund goes up 15% if your larger U.S. bond and equity holdings have collapsed?
Instead, investors should change the weightings of their entire portfolio to tilt away from the dollar while maintaining similar overall exposures to stocks and longer-term bonds. Currency funds have their place, but mostly as a replacement for cash that would otherwise be held in a U.S. dollar-denominated money market fund. Moving more money into foreign stocks and foreign bonds will position a portfolio to soar if the dollar falls but not sacrifice the returns generated by these risky assets even if the greenback remains solid.
Our Dollar-Proof portfolio still contains a hefty 61% allocation to global equities. However, we cut down on our U.S. equity holdings relative to the Hands-Free model portfolio from our ETFInvestor newsletter and consolidated them into Vanguard Total Market ETF (NYSEARCA:VTI). This eliminates our overweighting of small caps, as they lack the foreign revenues that could cushion or even buttress U.S. large caps in case of a dollar decline, and they look a bit overvalued at the moment anyway. After the incredible returns of late in emerging-markets stocks, we also felt no need to overweight them relative to other foreign markets. Thus the two Vanguard ETFs based on the cap-weighted FTSE All-World ex-US indexes worked beautifully to fill out our sizable foreign equity stakes. We substantially overweighted international small-cap stocks, as they do the least business in U.S. dollars, and we still love the long-term prospects of emerging-markets small caps.
Our fixed-income allocation increased to 29% from 25% in our Hands-Free Portfolio and is split between domestic inflation-protected and international bonds. Because a falling dollar probably means that central banks are dumping U.S. bonds and yields are rising, we opted not to hold any U.S. Treasuries. We shifted an extra 5% into our cash allocation through PowerShares DB US Dollar Index Bearish, which gives us exposure to developed-markets currencies such as the euro and yen. Currency investment is often thought of as risky, but that is because it is sometimes levered. Our foreign currency exposure is completely unlevered. Emerging-markets currency exposure comes from WisdomTree Emerging Markets Local Debt (NYSEARCA:ELD), which holds intermediate duration bonds of emerging-markets governments denominated in the local currency.
Finally, we put a larger investment into commodity-related securities than in our Hands-Free Portfolio and took solely long positions to capture all of the gains if the dollar depreciates relative to hard assets. Gold trades for lofty prices, but it will certainly benefit if the dollar falls further, so we propose a 5% position in this classic hedge, using iShares Gold Trust (NYSEARCA:IAU), which recently lowered its expense ratio. High storage costs make it difficult for commodity ETFs in other sectors to physically hold the underlying, which makes them vulnerable to the nearly universal state of contango. Having to roll futures contracts in a state of contango is a drag on returns as can be seen in the 87% cumulative loss in United States Natural Gas (NYSEARCA:UNG) over the past three years. We prefer to capture energy prices using an investment in smaller oil and gas producers whose higher operating leverage makes them especially sensitive to rising spot and futures prices and because they often own reserves, they face negligible storage costs. As for agriculture, we considered small positions in Market Vectors Agribusiness ETF (NYSEARCA:MOO) and Guggenheim Timber (NYSE:CUT), however we felt that their returns would be more heavily influenced by capital market factors rather than a weakening dollar and our investment in them would have been so small as to make their impact on the portfolio negligible.
To be perfectly fair, this model portfolio is not actually immune to a falling dollar. It's more of a dollar-dulling than a dollar-proofing. It would be unwise to move entirely out of the dollar and into protective assets such as commodities and short-term bonds. If the bet turns out incorrect, such a skewed portfolio would miss out on considerable potential gains while also opening itself up to severe losses from falling gold and energy prices. Without tremendous certainty about an impending collapse, we believe investors should stay quite diversified and merely tilt away from worrisome exposures.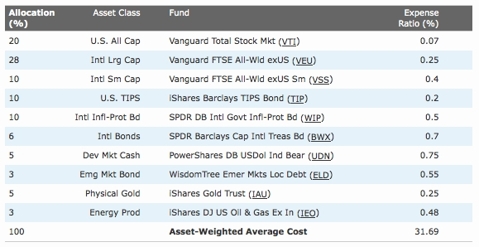 Disclosure: Morningstar licenses its indexes to certain ETF and ETN providers, including Barclays Global Investors (BGI), First Trust, and ELEMENTS, for use in exchange-traded funds and notes. These ETFs and ETNs are not sponsored, issued, or sold by Morningstar. Morningstar does not make any representation regarding the advisability of investing in ETFs or ETNs that are based on Morningstar indexes.