It has been a couple of weeks since I updated investors on cigarette giant Philip Morris (NYSE:PM) after its Q2 earnings report. I did not think that the Q2 report really changed the scenario for Philip Morris, and I continued to advise buying on pullbacks. Recently, markets have come down and Philip Morris shares have pulled back, as you can see in the chart below. Today, I'll update where things stand and detail why this may be an opportunity for investors.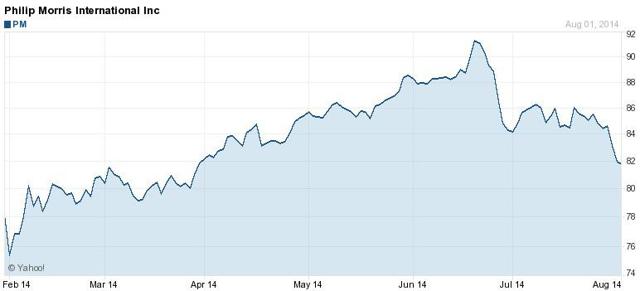 (Source: Yahoo Finance)
First, let me quickly discuss this pullback. On June 20th, Philip Morris shares hit a high of $91.63, so the decline has been nearly $10. There hasn't been a single major negative that you can point to that would warrant a $10 decline. However, there are a few items that are important. First, shares had been pushed up a little too much, thanks to rumors about consolidation in the industry. While a deal was eventually done between Reynolds (NYSE:RAI) and Lorillard (NYSE:LO), it fell short of the price many thought it would occur at. All of the names in this space had rallied too much, and some sort of pullback was due. Second, Philip Morris did take down its reported EPS forecast for 2014 due to a plant closure. The company also reduced its medium-term forecast, which did not help. Finally, the recent market pullback has taken down a lot of names. In total, these factors have helped to take down shares, but you can't just say there was one particular item that caused the pullback.
Obviously, this fall in shares can be good for both prospective investors as well as the company. Those looking to buy shares now have a better entry point, and those already holding shares may be able to lower their cost basis if it is above current levels. The company will be able to repurchase shares at a lower price, allowing more shares to be repurchased. Especially with the company reducing the buyback this year and next, share prices become even more important to how effective the buyback will be.
The second major item for investors is dividend yield. At that late June high, the annual yield was down to just 4.10%. As of Friday's close, the yield was up to 4.59%. A rise of roughly 50 basis points in yield is tremendous, especially in such a short time period. The company is expected to raise the dividend in September, meaning that the yield should rise even further. With my current prediction for a new dividend of $1.00 per quarter, the stock's yield would rise another 30 basis points based on Friday's close. Should shares remain in the low $80s and the company raise the dividend even more than I am looking for, a 5.00% annual yield is certainly within reach.
So the latest pullback in shares of Philip Morris provides another opportunity for investors as well as the company. Those that missed a chance to buy in the low $80s earlier this year have a chance to pick up shares now. With the dividend expected to be raised in a month or so, this stock should yield almost 5% over the next year. At less than 16 times 2014 earnings, the stock is fairly priced with major peers, so you're not overpaying for it either. Investors believing that the markets will go lower could wait for a decline to $80 or the high $70s, but the pullback so far has nearly reached $10, and that itself provides an opportunity.
Disclosure: The author has no positions in any stocks mentioned, and no plans to initiate any positions within the next 72 hours. The author wrote this article themselves, and it expresses their own opinions. The author is not receiving compensation for it (other than from Seeking Alpha). The author has no business relationship with any company whose stock is mentioned in this article.
Additional disclosure: Investors are always reminded that before making any investment, you should do your own proper due diligence on any name directly or indirectly mentioned in this article. Investors should also consider seeking advice from a broker or financial adviser before making any investment decisions. Any material in this article should be considered general information, and not relied on as a formal investment recommendation.