Over the past four weeks, according to data provided by Briefing.com, 1,455 companies have reported earnings. Of these 1,455 companies, 1,066 have either met or beat expectations: a total of 73.3%. This is down from last week's cumulative report in which 78% of companies had met or beat expectations. Below is a pie chart showing the distribution of these 1,455 companies by sector.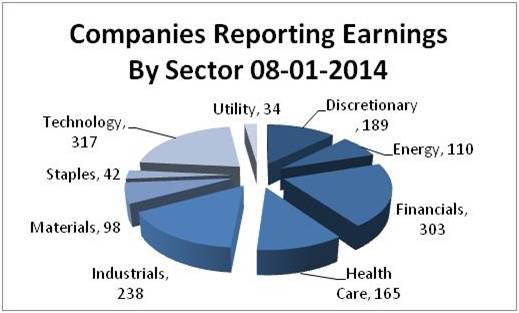 Sector Breakdown: The chart titled "Companies Reporting Earnings By Sector 08-01-2014" shows the sector breakdown of all companies that have reported earnings so far for the second quarter.
Weighted Deviation: We decided to break down the recent earnings reports to see get a better sense of their effect on the markets. To do this we compared each company's actual earnings per share to its estimated earnings per share and weighted them by their portion of their respective sector's total EPS. We then added these values together to see how each sector performed against market expectations.
For example, below is a chart of the earnings report results for a few companies in the energy sector. The second to last column, EPS vs. Consensus, shows each company's percentage deviation of their EPS from their EPS Consensus. We then multiplied those values by each company's EPS portion of the sector's total EPS (3.31). These values were then added together to get the sector's Weighted EPS Deviation vs. Consensus (-3.95%). Outliers who's Weighted EPS Deviation vs. Consensus was greater than 15% or less than -15% were removed so as not to skew the results.
| | | | | | |
| --- | --- | --- | --- | --- | --- |
| Company | Symbol | EPS | EPS Consensus | EPS vs. Consensus | Weighted EPS Deviation vs. Consensus |
| El Paso Pipeline Partners | | 0.32 | 0.38 | -15.79% | -1.53% |
| Kinder Morgan | | 0.27 | 0.28 | -3.57% | -0.29% |
| Kinder Morgan Partners | | 0.43 | 0.58 | -25.86% | -3.36% |
| Baker Hughes | BHI | 0.92 | 0.9 | 2.22% | 0.62% |
| Schlumberger | | 1.37 | 1.35 | 1.48% | 0.61% |
| | | 3.31 | | | -3.95% |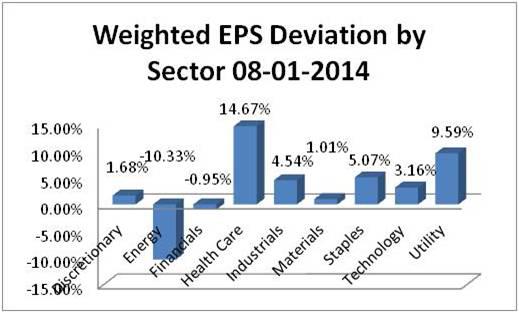 Hey Good Lookin': As can be seen in the chart titled "Weighted EPS Deviation by Sector 08-01-2014", earnings have beaten the street's expectations by a notable amount. However, there have been some shifts from last week's report. Financials and Energy have shifted toward the downside while Utilities have turned positive. As stated above, companies whose Weighted EPS Deviation vs. Consensus was greater than 15% or less than -15% were omitted from the study so that they would not sway the results. For example, Sony (SNE), which beat their EPS estimate of $-0.10.3 by $33.24 (resulting in an EPS of ($22.94)), was omitted because this dramatic deviation was not representative of the group as a whole. If SNE was to be included, the Discretionary sector as a whole would have beat missed estimates by 33.84%.
How About the Markets: Over this same four week period stock markets moved relatively sideways until this most recent week of trading during which the Dow Jones erased its gains on the year in one day.
Stock Buybacks: In a recent GrowthIncome CEF Weekly report, we touched on a very important yet often overlooked fact about earnings per share valuations. EPS requires two metrics to be calculated, earnings and outstanding shares. This means that not only will a company's earnings have an effect, but stock buybacks can also play a role by reducing the denominator of the EPS equation. According to Birinyi Associates, a market research and money management firm in Westport, last year companies spent close to $600 billion on stock buybacks, second to 2007 for the highest annual total in history. In addition, the first quarter of 2014 was the largest quarter for stock buybacks since 2007 at $188 billion. In addition, both Jeffrey Kleintop of LPL Financial and Scott Clemons at Brown Brothers Harriman Private Banking calculated that half of the S&P 500's per-share earnings gains were a result of reduced share counts, not increased earnings. What may look like better earnings could actually be a result of fewer shares in the system.
Guidance: At times, companies may issue conservative guidance in order to beat estimates and boost stock prices. It is important to remember to take all data with a grain of salt and to do your own research before making investments. We will continue to take a deeper look at corporate earnings and issued guidance in order to get a better sense on how earnings are dictating overall market movement.
Disclosure: The author has no positions in any stocks mentioned, and no plans to initiate any positions within the next 72 hours. The author wrote this article themselves, and it expresses their own opinions. The author is not receiving compensation for it. The author has no business relationship with any company whose stock is mentioned in this article.