Sturm, Ruger (NYSE:RGR) is a Connecticut-based full-line manufacturer of American-made firearms. The company is one of the nation's leading manufacturers of rugged, reliable firearms for the commercial sporting market. Sturm Ruger offers over 400 variations of more than 30 product lines, and has been in business for more than 60 years.
Stock Price: $49.207
Shares Outstanding: 19.4 million
Market Cap: $955 million
52-week range: $49.18 - $85.93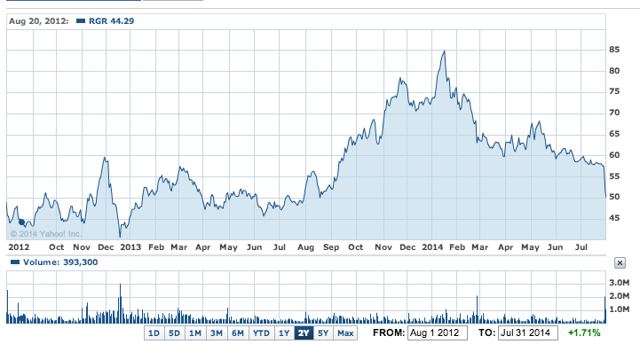 Sturm, Ruger has a trailing P/E of 8.69 and a forward P/E of 10.96. The company has impressive operating margins of 23.38% and return on equity of 59.41%. However, shares have been under pressure following an earnings miss.
Q2 Earnings Miss on Lower Gun Sales
Sturm, Ruger reported second quarter 2014 earnings of $1.12 per share, which missed analysts estimates of $1.28. Earnings were 31.3% lower from the $1.63 per share earned in the year-earlier quarter.
The company recorded revenue of $153.7 million, down from $179.5 million last year and lower than analysts estimates of $179 million.
Gross profit dropped 28.8% to $50.4 million from $70.7 million last year. Total operating expenses were $17.3 million, down 13.4% from last year. Operating income fell 35% to $33 million.
The missed estimates were due to lower gun sales, with firearms sales dropping 13.5% and castings sales decreasing 76.6% year-over-year. CEO Michael O. Fifer also said in a release that sales were adversely impacted by a reduction in overall industry demand, the aggressive discounting of many of their competitors, and the absence of recent significant new product introductions from the company.
Weak gun sales also hit competitor Cabela (NYSE:CAB), with comparable store sales declining 14.2% and direct revenue declining 18.3% due to a greater than expected decline in ammunition and other shooting related categories (Source: Quarterly Report).
The decrease in industry demand is measured by the National Instant Criminal Background Check System (NICS) background checks. For the second quarter of 2014, background checks were down 12%, and for the six months ended 2014, background checks were down 18%.
New product sales accounted for 18% of firearm sales in the first half of the year.
Dividend Declared
Sturm Ruger has a unique dividend policy where its payouts are based on a percentage of earnings. The company pays out approximately 40% of its earnings in dividends.
The previous quarterly payout was $.54 a share, and the company declared a quarterly dividend of $.45 this quarter, payable on August 29 to shareholders of record as of August 15.
During the first half of the year, the company returned $20 million to shareholders in dividends.
Sturm, Ruger also announced an expansion of the company's planned share buyback, from $25 million to $100 million. With 19.4 million shares currently outstanding, the share buyback would repurchase approximately 2 million shares, bringing down the share count to 17.4 million. This comes after Sturm, Ruger's main competitor Smith & Wesson (SWHC) announced a $100 million buyback program on June 13, 2013.
Balance Sheet
Sturm, Ruger ended the quarter with cash of $47.4 million, versus $55.1 million at the end of 2013. The company has no long-term debt. As of June 28, 2014, Sturm, Ruger shareholders equity was $207.1 million, for a book value of $10.67 per share.
At the end of the quarter, Sturm, Ruger had $150.4 million in current assets and $283.6 million in total assets, compared to $65.6 million in current liabilities, so the company is financially healthy when it comes to its balance sheet.
Why I'm Buying Under $50 a Share
Shares of Sturm, Ruger are currently undervalued, even with the company missing its earnings estimates. Analysts have full-year EPS estimates of $4.50 a share, which would give shares a P/E ratio of just 11.1. With a $100 million share buyback in place, the company's share count would be reduced to approximately 17.4 million.
Sturm, Ruger reported net income of $22.2 million for the quarter ended June 28, 2014. If the company reports similar results in the second half of the year, full-year net income would come in around $90 million. With shares outstanding of 17.4 million, this would give the company full-year earnings per share of $5.17 and a 2014 P/E ratio of under 10, which is pretty cheap and lower than the industry average of 19.31.
Still, the company will likely need to issue debt to buy back some of the shares, since the company only has $47.4 million cash. I'd expect at least $60 million in debt to be issued, which the company can certainly handle given its profitability (cash generated from operations expected well over $100 million annually). With full-year dividends of $1.80 a share and a stock price of $49.205, the company current yields 3.6% with a reasonable payout ratio of 40%.
The "decrease" in overall firearms sales and earnings for 2014 are only due to the record numbers posted in 2013 and the years before. Gun sales rose sharply following the mass shooting in Newtown, Connecticut, with background checks for firearms nearly doubling from January of 2012 to January 2013, according to this SA article. This increase in firearms sales was presumably attributed to the fear that new gun control legislation would be passed following the shooting.
Sturm, Ruger benefited a great deal from increased gun demand. For example, in 2013, Sturm, Ruger reported operating cash flow of $120 million, which was up more than 100% in 2 years. In 2010, the company reported $255 million in revenue and $28 million in full-year net income - by 2013, those numbers had shot-up to $688 million revenue and $111 million net income. Earnings per share rose from $1.46 in 2010 to $5.76 last year.
It was only a matter of time before gun sales slowed down a bit and normalized. Still, with gun sales slowing down and industry earnings impacted, I feel shares of Sturm, Ruger are a buy at current prices as the stock is trading at an attractive valuation. I'm buying shares under $50 and will add more on any further pullbacks.
Disclosure: The author is long RGR. The author wrote this article themselves, and it expresses their own opinions. The author is not receiving compensation for it (other than from Seeking Alpha). The author has no business relationship with any company whose stock is mentioned in this article.