Since eclipsing the Financial sector in 2008, Technology has remained on top as the biggest sector in the S&P 500. Technology's weighting in the S&P 500 has increased steadily over the past two years to its current level of 19%. This is its biggest weighting since 2000 when the Internet Bubble hit its peak.
Below is a chart and table highlighting the historical sector weightings of the S&P 500 since 1990. The Financial sector has seen its share of the S&P 500 double since bottoming in March 2009, but it is still 3.4 percentage points behind Technology. Industrials and Consumer Discretionary are two other sectors that have seen their S&P 500 weightings expand over the past couple of years. Health Care, Energy, and Consumer Staples are the three sectors that have seen the biggest declines in share in recent years.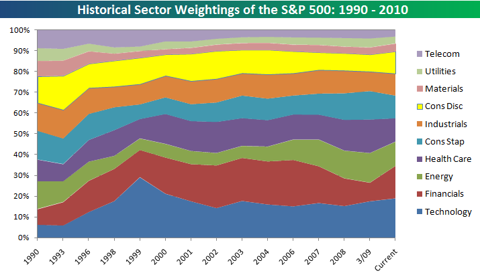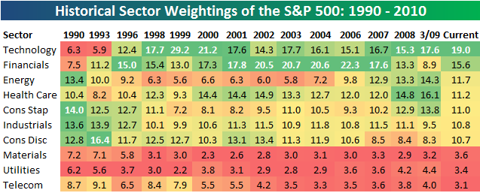 Below are charts showing S&P 500 sector weightings on a weekly basis going back to 1990. For each chart, the red line represents the historical average. As shown, Technology is the only sector that is above average and still on an upward trajectory. Energy is above average as well, but it has been sloping downward since its 2009 peak. Every other sector is either right at its historical average or below it.