Employing contrarian investing tactics is exceptionally difficult. Evolutionarily speaking, we are inclined to follow the majority and not stray from the pack. However, in investing, it can be extraordinarily lucrative to deviate from the consensus. The consensus view of Whole Foods Market (WFM) is that the company faces several headwinds that will stagnate growth and cause the stock price to languish. Nonetheless, the market is overly discounting shares of WFM and is providing an undervalued opportunity.
"Be fearful when others are greedy and greedy when others are fearful." -Warren Buffett
Trading History
The trading history of WFM has been categorized by acute volatility. The stock powered to over $35 in 2006, and subsequently fell to $5 per share in the depths of the recession in 2008. Coming out of the recession, WFM rose precipitously, and eventually eclipsed $65 last year. More recently, the stock has been among the worst performing this year, falling to its current level of approximately $38 per share. The recent sell-off has been due to concern of decelerating growth. However, WFM is set to surprise investors with the rollout of several novel initiatives.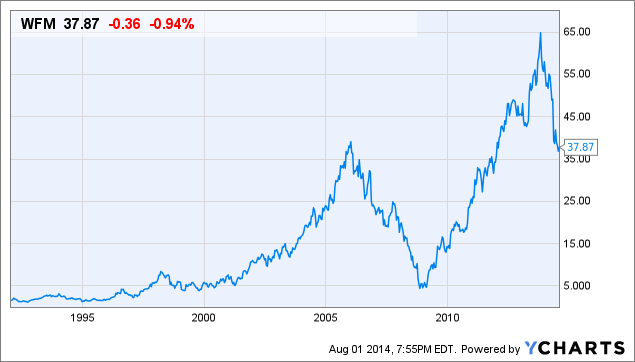 WFM data by YCharts
Recent Quarterly Report
Prior to the quarterly report, analysts were expecting WFM to earn $0.39 per share on revenue of $3.39 billion. Analysts also expected same-store sales to rise 4.6%. WFM reported better than expected EPS of $0.41, and revenue of $3.4 billion. However, the sell-off was due to lowered guidance by management and same store sales growth of 3.9%. Instead of the prior guidance of 10.5% - 11% sales growth, management now projects 9.6% - 9.9% in 2014. I believe management is being quite conservative with its estimates and is positioning itself to beat guidance and re-accelerate revenue growth in the coming quarters with the rollout of its new initiatives.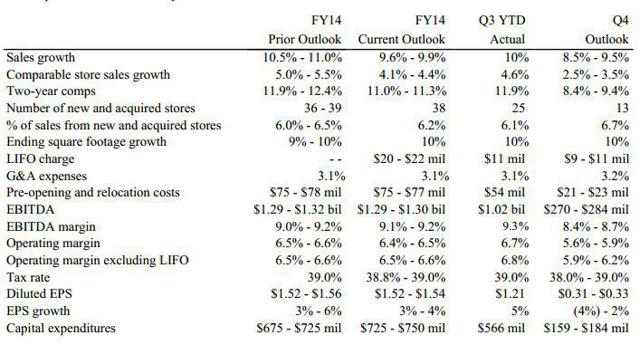 Source: Earnings Press Release
Some are also skeptical of the earnings beat being organic, as it purchased more shares during the quarter than projected. However, management repurchased 9.1 million shares during the quarter, which positively impacted EPS by less than $0.01 per share. Therefore, the argument about the growth being financially engineered is unfounded.
Positive Catalysts
New Store Growth & Remodels
Currently WFM has 380 locations, but management has stated that it projects the store count can reasonably reach 1,200 stores. There are currently 116 stores in the development pipeline, which management guided will add $1 billion in new sales next year. Further, management expects to reach the 500 store milestone by 2017. With comparable stores less than 2 years old averaging 15% return on invested capital, well in excess of their weighted average cost of capital, these additions will certainly become accretive.
Management is also being prudent in remodeling approximately 70% of their stores over 10 years old. Remodels has previously grown comparable store growth, and management believes it will see an immediate boost in comps with the full benefits being realized in 2016.
National Marketing Campaign
During the conference call, management announced plans to launch their first-ever national marketing campaign. With less than 400 stores and marketing expenses being less than 1% of total sales, WFM's current strong brand image is impressive. The new marketing campaign will provide tremendous returns and spur sales growth. Advertising generally has a diminishing rate of return, and with this being WFM's first national campaign, it is set to benefit greatly.
Superior Suppliers
WFM has formed partnerships with 176 unique suppliers to gain an exclusive relationship with them. This move is brilliant by management, as it will allow them to have better products than competitors and retain its strong brand image. The strong brand will allow WFM to sustain its premium pricing and industry-leading gross margins.
Digital Footprint Expanding
Management is staying ahead of the shift to e-commerce and is rolling out several initiatives in order to capitalize on the increasingly digital trend. Management has discussed a three-pronged approach to achieving this end. First, they will expand their reach to customers outside of stores by offering home delivery, and customer pickup. Second, they will launch of their first online subscription club. Those programs will be begin in 12-15 major markets by year-end. The final aspect of their mobile strategy is to introduce a more robust WFM mobile application.
Expanded Buyback Program
With the substantial sell-off recently, the Board of Directors is being prudent with its capital allocation and announced the authorization of a new share repurchase program of $1 billion. By repurchasing shares at this undervalued level, investors will benefit tremendously. The authorization extends through August 2016 and will allow for EPS growth to accelerate.
Valuation Level
On a historic price to earnings multiple, one can see the degree of negative sentiment that is priced into the stock. The PE multiple has not been this low since the Great Recession. At a trailing PE multiple of just 24.71x, I believe investors are discounting this stock far too harshly.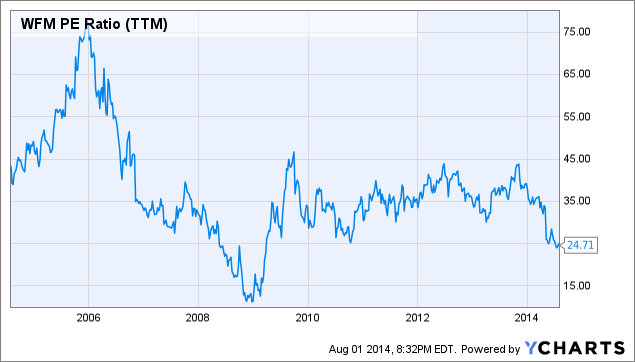 WFM PE Ratio (TTM) data by YCharts
Conclusion
After the recent sell-off, WFM once again is an undervalued investment opportunity. Although management reduced its guidance going forward, I believe they are being too conservative and will likely exceed estimates. Moreover, the new stores, remodels, first national marketing campaign, partnerships with suppliers and digital rollout will be catalysts for revenue acceleration. Accumulating shares at these levels will lead to outsized capital gains in the coming quarters.
Disclosure: The author has no positions in any stocks mentioned, but may initiate a long position in WFM over the next 72 hours. The author wrote this article themselves, and it expresses their own opinions. The author is not receiving compensation for it (other than from Seeking Alpha). The author has no business relationship with any company whose stock is mentioned in this article.