The following is a list of large-cap tech stocks. Judging by their earnings results relative to analyst estimates over the last year, it's clear that these tech giants are being underestimated by analysts.

To create this list, we started with a universe of large-cap tech stocks. We the collected earnings surprise data on all these stocks, and narrowed down the list to the companies that have the highest average earnings surprise rate over the last year.

How long will their winning streak continue, and how long until the good news fully priced in? Details below.

A full breakdown of earnings relative to analyst estimates can be accessed here. Earnings data sourced from AOL Money, short float data sourced from Finviz.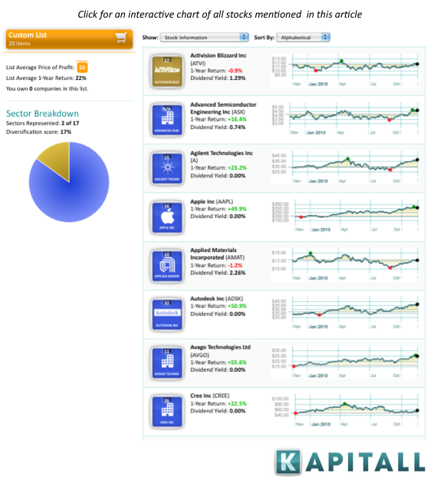 The list has been sorted by the average earnings surprise over the last year.

1. SanDisk Corp. (SNDK): Semiconductor Industry. Market cap of $8.89B. The company has outperformed analyst earnings estimates by an average of 72.46% over the last year. Short float at 7.38%, which implies a short ratio of 1.42 days. The stock has gained 75.68% over the last year.

2. Yahoo! Inc. (YHOO): Internet Information Providers Industry. Market cap of $21.05B. The company has outperformed analyst earnings estimates by an average of 63.54% over the last year. Short float at 4.77%, which implies a short ratio of 2.34 days. The stock has gained 0.62% over the last year.

3. Applied Materials Inc. (NASDAQ:AMAT): Semiconductor Equipment & Materials Industry. Market cap of $16.54B. The company has outperformed analyst earnings estimates by an average of 62.43% over the last year. Short float at 1.8%, which implies a short ratio of 1.22 days. The stock has lost -2.75% over the last year.

4. Activision Blizzard, Inc. (NASDAQ:ATVI): Multimedia & Graphics Software Industry. Market cap of $14.01B. The company has outperformed analyst earnings estimates by an average of 39.81% over the last year. Short float at 4.1%, which implies a short ratio of 2.02 days. The stock has gained 0.78% over the last year.

5. United Microelectronics Corporation (NYSE:UMC): Semiconductor Equipment & Materials Industry. Market cap of $7.46B. The company has outperformed analyst earnings estimates by an average of 38.52% over the last year. Short float at 0.39%, which implies a short ratio of 3.75 days. The stock has lost -22.43% over the last year.

6. Apple Inc. (NASDAQ:AAPL): Personal Computers Industry. Market cap of $275.65B. The company has outperformed analyst earnings estimates by an average of 33.25% over the last year. Short float at 1%, which implies a short ratio of 0.47 days. The stock has gained 45.17% over the last year.

7. Autodesk, Inc. (NASDAQ:ADSK): Technical & System Software Industry. Market cap of $8.02B. The company has outperformed analyst earnings estimates by an average of 27.25% over the last year. Short float at 3.98%, which implies a short ratio of 2.86 days. The stock has gained 30.67% over the last year.

8. Intuit Inc. (NASDAQ:INTU): Application Software Industry. Market cap of $15.1B. The company has outperformed analyst earnings estimates by an average of 25.43% over the last year. Short float at 1.98%, which implies a short ratio of 1.44 days. The stock has gained 56.72% over the last year.

9. Teradata Corporation (NYSE:TDC): Diversified Computer Systems Industry. Market cap of $6.51B. The company has outperformed analyst earnings estimates by an average of 21.49% over the last year. Short float at 0.96%, which implies a short ratio of 0.93 days. The stock has gained 29.27% over the last year.

10. Rogers Communications Inc. (NYSE:RCI): Wireless Communications Industry. Market cap of $20.36B. The company has outperformed analyst earnings estimates by an average of 19.99% over the last year. Short float at 3.82%, which implies a short ratio of 49.79 days. The stock has gained 17.99% over the last year.

11. Garmin Ltd. (NASDAQ:GRMN): Scientific & Technical Instruments Industry. Market cap of $5.68B. The company has outperformed analyst earnings estimates by an average of 19.53% over the last year. Short float at 16.84%, which implies a short ratio of 13.09 days. The stock has lost -3.13% over the last year.

12. Intel Corporation (NASDAQ:INTC): Semiconductor Industry. Market cap of $117.58B. The company has outperformed analyst earnings estimates by an average of 17.64% over the last year. Short float at 0.96%, which implies a short ratio of 0.78 days. The stock has gained 6.09% over the last year.

13. Maxim Integrated Products Inc. (NASDAQ:MXIM): Semiconductor Industry. Market cap of $6.61B. The company has outperformed analyst earnings estimates by an average of 17.05% over the last year. Short float at 7.69%, which implies a short ratio of 6.35 days. The stock has gained 24.8% over the last year.

14. Flextronics International Ltd. (NASDAQ:FLEX): Printed Circuit Boards Industry. Market cap of $5.29B. The company has outperformed analyst earnings estimates by an average of 16.8% over the last year. Short float at 2.61%, which implies a short ratio of 2.95 days. The stock has lost -5.6% over the last year.

15. Dolby Laboratories Inc. (NYSE:DLB): Diversified Electronics Industry. Market cap of $7.21B. The company has outperformed analyst earnings estimates by an average of 16.61% over the last year. Short float at 7.3%, which implies a short ratio of 5.51 days. The stock has gained 48.84% over the last year.

16. Advanced Semiconductor Engineering Inc. (NYSE:ASX): Semiconductor Equipment & Materials Industry. Market cap of $5.47B. The company has outperformed analyst earnings estimates by an average of 16.42% over the last year. Short float at 0.29%, which implies a short ratio of 4.12 days. The stock has gained 0.22% over the last year.

17. Agilent Technologies Inc. (NYSE:A): Scientific & Technical Instruments Industry. Market cap of $12.2B. The company has outperformed analyst earnings estimates by an average of 16.19% over the last year. Short float at 1.68%, which implies a short ratio of 1.79 days. The stock has gained 18.83% over the last year.

18. Avago Technologies Limited (NASDAQ:AVGO): Semiconductor Industry. Market cap of $5.89B. The company has outperformed analyst earnings estimates by an average of 16.11% over the last year. Short float at 4.45%, which implies a short ratio of 2.6 days. The stock has gained 53.08% over the last year.

19. Cree Inc. (NASDAQ:CREE): Semiconductor Equipment & Materials Industry. Market cap of $6.11B. The company has outperformed analyst earnings estimates by an average of 16.07% over the last year. Short float at 21.78%, which implies a short ratio of 4.68 days. The stock has gained 18.11% over the last year.

20. Microsoft Corporation (NASDAQ:MSFT): Application Software Industry. Market cap of $218.76B. The company has outperformed analyst earnings estimates by an average of 16.06% over the last year. Short float at 0.94%, which implies a short ratio of 1.14 days. The stock has lost -13% over the last year.


Disclosure: No positions