This article originally appeared in The Daily Capitalist:

Retailers are counting on holiday sales this year but on the other hand they are rather pessimistic. It remains to be seen if holiday sales will improve substantially this year. The latest Gallup survey on Christmas sales showed sales expectations were lower than 2009 ():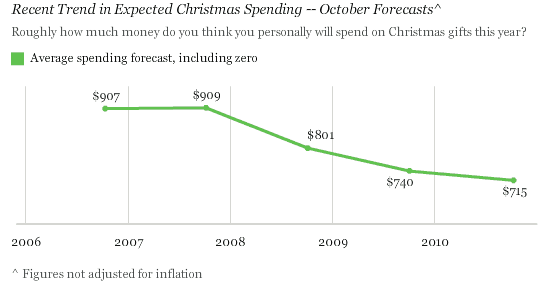 But look at the gap between upper income (those earning $90,000 or more) versus low to middle income consumers ():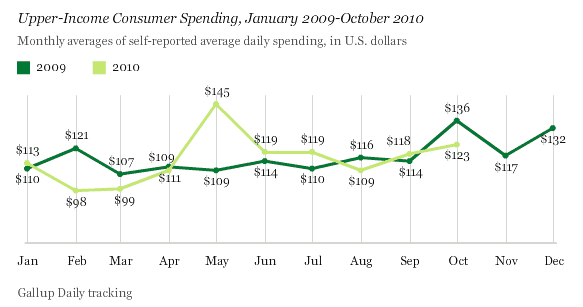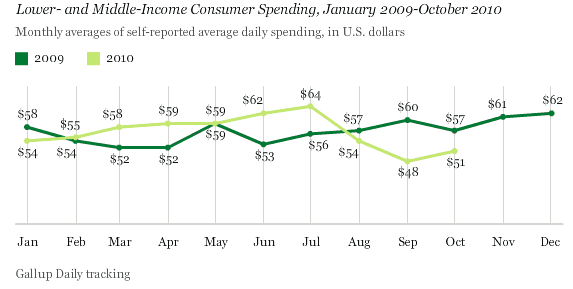 Modest overall spending except for the upper income folks. Remember they have more discretionary income and spend more than any other group (from the BLS), :

And it appears this upper income group is becoming more optimistic, at least according to this Merrill Lynch survey (Sept-Oct):
Affluent Americans — those with more than $250,000 in investable assets — are feeling more confident about their finances than they did a year ago:

• 41% of affluent Americans feel financially better off today than they did one year ago;
• More than three out of four (78%) are confident that their financial picture will improve in the year ahead.
• 61% expect to retire later than originally planned, an increase from 29% in January 2010
According research pointed out by David Rosenberg at Gluskin Sheff, the stock market's wealth effect has a positive effect on wealthier Americans (click on chart to enlarge):
there is an 82% correlation between the stock market and high-end retail sales, such as jewellery. So there is obviously some truth to the equity wealth effect playing a role in consumer spending, but more towards the luxury goods area.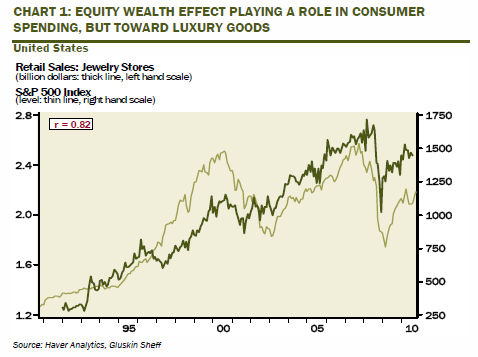 So, while most of us are cutting back, the "rich" (i.e., anyone that has been moderately successful) will be going for the bling. I am confused, I admit.
Yesterday I stopped off at a Costco (NASDAQ:COST) in Oxnard on my way back from LA (business). Oxnard is heavily Latino and African-American, but the store also draws from more affluent areas such as Ventura, Westlake, and Camarillo. The place was packed and the parking lot was crowded. On a Wednesday. I would say that the shoppers were 75% Hispanic, many of them Spanish-speaking immigrants . Now as you know, Costco isn't Wal-Mart (NYSE:WMT): it has a higher price point and, in my opinion, better quality goods.
I also cruise the stores in downtown Santa Barbara, our main street where the action is, and it seems crowded. Let me dissuade you that Santa Barbara is affluent. Its median income is slightly below Ventura County, but there are pockets of high affluence. Downtown Santa Barbara also draws buyers from North County (Santa Maria) and from San Luis Obispo.
Driving around LA, mostly west LA, a relatively more affluent area than other LA areas, it seemed busy but not crowded. My feedback from Santa Monica is that retailers down by Third Street are doing better. I didn't stop off at the Galleria in Sherman Oaks but the parking garage looked full.
So, what is happening?
Tell me what you are seeing in your neighborhood.

Disclosure: No positions