Overview
Paraphrasing and applying Winston Churchill's famous 1939 quote to StoneMor Partners LP (NYSE:STON) financials, "they are a riddle wrapped in a mystery inside an enigma." The riddle, the mystery and the enigma; high MLP distributions against reported GAAP financial loses.
There has been several articles over the last few years about Stonemor's financial "riddle" where the authors have misunderstood or misstated their financials, and implied significant risk to the distribution, resulting in stock selloffs. Investors who understand the impact of timing on GAAP revenue recognition and cash flows for Stonemor's business model have been able to pick up a high-yielding stock at a discount. However, I suspect that many investors who acquired the stock for regular income, may have sold the stock for a loss following one of these "riddle" scares. Additionally, many potential investors in Stonemor may have passed on this high distribution opportunity because of the uncertainty caused by the "riddle."
Table 1 lists their GAAP revenues, GAAP net income after tax and Partner distributions for the last 5 years. At first glance, this looks like a terrible business with losses every year. How can they afford to pay any distribution?

All tables and figures created by author using data from STON reports unless otherwise noted
I started investing in StoneMor two years ago and initially thought it seemed too good to be true. It was a growing company serving a basic need with little competition, no technology obsolescence threat or resource limitations and paying about 10% MLP tax deferred distributions. A quick "owner's earnings" analysis based upon the business they actually did in a given year showed the company was very profitable and covering its payout. I will explain the details of my analysis later in this article.
Some Background on StoneMor Partners LP.
The company is the second largest owner and operator of cemeteries in the United States. As of March 31, 2014, they owned and operated 278 cemeteries and 90 funeral homes in 28 states and Puerto Rico. They have recently completed additional deals to acquire or operate additional cemeteries and funeral homes as part of their ongoing expansion.
StoneMor is the only publicly traded death care company structured as a partnership. The two other public death care companies, Service Corporation International (NYSE:SCI) and Carriage Services Inc. (NYSE:CSV), provide limited competition, according to StoneMor, due to their dissimilar geographic locations.
The company's revenue comes from two sources. The first is products and services associated with its cemeteries and funeral homes, which are sold either on a Pre-Need (before death) or an At-Need (at death) basis.
The second is investment income from its two trust funds, the Perpetual Trust and the Merchandise Trust valued on March 31, 2014, at $318 million and $450 million respectively.
The Perpetual Trust provides income for the upkeep and maintenance of its cemeteries now and in the future. The trust is funded from a percentage, 10% to 20%, of interment right sales.
The Merchandising Trust holds and invests cash received from a percentage of sales for which the company has received the customers' money but has not yet provided the service or the customer taken title of the merchandise.
StoneMor uses an outside investment company to manage the trust funds with the goal of providing income with limited risk to principal. Figure 1 shows a slide from StoneMor's investor day presentation detailing the distribution of investments. The investment profile looks similar to many income generating investment plans recommended on Seeking Alpha with REITs, MLPs and other income generating investments. The Perpetual Care Trust and Merchandising Trust have slightly different allocations of investments.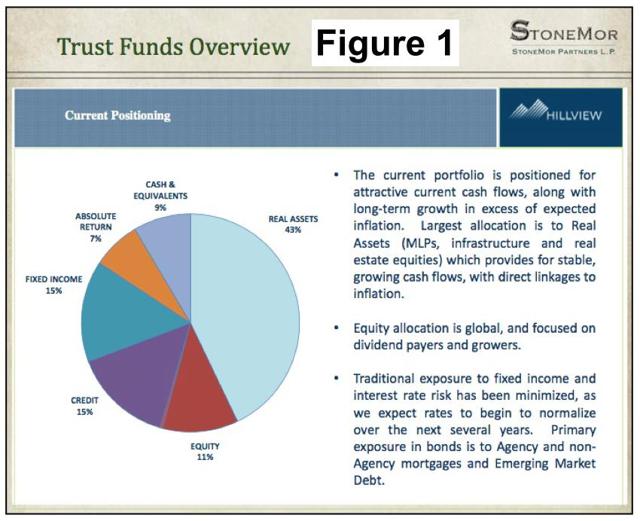 Table 2 lists the returns for the Trusts from 2006 to 2013. The results provide a nice benchmark for comparing one's own income investing performance.

StoneMor states that most of its competition are independent owners and operators who are smaller and have fewer resources. The scarcity and cost of real estate combined with zoning requirements near populated areas, among other factors, provide a high barrier to new entrants. The company believes its superior ability to market and sell Pre-Need contracts gives it a competitive advantage over its smaller independent competitors. StoneMor has been a steady acquirer of cemeteries and more recently funeral homes as well. Figure 2 shows the record of acquisitions up to November 2013. In this time period, the company spent $248 million on acquisitions and believes the acquisitions enabled the growth in distributions from $1.85 to $2.40 per year, while increasing its assets by over $800 million yet limiting its debt increase to $172 million.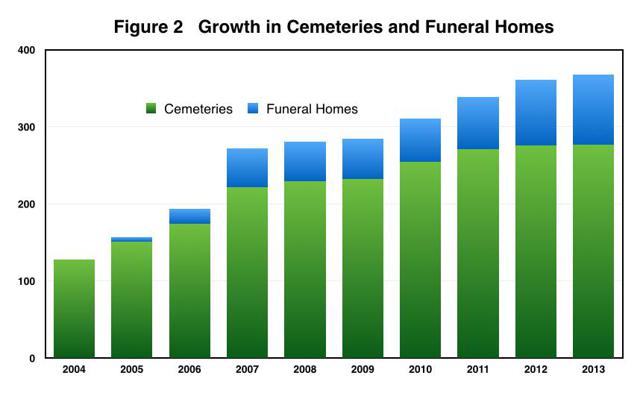 The opportunity for ongoing acquisitions is very large. Figure 3 illustrates the $17 billion market space for the death care industry with independent operators representing 80% of the industry. There are 9,600 cemeteries with the public company consolidators owning only 824 or 8.5%.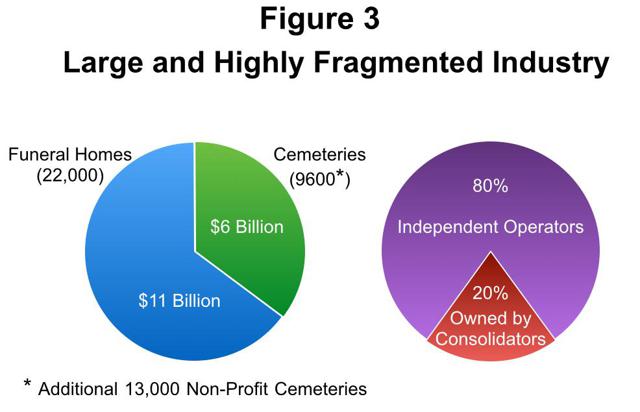 Understanding the financial Riddle
StoneMor is a simple company to understand in terms of what they do, but complex when it comes to understanding their financials. As a public company, StoneMor must report its financials under GAAP rules. While GAAP financial reporting can provide benefit in many situations, GAAP reporting can on occasions lead investors to misunderstand a company's true financial performance.
GAAP accounting requires that StoneMor defer recognition of the value of contracts written and investment income earned from customer payments until such time as the related merchandise is delivered or service is performed. Contracts for Pre-Need business, even if fully paid and the customer has no right of cancellation, will not count as revenue under GAAP until the products or service are delivered. The customer must die and be buried before the company can finally recognize the final elements of the contract as revenue! Currently, StoneMor has almost $600 million in net deferred revenues, roughly 2 years of future business.
StoneMor provides a non-GAAP statement using accrual accounting based upon production-based revenue to explain what is actually happening in the business. Production-based revenue includes the value of contracts written and investment and other income generated during the reporting period. Companies that loan money to StoneMor also base their loan covenants on e this accrual accounting based statement of operations. Table 3 lists the GAAP and Production Based Results for 2013.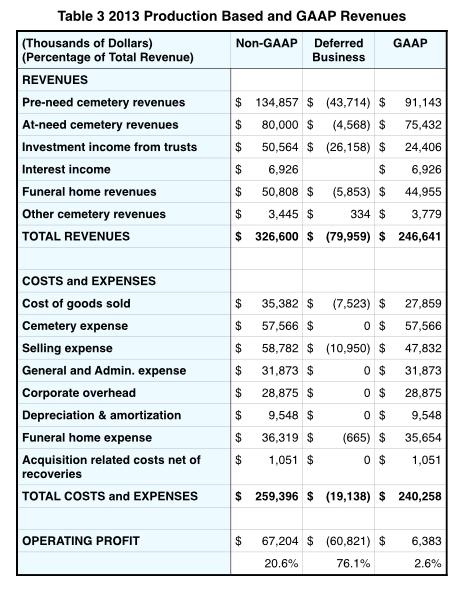 The 2013 results are transformed once all the business transacted is comprehended. We now have a business with over 20% operating profit compared to 2.6% under GAAP. The deferred business carries high profit margins as it does not get allocated any of the fixed expenses. The actual booked deferred revenues are higher than reported as the company takes a 10% discount to account for potential contract cancellations which historically have averaged out at 8.8%.
While GAAP accounting rules exclude the deferred business revenues and associated costs and profits from the Statement of Operations, the cash received and commitments associated with this deferred business must be accounted for in the cash-related financial statements. If you carefully go through these statements - and it is very difficult to follow the flow - you will find that the operating cash flow and balance sheets include the deferred business revenue as a liability to offset the increase in the merchandising trusts and the other puts and takes associated with this deferred business.
The company provides in its earnings press release a schedule tying together the GAAP net operating cash flows to eventually the Partner distributions. I believe the company could make it easier for its investors to understand the relationship of its deferred business to its distributions.
Simplifying the Riddle by using "Owner's Earnings"
We can look at StoneMor as if one were the sole owner and borrow some wisdom from the old sage himself, Warren Buffett. He suggested looking at businesses and determining the "Owner's Earnings" as a better way to understand the value of a business. He defined owner's earnings as follows:
These represent 'a' reported earnings plus 'b' depreciation, depletion, amortization, and certain other non-cash charges...less 'c' the average annual amount of capitalized expenditures for plant and equipment, etc. that the business requires to fully maintain its long-term competitive position and its unit volume....Our owner-earnings equation does not yield the deceptively precise figures provided by GAAP, since 'c' must be a guess - and one sometimes very difficult to make. Despite this problem, we consider the owner earnings figure, not the GAAP figure, to be the relevant item for valuation purposes.
For StoneMor, it's not a guess as they provide this number. Depletion in this case is the consumption of cemetery land for burials. At the current depletion rate, the cemeteries have an average life of over 200 years so there are no worries here. In my analysis, "certain other non-cash charges" are not included so my analysis understates owner's earnings.
In case you feel a little uneasy about not using GAAP-defined numbers, this is what the sage had to say about GAAP:
Questioning GAAP figures may seem impious to some. After all, what are we paying the accountants for if it is not to deliver us the "truth" about our business. But the accountants' job is to record, not to evaluate. The evaluation job falls to investors and managers.

Accounting numbers, of course, are the language of business and as such are of enormous help to anyone evaluating the worth of a business and tracking its progress. Charlie and I would be lost without these numbers: they invariably are the starting point for us in evaluating our own businesses and those of others. Managers and owners need to remember, however, that accounting is but an aid to business thinking, never a substitute for it.
Table 4 lists the results for 2008 to 2013 using production based revenue. Costs and expenses are structured into cost of goods sold and operating expenses to better understand the cost structure. Cost of goods sold (COGS) includes StoneMor's defined COGS plus cemetery and funeral home expense (similar to operational overhead) plus selling expense (commission). General and administrative, Depreciation and amortization and acquisition related costs are captured under operating expenses.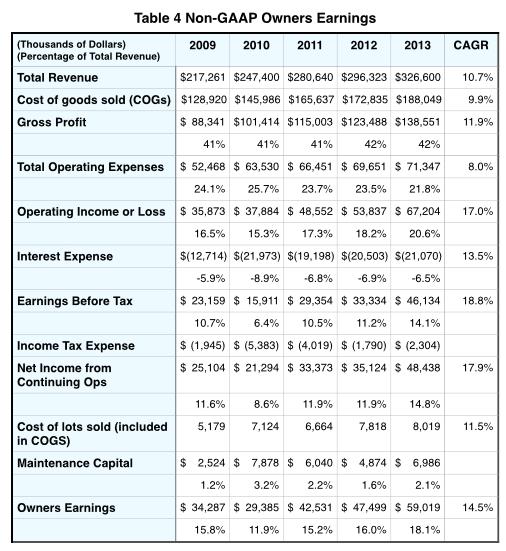 The results show a very positive situation. Compound annual growth rates/CAGR for revenue is over 10%, gross profit CAGR is 11.9% and earnings before tax CAGR is 18.8%. My simplified "owner's earnings" CAGR is 14.5%.
The owner's earnings shown in Table 4 represent the earning ability, not the actual operating cash flows, as timing on customer receivables and accounts payable, for example, complicates the situation. Table 5 compares my simplified owner's earnings from Table 4 to the actual distributable free cash flow generated and Partner distributions reported by the company. Remember my "owner's earnings" underestimates actual owner's earnings as defined by Buffett. Interesting enough, my "owner's earnings" are roughly in line with Partner Distributions. The 20.9% CAGR for distributable free cash flow generated is almost double the revenue growth.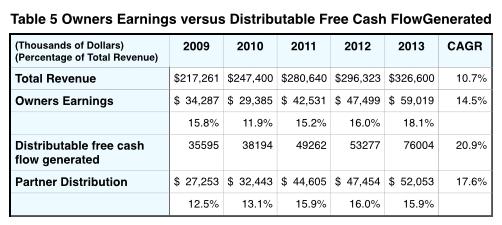 Figure 4 shows the growth in the yearly distribution per unit which has increased at 1.8% CAGR. The unit distribution growth is lagging the distributable free cash flow generated due to a 15% CAGR for total units outstanding plus a higher percentage of the distributions is now going to the General Partner. StoneMor recently increased its distribution by 1 cent to 61 cents per quarter.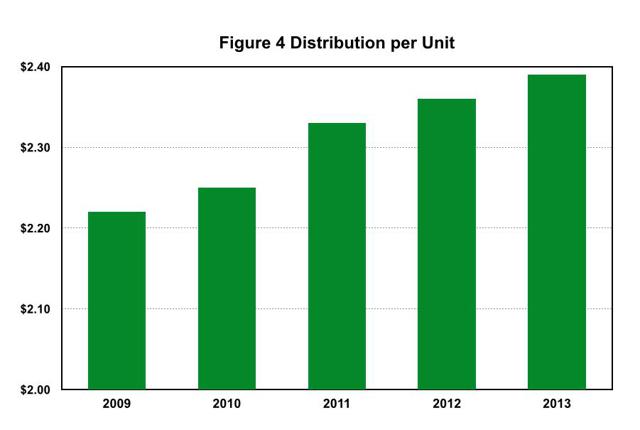 Cash flow timing and debt
StoneMor has a significant and growing backlog driven by its Pre-Need business. This backlog growth requires additional cash which the company is financing partly with debt. The company explains in detail in its SEC quarterly filings that they are cash flow negative during the early phases of a Pre-Need contract. Sales commissions and payments into the trusts exceed the early cash payments. Many businesses receive customer cash advances ahead of revenue recognition which they are free to use for working capital. What is unusual here is that customer cash is tied up in a trust resulting in additional debt being required to finance working capital growth until the funds are released from the trust.
Acquisitions, beyond the initial purchase price, require additional working capital to fund Pre-Need business growth and construction of lawn crypts, mausoleums & niches.
The good news is that the current backlog significantly covers the outstanding debt with cash to spare. Figure 5 illustrates the potential $105 million net cash and assets liberated based upon the 2013 yearend balance sheet.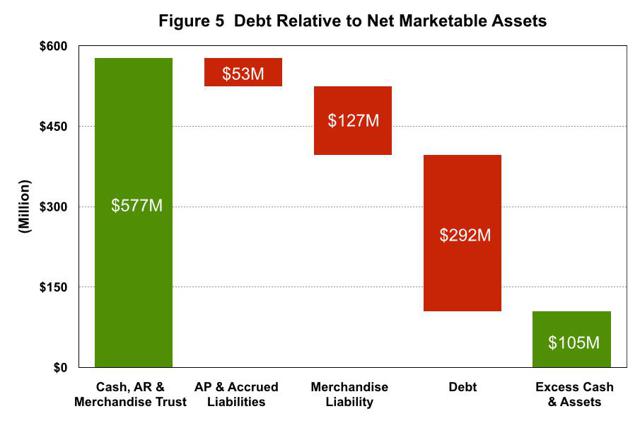 Valuation
StoneMor is an odd duck in the world of MLPs, which is comprised mainly of oil and gas related entities. I, or others, could devote a whole article to the valuation comparison of StoneMor to other MLPs. Dealing with the Trusts would make for interesting ratio comparisons! Instead, I am going to keep it simple; distribution yield and growth plus business risk.
•Current distribution yield is ~10%
•Past 5 year distribution yield growth ~2%
On this basis, I believe StoneMor is currently 20% undervalued relative to other MLPs based upon distributions. I like the fact that there is a large backlog of cash in the trust bank, even if it takes a while to release the cash. Another positive for this MLP is that future business levels are not tied to the price of oil and gas or the flow rate of these commodities through pipelines. Along with all MLPs, it does share the risk that Congress may change the tax rules in future.
Conclusion
StoneMor's misunderstood financial model has led to an undervalued stock. Investors looking into this stock will find a growing company serving a basic need with little competition, no technology obsolescence threat or resource limitations and paying above average distributions. In addition, it provides a diversification option in the MLP investment space.
I remind readers that I am an individual investor, not an advisor or analyst. Nothing here should be taken as investment advice and every individual should do their own due diligence before investing. I welcome any feedback on my article.
Sources: Company's financial reports, StoneMor November 2013 investor presentation.
Disclosure: The author is long STON. The author wrote this article themselves, and it expresses their own opinions. The author is not receiving compensation for it (other than from Seeking Alpha). The author has no business relationship with any company whose stock is mentioned in this article.