The following is a list of small-cap stocks with conservative accounting practices, according to the ratings developed by forensic accounting firm Audit Integrity.

Audit Integrity was founded in 2002 to develop risk management tools based on a statistical analysis of corporate integrity. The Accounting and Governance Risk (NYSE:AGR) rating is a forensic measure of the transparency and reliability of a corporation's financial reporting and governance practices. The closer the score is to 100, the more conservative the company's accounting practices, according to Audit Integrity.

All the companies in this list have high AGR scores above 80, i.e. more conservative and transparent accounting practices than most other firms. In addition, all of these stocks have market caps below $300M.

RSI(14) and short float values sourced from Finviz, AGR ratings sourced from Audit Integrity.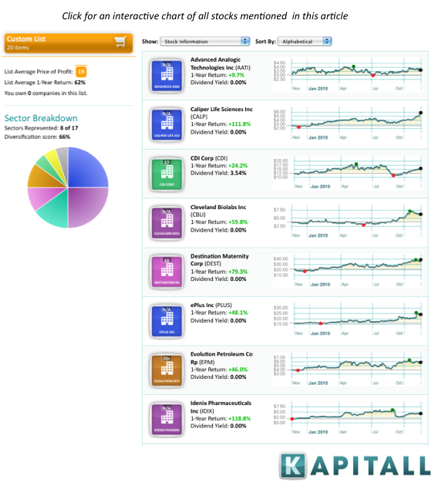 The list has been sorted by the AGR score.

1. Schiff Nutrition International Inc. (WNI): Drug Related Products Industry. Market cap of $221.21M. According to Audit Integrity, the company has Conservative accounting practices, with an AGR score of 98. Short float at 3.62%, which implies a short ratio of 4.91 days. The stock has gained 52.69% over the last year.

2. KVH Industries Inc. (NASDAQ:KVHI): Communication Equipment Industry. Market cap of $189.87M. According to Audit Integrity, the company has Conservative accounting practices, with an AGR score of 97. Short float at 4.24%, which implies a short ratio of 9.13 days. The stock has gained 7.79% over the last year.

3. Red Robin Gourmet Burgers Inc. (NASDAQ:RRGB): Restaurants Industry. Market cap of $284.52M. According to Audit Integrity, the company has Conservative accounting practices, with an AGR score of 97. Short float at 12.05%, which implies a short ratio of 7.1 days. The stock has gained 13.71% over the last year.

4. Richardson Electronics Ltd. (NASDAQ:RELL): Electronics Wholesale Industry. Market cap of $186.2M. According to Audit Integrity, the company has Conservative accounting practices, with an AGR score of 95. Short float at 4.02%, which implies a short ratio of 5.2 days. The stock has gained 76.3% over the last year.

5. Kadant Inc. (NYSE:KAI): Paper & Paper Products Industry. Market cap of $241.39M. According to Audit Integrity, the company has Conservative accounting practices, with an AGR score of 93. Short float at 2.24%, which implies a short ratio of 5.56 days. The stock has gained 25.78% over the last year.

6. QuickLogic Corp. (NASDAQ:QUIK): Semiconductor Industry. Market cap of $181.4M. According to Audit Integrity, the company has Conservative accounting practices, with an AGR score of 92. Short float at 7.32%, which implies a short ratio of 6 days. The stock has gained 245.89% over the last year.

7. Cleveland BioLabs, Inc. (NASDAQ:CBLI): Research Services Industry. Market cap of $164.13M. According to Audit Integrity, the company has Conservative accounting practices, with an AGR score of 91. Short float at 9.57%, which implies a short ratio of 8.96 days. The stock has gained 56.56% over the last year.

8. CDI Corp. (NYSE:CDI): Staffing & Outsourcing Services Industry. Market cap of $279.74M. According to Audit Integrity, the company has Conservative accounting practices, with an AGR score of 91. Short float at 3.53%, which implies a short ratio of 5.7 days. The stock has gained 21.69% over the last year.

9. Destination Maternity Corporation (NASDAQ:DEST): Apparel Stores Industry. Market cap of $223.2M. According to Audit Integrity, the company has Conservative accounting practices, with an AGR score of 90. Short float at 3.05%, which implies a short ratio of 8.98 days. The stock has gained 62.81% over the last year.

10. Multi-Color Corp. (NASDAQ:LABL): Business Services Industry. Market cap of $250.39M. According to Audit Integrity, the company has Conservative accounting practices, with an AGR score of 90. Short float at 1.83%, which implies a short ratio of 5.8 days. The stock has gained 63.14% over the last year.

11. Vascular Solutions Inc. (NASDAQ:VASC): Medical Instruments & Supplies Industry. Market cap of $180.31M. According to Audit Integrity, the company has Conservative accounting practices, with an AGR score of 89. Short float at 4.06%, which implies a short ratio of 8.43 days. The stock has gained 29.63% over the last year.

12. Evolution Petroleum Corp. (NYSEMKT:EPM): Independent Oil & Gas Industry. Market cap of $152.29M. According to Audit Integrity, the company has Conservative accounting practices, with an AGR score of 88. Short float at 3.08%, which implies a short ratio of 6.52 days. The stock has gained 38.4% over the last year.

13. Idenix Pharmaceuticals Inc. (NASDAQ:IDIX): Biotechnology Industry. Market cap of $299.91M. According to Audit Integrity, the company has Conservative accounting practices, with an AGR score of 87. Short float at 8.62%, which implies a short ratio of 8.29 days. The stock has gained 108.63% over the last year.

14. Nymagic Inc. (NYM): Property & Casualty Insurance Industry. Market cap of $218.28M. According to Audit Integrity, the company has Average accounting risk, with an AGR score of 85. Short float at 4.08%, which implies a short ratio of 4.84 days. The stock has gained 49.04% over the last year.

15. ePlus Inc. (NASDAQ:PLUS): Business Software & Services Industry. Market cap of $193.33M. According to Audit Integrity, the company has Average accounting risk, with an AGR score of 85. Short float at 2.63%, which implies a short ratio of 7.33 days. The stock has gained 44.83% over the last year.

16. Advanced Analogic Technologies, Inc. (NASDAQ:AATI): Semiconductor Industry. Market cap of $150.75M. According to Audit Integrity, the company has Average accounting risk, with an AGR score of 83. Short float at 3.16%, which implies a short ratio of 7.51 days. The stock has gained 18.15% over the last year.

17. TomoTherapy Incorporated (NASDAQ:TOMO): Medical Appliances & Equipment Industry. Market cap of $191.08M. According to Audit Integrity, the company has Average accounting risk, with an AGR score of 83. Short float at 2.81%, which implies a short ratio of 6.67 days. The stock has gained 5.69% over the last year.

18. Caliper Life Sciences, Inc. (NASDAQ:CALP): Scientific & Technical Instruments Industry. Market cap of $282.01M. According to Audit Integrity, the company has Average accounting risk, with an AGR score of 82. Short float at 3.16%, which implies a short ratio of 9.42 days. The stock has gained 110.11% over the last year.

19. Rural/Metro Corp. (NASDAQ:RURL): Consumer Services Industry. Market cap of $270.6M. According to Audit Integrity, the company has Average accounting risk, with an AGR score of 81. Short float at 3.34%, which implies a short ratio of 5.44 days. The stock has gained 89.38% over the last year.

20. Warren Resources Inc. (NASDAQ:WRES): Oil & Gas Equipment & Services Industry. Market cap of $289.17M. According to Audit Integrity, the company has Average accounting risk, with an AGR score of 81. Short float at 2.98%, which implies a short ratio of 5.44 days. The stock has gained 65.45% over the last year.

Disclosure: No positions