Warren Buffett's Berkshire Hathaway (NYSE:BRK.A) (NYSE:BRK.B) was out with earnings last week that beat what the street was expecting. The company reported net earnings per Class A share of $3,889 - an improvement of 41% YOY.
Here's how the company's class A shares have fared over the last year. They're up 8.5% in the last twelve months and 7.7% year to date.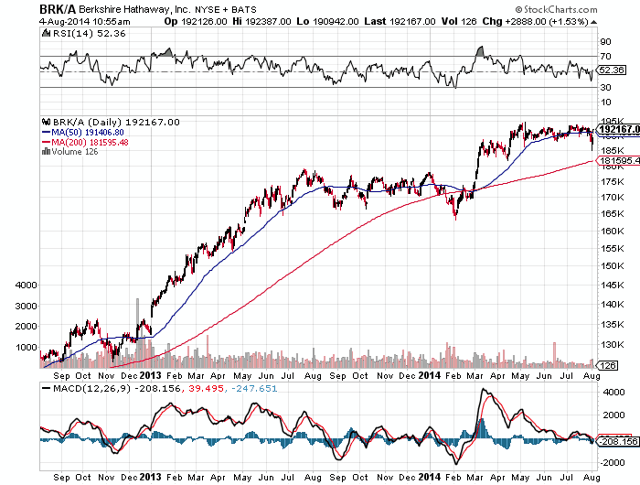 The company's press release read:
Since the beginning of the year, Berkshires shareholders equity has increased $12.1 billion and our book value per Class A equivalent share has increased by 5.6% to $142,483. Insurance float (the net liabilities we assume under insurance contracts) at June 30, 2014 was $78.5 billion.
The Wall Street Journal went on to detail Berkshire's gains:
Berkshire, a conglomerate with more than 70 operating subsidiaries including insurance, manufacturing, construction and retail businesses, benefits from improvements in consumer spending, employment and rebounds in the housing market. It also owns a large portfolio of securities.

At its core is an insurance business, which includes Geico Corp. and reinsurer General Re, that brings in billions of dollars from premiums paid by customers.

The profits Berkshire made through investing that money was a big driver of the quarter's earnings, as the company posted $1.96 billion of gains from sales and redemptions of investments, and $101 million in derivative gains.
The big story, however, is the company's cash pile which is getting massive. Currently, the company has an estimated $50 billion in cash sitting on the sidelines. Buffett has said in the past that this is more than he likes to carry in case his insurance companies have to pay large claims. Seeking Alpha reported:
Cash residing in Berkshire Hathaway's (BRK.B +1.3%), (BRK.A +1.1%) coffers rose to $55.5B as of June 30, more than double the amount Warren Buffett has said he likes to keep on hand should the company's insurance units face unusually large claims.
Berkshire's size is not just a hindrance to finding a needle-moving deal, but so is the perky stock market. Also, Berkshire isn't the only one out there looking for deals. "The amount of dry power is unprecedented," says a private-equity advisor, and the pile of money (estimated at $1.16T) has led to warnings from Blackstone's Tony James and Apollo Global's Josh Harris about paying too much for acquisitions.
Analysts have been noting that Mr. Buffett keeping so much cash on the sidelines could be an indication that he's not seeing anything that's attractively priced from the sidelines. Others contend that Berkshire's size is preventing it from buying companies that simply "aren't big enough".
(image source - Bloomberg)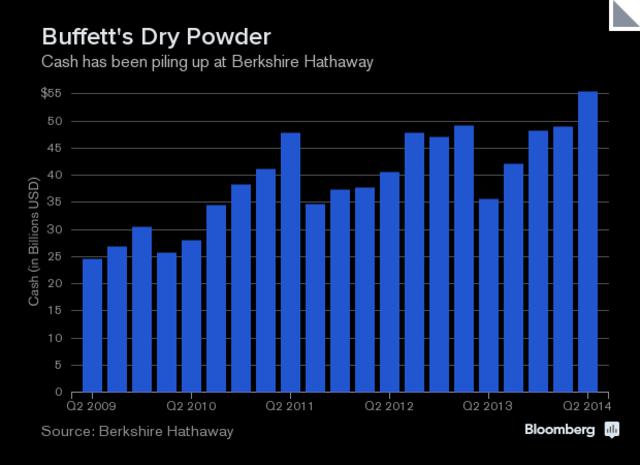 The cash is about 10% of Berkshire's total assets, a discussion on Bloomberg News noted this morning.
Either way, shareholders aren't likely to get the money back. Buffett has been notably anti-share buybacks and anti-dividends. He seems to think the cash could be better used at the company's disposal. So, what's going to be the story with the massive cash pile?
It's no secret that Buffett likes to wait for his pitch and jump on opportunities that allow him to invest where he knows he's going to potentially see significant return on capital invested. Notably, Buffett made a major investment into Bank of America after the '07-'08 crisis that has yielded him billions.
I dare you to try and read an article on this today without stumbling into the phrase "fat pitch", when used to describe what Buffett likes to invest in - good luck with that. The phrase means that he likes to find investment opportunities that are as fundamentally obvious as possible. Mr. Buffett clearly hasn't seen anything that fits this description any time of recent.
Which brings us onto the macro market movement. Does this chart look like this is just a cyclical pullback - or could it be the start of a correction?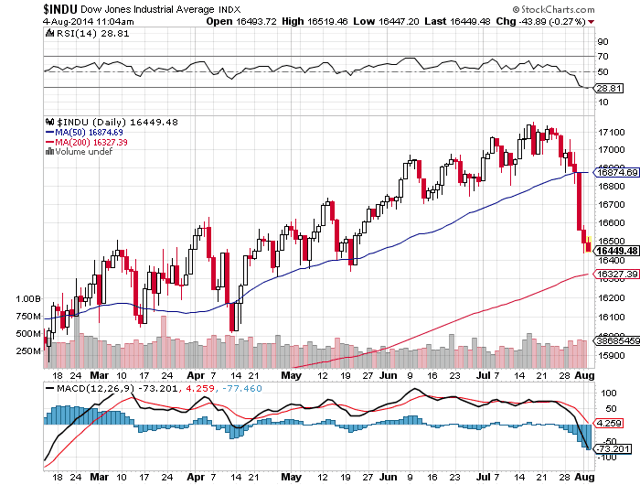 Because the question then becomes, if he can't seem to find a value right now, does it mean that the market is overbought?
Is it likely that he's waiting for the market to fall off of its highs?
Surely you can't ignore the correction we've seen between last week and this week - it occurred as soon as the Dow hit 17,000 and was catalyzed by geopolitical tensions and the skirmish in the middle east. With the Fed getting ready to raise interest rates and continuing to taper its bond buying, is there a chance that Mr. Buffett could be forecasting that the market has topped?
The next technical level for the industrials looks like it could be around 16,327, the 200DMA.
Has Mr. Buffett simply just forecasted that he thinks the market has topped? I'd love to hear the commentary on this question, please leave your sentiments below.
Disclosure: The author has no positions in any stocks mentioned, and no plans to initiate any positions within the next 72 hours. The author wrote this article themselves, and it expresses their own opinions. The author is not receiving compensation for it (other than from Seeking Alpha). The author has no business relationship with any company whose stock is mentioned in this article.