For an investor perusing a company heavily based on industrial products such as commercial airplanes, but has significant ties to global military spending, Boeing (NYSE:BA) is a well run, diversified company worth a further look.
After a tremendous run in 2013 in which the stock price essentially doubled, over the past six months Boeing's stock price has been consolidating. Since January, the price has come off around $20.00 and again is looking quite attractive.
In the article below, I will discuss some of the reasons why the stock is looking attractive again and how the company valuations will change over the short- and long-term.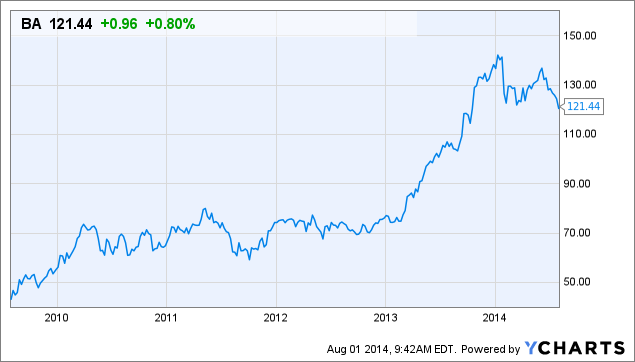 Boeing is a company that designs, develops, manufactures, sells and supports commercial jetliners, military aircrafts, satellites, missile defense, human space flight and launch systems and services.
Boeing businesses are based in four segments. These segments are:
Commercial Airplanes - Boeing is a premier manufacturer of commercial jetliners. The company also offers the most complete family of freighters, and about 90% of the world's cargo is carried onboard Boeing planes.
Defense, Space & Security - Boeing Defense, Space & Security (BDS) provides solutions for the design, production, modification and support of military fixed-wing aircraft, rotorcraft, weapons, and satellite systems, among others.
Boeing Capital Corporation - BCC facilitates, arranges, structures and provides selective financing solutions for its Commercial Airplanes customers.
Shared Services Group - Shared Services Group provides Boeing's business units and corporate offices with common internal services that support the company's global operations.
Within the four business segments, the three segments that bring in revenue directly are Commercial Airplanes; Defense, Space & Security; and to a lesser extent Boeing Capital Corp.
Valuation Breakdown
Within these segments, I have calculated the terminal value of each business segment. Over the trailing twelve months, Commercial Airplanes equate to ~60% of the company's total value. Defense, Space & Security equates to ~37%, while Boeing's Capital Corp. equates to ~3% of the total value of the company.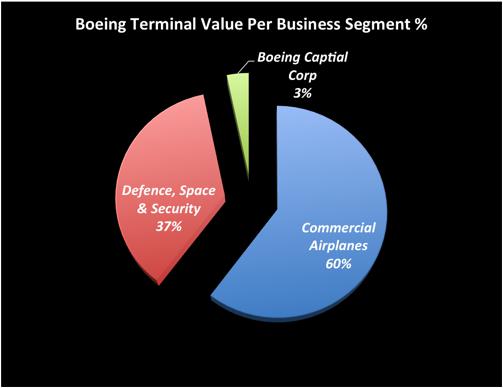 Chart source (Stockresearching)
The value of each company was calculated using the industry average trading range for each segment. The Commercial Airplanes segment which is part of the air transport industry trades at ~9.64x EBITDA. BDS or Boeing Defense, Space & Security, which is part of the aerospace and defence industry, trades at ~11.23x EBITDA, while Boeing Capital Corp. trades as a financial segment at ~13.5X EBITDA.
Growth opportunities within Segments
Commercial Airplanes
In the face of many global diversities that include recessions, financial crises, terrorism and much more, the global trend for air travel has been increasing in a slow and consistent manner.
According to the company's investor presentations, this trend is expected to continue. The long-term trend indicates that overall the global economy will grow at a pace of ~3.2% which is a driving force behind air travel. The overall number of airline passengers is expected to increase by 4.2% yoy thus increasing the demand for commercial airlines and commercial airplanes.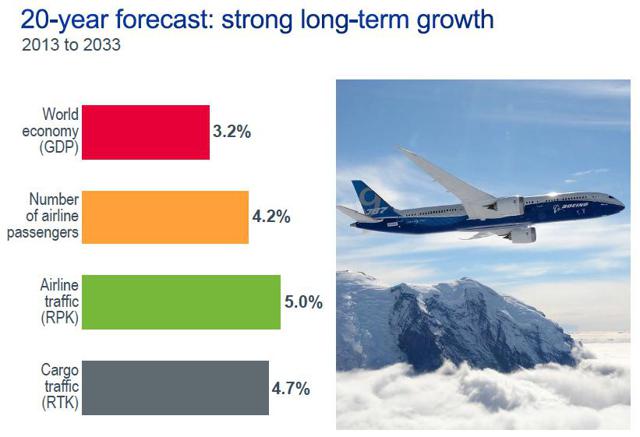 To support the increasing global demand for air travel, Boeing Airplanes introduced the 747-8 in 2005, with the maiden flights in 2010 and 2011, respectively. It is the largest commercial aircraft built in the United States, and the longest passenger aircraft in the world. The revolutionary 787 Dreamliner, which was introduced in 2011, is Boeing's most fuel efficient airliner and is designed to seat anywhere from 210 to 335 passengers.
As these state of the art planes are in demand, Boeing recently signed an agreement with Nippon Airways to finalize an order for 40 widebody airplanes - 20 777-9Xs, 14 787-9 Dreamliners and six 777-300ERs (Extended Range).
On the horizon, Boeing is preparing to deliver the 787-10 in 2018. At a length of 224 feet, this plane is expected to able to carry ~320 passengers. According to the WSJ, the new plane will also have a list price before discounts of $288.7 million, which is ~36% more than the 787-8. Since the company began selling the 787-10 in June 2013, Boeing has accumulated 132 orders from four airlines and two lessors.
In the company's Q2 report, the commercial airplanes backlog remains very strong at a new record of $377 billion over 5,200 aircraft which equates to approximately seven years of production.
Commercial Airplanes continue to be the largest segment within the company. Bringing in an operating income of ~$5.724 billion TTM and an EBITDA of ~$6.356 billion TTM, its valuation represents ~60% of the total company.
As the macro picture for this segment continues to remain on a bullish trend, I believe this segment will outpace the other two segments, and drive the company total valuations moving forward.
Defense, Space & Security
Since 2011, the U.S. defense budget has been reduced and has threaten to slow down profit growth within Boeing's Defense, Space & Security segment. There have been concerns expressing how the company would fare in the face of these cutbacks and what the company would do to alleviate this issue.
Boeing indicated in their 2013 full-year report that they expect its Defense, Space and Security segment to report a decline in sales of between 7% to 10% in 2014 compared to 2013. CEO Jim McNerney stated they are looking at "flattish" profit margins in the near future.
With a lack of growth expected in military spending within the U.S., growth within the defense business is unlikely to increase over the next couple of years. The company pledged to compete aggressively for new U.S. military contracts but in the short-term growth is expected to remain anemic.
Defense, Space & Security is the middle segment within the company. Bringing in an operating income of ~$2.968 billion TTM and an EBITDA of ~$3.288 billion TTM, its valuation represents ~37% of the company.
Boeing Capital Corp.
Boeing Capital Corporation is expecting that its aircraft finance portfolio to continue to decline in 2014. The company indicates new aircraft financing of less than $0.5 billion, is expected to be lower than normal portfolio runoff through customer payments and depreciation.
Boeing Capital Corp. is by far the smallest segment within the company. Bringing in an operating income of ~$140.00 million TTM and an EBITDA of ~240.00 million TTM its valuation represents only 3% of the company.
Conclusion
Over the long-term, Boeing faces some interesting issues. The Commercial Airplanes business looks to be very strong. With the global economy slowly increasing and the demand for air travel increasing, Boeing's Commercial Airplanes segment will continue to lead the company into the future. Based on forward looking estimates, Boeing is expecting an annual growth rate of the commercial airplane business to be ~5% yoy over the long-term.
The Defense, Space & Security segment is looking at some significant headwinds. Even though the U.S. is not anticipating increasing military spending, they are still expected to spend in the neighborhood of $600 billion yoy in the foreseeable future. This has had an impact for growth expectations over the next few years. As stated earlier in the article, the company is expecting revenue from this segment to drop in 2014 by 7%-10% which will have a significant impact on the company's bottom line. Boeing is in the midst of revising this business to make it more profitable moving forward. Based on the information provided above, expectations are that this segment will remain flat in the foreseeable future.
As I have the Defense, Space & Security segment of the business trading at a higher multiple, the reduced military spending will have a reduced outlook for the company. Currently I am bullish, but as estimations are 5% yoy growth for the Airplanes segment and relatively flat for the Defense, Space & Security segment it is my opinion that this will mute valuations moving forward.
Using the DCF Valuation I have a ~3-5% growth rate in earnings for FY 2014 based on the rest of the year.
| | | | | |
| --- | --- | --- | --- | --- |
| | | FY2014 | FY2014 | FY2014 |
| | FY 2014 TTM | 3% growth EBITDA | 5% growth EBITDA | Analyst Estimates FY 2014 |
| Operating Income | 6,647 | | | |
| Taxes | 1,326 | | | |
| Unlevered Net income | 5,321 | | | |
| | | | | |
| D&A | 1,879 | | | |
| EBITDA | $8,526 | $8,782 | $8,952 | $9,768.00 |
| | | | | |
| Free Cash Flow | 4,901 | 4,901 | 4,901 | 4,901 |
| WACC | 10.31% | 10.31% | 10.31% | 10.31% |
| Terminal Value 10.74X EBITDA | 91,569 | 98,619 | 100,534 | 109,695 |
| Sum of Parts | $96,470.24 | $103,520.39 | $105,435.33 | $114,595.64 |
| | | | | |
| Net Present Value | $87,453.76 | $93,844.97 | $95,580.93 | $103,885.09 |
| | | | | |
| Total Debt | 8,883 | 8,883 | 8,883 | 8,883 |
| Cash and Cash Equivalents | 7,533 | 7,533 | 7,533 | 7,533 |
| Net Debt | $1,350.00 | $1,350.00 | $1,350.00 | $1,350.00 |
| | | | | |
| Equity Value | $86,103.76 | $92,494.97 | $94,230.93 | $102,535.09 |
| Shares Outstanding | 720.61 | 720.61 | 720.61 | 720.61 |
| | | | | |
| Price Value | $119.49 | $128.36 | $130.77 | $142.29 |
| Current Price | $120.06 | $120.06 | $120.06 | $120.06 |
| Difference | -0.48% | 6.91% | 8.92% | 18.52% |
Based on the valuations above, I have the company trading at 10.74x EBITDA. This is a weighted average on the different business trading at different valuations.
Based on the valuation metric for Defense, Space & Security trading at a premium over the airlines business, this displays the potential for excellent results but muted stock appreciation. Having stated that, the Commercial Airlines segment will see significant growth moving forward. This will add value for the whole company as it becomes more of a dominant part of the company moving forward. So based on this, I believe the EV/EBITDA ratios will decline slightly from their historical values as the airlines business trades at a lower multiple but the earnings will move up. Driven by the Commercial Airlines business, I predict anywhere from a 3% to 5% total company growth in EBITDA by year end. This equates to a valuation of ~$130.00 which also equates to 7%-10% upside from this point not including the attractive 2.3% yield.
Disclosure: The author has no positions in any stocks mentioned, and no plans to initiate any positions within the next 72 hours. The author wrote this article themselves, and it expresses their own opinions. The author is not receiving compensation for it (other than from Seeking Alpha). The author has no business relationship with any company whose stock is mentioned in this article.