Over the past several years, Garmin (NASDAQ:GRMN) has struggled to keep revenue from falling. The company suffered a huge blow when it failed to establish a presence in smartphone GPS and navigation systems and as a result smartphones ate into the company's core business of automobile dashboard navigation systems. However, Garmin has remained a profitable and well run company during these years of consecutive revenue decline. Thanks to solid core business and an impeccable balance sheet, that has zero debt and $2.8 billion in cash and marketable securities, the company has been able to reinvent itself and establish itself as an industry leader in the growing wearable fitness devices market.
13 Weeks ended June 28

($ millions)

2014

2013

Y/Y % change

-Automotive/Mobile

$ 350.0

$ 344.7

2%

-Fitness

$ 150.6

$ 84.2

79%

-Outdoor

$ 106.0

$ 106.8

-1%

-Aviation

$ 97.3

$ 88.0

11%

-Marine

$ 73.7

$ 72.7

1%

Total Sales

$ 777.8

$ 696.5

12%

Gross Profit

$ 444.5

$ 383.6

16%

Operating Income

$ 218.7

$ 169.9

29%

Net Income

$ 181.9

$ 172.5

5%

Pro Forma diluted EPS

$ 1.02

$ 0.76

34%
Source: Garmin Earnings release
Fitness segment growth
Wearable fitness devices are a rapidly growing business for Garmin. Through the first six months of 2014, revenue has increased 60% over 2013 and now represents the second largest business segment for the company. The fitness market is also the most profitable business segment for Garmin, with gross margins at 65% and operating margins at 42%. Garmin's fitness business now accounts for 29% of operating income, up from 17% in 2Q2013.
The company's strongest product remains vivofit, as it continues to gain market share in the rapidly growing fitness device industry. Recent biking and running products, Edge 1000 and Forerunner 15, 220 and 620, have also been successful and continue to increase sales. Garmin has developed a broad range of wearable fitness devices across multiple price points, which has been a driving factor in its success. Perhaps just as important as the rapidly growing sales is the company's commitment to stay ahead of competitors by investing heavily in fitness R&D. Garmin has shown it learned from not capitalizing on smartphones and has dedicated itself to becoming the leader in wearable fitness devices.


Source: Garmin Earnings Presentation
Revenue Shift
Declining revenue has been an issue for Garmin since 2009, as sales in the automobile PND (portable navigation device) segment stalled with the increased adoption of smartphone navigation. However, the company is starting to see real results as it shifts its focus away from PNDs and toward fitness, aviation and marine.
Aviation has grown 15% in the first half of 2014 and Garmin expects this to continue through 2015 as new devices become certified. During 2Q2014, the Cessna Citation X+, received its final certification and first delivery, featuring the touch screen G5000 integrated flight deck. During the second half of 2014, the company expects the G3000 in the updatedCJ3+ and Alpine EditionCJ2+ to gain final certification and a number of other devices to that will begin to contribute to revenue in 2015.
While marine sales only increased 1% in 2Q2014, the segment is up 9% through the first half of 2014 and the company expects 10%-15% revenue growth year-over-year. Garmin also recently acquired Fusion Electronics, a marine audio equipment supplier, which will help the company offer a broader marine product range.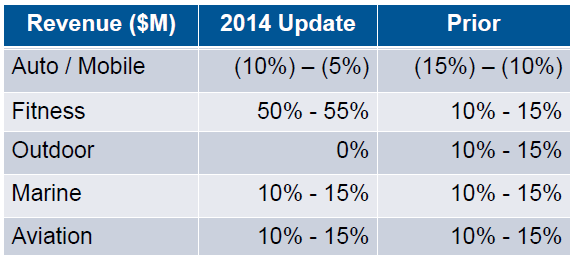 Source: Garmin Earnings Presentation
Restructuring Plan
During the latest conference call, management also outlined an intercompany restructuring plan to repatriate previously permanently reinvested earnings. Garmin will enter a restructuring in 3Q2014 to move a US subsidiary out from under a Taiwan subsidiary. This will allow the company to access future earnings to pay dividends, share repurchases and acquisitions. As a result of repatriating this overseas cash, Garmin will make a one-time cash tax payment of approximately $300 million over the next 12 months.
It will be interesting to see what the company has planned for this cash. Analysts believe Garmin could increase dividends or be interested in acquiring a separate company. Either way, it's in shareholder interest for Garmin to be able to utilize this cash in the best way possible, even if they'll take a tax hit. With all the M&A activity going on and Garmin's aversion toward debt, I believe the company will use this cash stockpile to acquire a company that can help it expand its business.
2014 Guidance
As a result of a strong first half of 2014, Garmin released new guidance for 2014. Revenue is now expected to be between $2.75 and $2.85 billion, up from $2.6-$2.7 billion and pro forma EPS is expected to be between $2.95 and $3.05, up from $2.50-$2.60. If Garmin can fall within $2.75-$2.85 billion in revenue for 2014, it will be the first yearly revenue increase since 2011 and the largest increase since 2007. While a 4-8% revenue increase doesn't sound very impressive, it signals a turning point in a company that has struggled to find footing while its core business declined.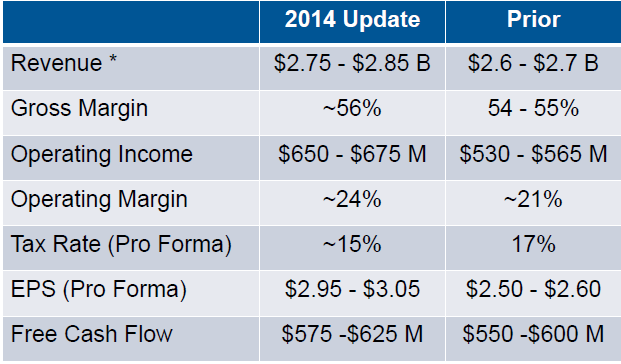 Source: Garmin Earnings Presentation
Conclusion
Garmin has managed to maintain a profitable business over the past several years while revenues were decreasing thanks to no debt on the balance sheet and healthy operating margins. Now Garmin has found strong growth in its wearable fitness device segment that should drive overall revenue growth in 2014 for the first yearly gain since 2011. The stock has a modest P/E of 16.6 and a healthy dividend yield of 3.5%. In addition, the company has $2.8 billion in cash and marketable securities, which equals roughly $14.50 per share, or 25% of share value. Management expects revenue to increase by 4-8% and pro forma EPS to increase by 12-16% in 2014.
Over the past couple weeks, the stock has fallen off its 52-week highs around $60/share to $55/share. The stock may have some downside left, but anything below $50/share should be considered a strong buy. Companies with zero debt and strong free cash flow are hard to find. If Gamrin can continue to grow its fitness segment and diversify itself away from the auto segment, this stock could be off to the races.
Disclosure: The author has no positions in any stocks mentioned, and no plans to initiate any positions within the next 72 hours. The author wrote this article themselves, and it expresses their own opinions. The author is not receiving compensation for it (other than from Seeking Alpha). The author has no business relationship with any company whose stock is mentioned in this article.