More and more articles are speculating on whether or not the Federal Reserve might raise interest rates sooner rather than later. With economic numbers continuing to come in mixed, but generally suggesting an improving economy and labor markets, the talk now is centered not on if, but rather when the Fed might move. So if this happens, what CEFs might benefit from this?
Floating-rate funds are one of the few sectors that can be a direct beneficiary of higher interest rates though not necessarily right away. Floating-rate securities are generally tied to an interest rate index, like the 3-month LIBOR, and generally include a spread added to the index. Let's first take a look at the 3-month LIBOR on a monthly basis going back 10 years.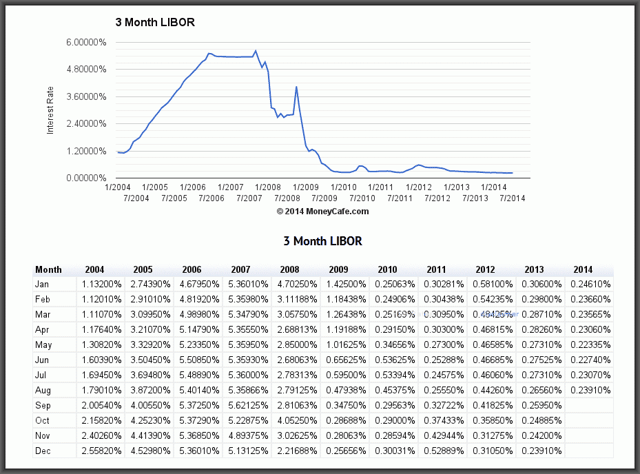 As you can see, the 3-month LIBOR has been bouncing along at near zero percent level for the last several years without any meaningful uptrends. As a result, floating-rate CEFs have generally lagged in performance while most other fixed-income asset classes have rallied strongly.
Then there are other issues related to floating-rate securities that investors need to be aware of. First, floating-rate securities need a secular rising interest rate environment to gain momentum, not just a token increase in rates. Second, there is a LIBOR floor which means that LIBOR would have to rise to a certain level, say 1%, before many of these securities could start to reset their rates higher. Third, senior loans can be fairly illiquid and can have extended settlement periods.
This was the basis of a negative article which appeared in Barron's this past weekend titled, "Beware Bank Loan ETFs", which pointed out that if selling in these funds forced portfolio managers to have to liquidate positions to meet redemptions, investors may not get their Net Asset Value (NAV) in return. The article goes on to say...
The main issue pertains to trade settlement. Bank loans aren't technically securities the way stocks and bonds are. The time required to settle trades is longer, stretching out a month or more for some bank loans (versus just three days for stocks). The fear is that, in a panic, ETF prices will plunge far harder than the lightly traded bank loans themselves, or, worse, investors will exit faster than ETFs can return their money.
What I find ironic is that negative news in this sector keeps piling up just when you would think that investors would be piling into these funds. Because despite all the talk of rising interest rates and protecting one's portfolio from interest rate risk... bank loan ETFs such as the PowerShares Senior Loan ETF (NYSEARCA:BKLN) or the SPDR Blackstone/GSO Senior Loan ETF (NYSEARCA:SRLN) are currently trading at their 52-week lows as shown in this one-year chart. NOTE: performance does not include dividends.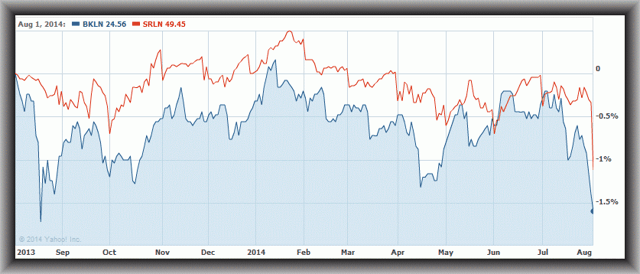 How can this be? Just when one would think that these funds should be outperforming, they are being scrutinized as illiquid and the equivalent of junk bonds. But as a contrarian investor in CEFs, I like to look at out-of-favor funds just when things might be turning back in their favor. This strategy worked well with municipal bond CEFs in late 2013 when investors were dumping these funds at double digit discounts around the time when default talk and bankruptcies were hitting a crescendo.
Could this be the case for floating-rate CEFs? Certainly, floating rate or senior bank loan CEFs are not for overweighting a portfolio, but rather should be looked upon as an insurance policy to counter-balance an income portfolio that may be subject to interest rate risk. The added bonus with investing in CEFs is that they are not subject to redemption demands like ETFs. This was one of the issues pointed out in the Barron's article mentioned above and can be a major liability to ETFs and mutual funds not just in bank loan funds but in all fund classes. Because if investors are cashing out during difficult market periods, portfolio managers may have to be selling positions to meet redemption demands at a time when they would like to be buying.
No such problem with CEFs. If investors want out, they may have to sell their shares at a wider and wider market price discount to the fund's NAV, but the portfolio managers have no obligation to sell securities to meet such demands. This is a big reason why I have stressed for years to pay less attention to a CEF's market price and more attention to its NAV. Market prices are established by investors and are subject to the whims and emotions of investors. NAVs are established by the true value of the fund and are subject to the direction and management by the portfolio managers, unencumbered by the market price. The market price is only useful in comparison to the fund's NAV.
So with all this mind, are there any good values in senior loan CEFs that might make a good addition as a hedge for an income portfolio?
A Nuveen Floating Rate CEF Trading At A -12% Discount
It just so happens that the largest and most liquid floating-rate CEF available to investors also trades at the lowest valuation as measured by its -12% discount. The Nuveen Credit Strategies Income fund (NYSE:JQC) - $9.00 market price, $10.23 NAV, 5.8% current yield is a 30% leveraged $2 billion total managed asset fund ($1.39 billion in net common assets), far larger than any other bank loan CEF. Leverage can up the risk of a fund but can also offer yields generally higher than a comparable sector ETF.
JQC's portfolio is 74% senior loans, 15% corporate bonds and about 7.7% in common stocks. What this means is that, unlike the bank loan ETFs that were the subject of the Barron's article, JQC and many other floating-rate CEFs are actually diversified to a degree. In fact, JQC has the largest equity allocation of any of the Nuveen floating rate funds, with Apple Computer (NASDAQ:AAPL) and Google (NASDAQ:GOOG) (NASDAQ:GOOGL) among its top 5 stock positions.
And so here is where it gets perplexing. JQC's Net Asset Value trend has been on a steady ramp up for some time and is just off a multi-year high and yet its market price has been dropping like a rock and is at a multi-year low. This is shown in the following 2-year chart of JQC's NAV (shown in red) and market price (shown in blue). NOTE: Chart and percentages do not include distributions.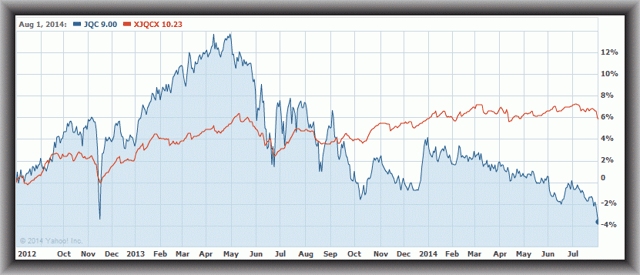 What makes this really unusual is that Nuveen has several other senior loan CEFs, the Nuveen Senior Income Fund (NYSE:NSL), the Nuveen Floating Rate Income Fund (NYSE:JFR), the Nuveen Floating Rate Income Opportunity Fund (NYSE:JRO) and the Nuveen Short Duration Credit Opportunities Fund (NYSE:JSD) and none of them are exhibiting quite the divergence from their NAV performance as JQC.
In fact, though each of the funds has a somewhat different strategy and portfolio, they all have had very similar historic NAV performances except for JSD, which seeks capital gain opportunities along with income and maintains a short two-year average duration in its fixed income portfolio. But for the other four funds, the NAV performances have been very similar.
For example, if you compare JQC's NAV (ticker: XJQCX) with JRO's NAV (ticker: XJROX) over the near and longer term, they are pretty much in lock step. In fact, JQC's NAV has actually performed better than the others recently because of its relatively high 7.7% stock allocation. But compare JQC's market price with JRO's over the past year and look what happens...
JQC - blue , JRO - brown, JQC NAV - red, JRO NAV - green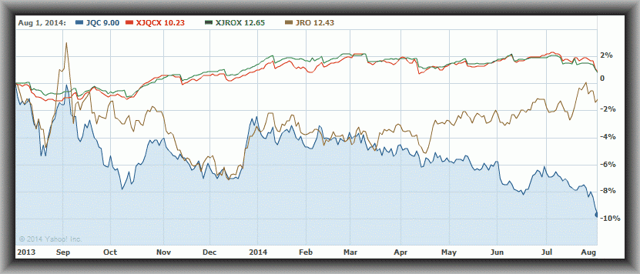 This divergence in market price performances even while the NAVs are virtually identical has resulted in JRO being able to reduce its discount to -1.9% currently while JQC's has ballooned to -12%, its widest since 2011. NOTE: Percentage performances do NOT include distributions.
JQC 1-year Premium/Discount chart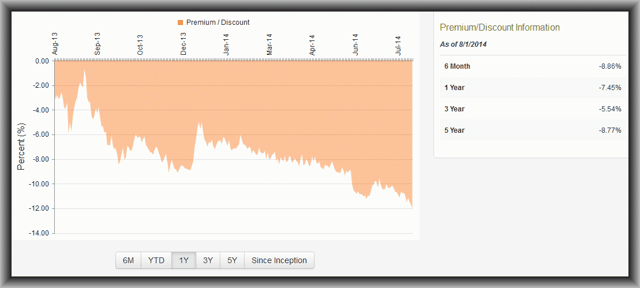 JRO 1-year Premium/Discount chart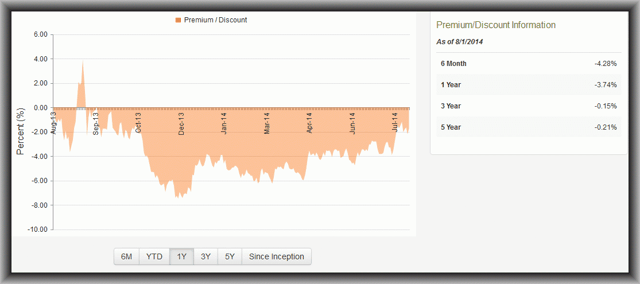 Does this make any sense? Absolutely not, but this is what can happen with CEFs when an institution (or institutions) decides to swap out of one fund and into another, though I have no evidence that is what is occurring. One thing is for certain, however. JQC's and JRO's portfolios are not that much different to account for this valuation discrepancy. There is actually a lot of overlap in the portfolio holdings between JQC and JRO, especially in their floating rate and corporate bond securities.
Distribution Cuts In Floating Rate CEFs
Now what might be contributing to JQC's selling pressure and wide discount is the fact that JQC has cut its distribution five times since 2013. After its monthly distribution was raised to $0.0692/share ($0.83 annually) at the end of 2012, JQC has gradually brought down its distribution and currently sits at $0.0435/share per month or $0.522 annually (5.8% current yield).
Now that may be a huge red flag to investors, but in articles that I have written over the years, I have pointed out that you want a fund sponsor to be proactive and rebalance their distribution with the current income rather than having the fund pay a distribution it can't cover and see the NAV deteriorate over time. There are plenty of fund sponsors who do this.
The good news is that Nuveen should be just about done with JQC's distribution cuts and even went on to say as much in its floating-rate fund's commentary at the end of the 1st quarter - 2014 when it stated:
JQC - The March distribution was reduced by 3.7% which follows three reductions in calendar year 2013. Based on the current earnings forecast, the Fund should be positioned to out-earn its current distribution and build back undistributed net investment income (UNII)
Now, don't think JQC is unique to have its distribution cut. Many floating-rate CEFs have had to do the same and even JRO has cut its distribution four times over the same period, even while reducing its discount. That's what happens when your primary income stream is LIBOR based and has bounced around at a historic low for the last few years.
Nonetheless, JQC's NAV has continued to appreciate and I've even had inquiries as to why JQC has been cutting its distribution while its NAV is growing. My answer is that floating-rate funds can be more dependent on an improving economy than rising interest rates though certainly, rising interest rates will help over time. In other words, bank loan securities are paying about the minimum that they will pay, short of defaulting, so their valuation is based more on the economy than on their yields. Then combine corporate bonds and stocks, which make up about 23% of JQC's portfolio, and the end result is that JQC's NAV has actually been growing while its market price has been falling out of bed.
Conclusion
No one is going to get rich on bank loan floating-rate funds. You own them as an insurance policy to counter-balance your fixed-income investments. Though this strategy has certainly not paid off and interest rates continue to hover near zero, each day that goes by gets us that much closer to when the Federal Reserve may make a decision to finally raise rates.
I don't know how much worse it gets for JQC but in my experience, when valuations hit this low of a level, the worst is generally behind the market price trend. With JQC currently trading below $9 with an NAV of $10.23, I believe JQC offers an excellent value for investors looking for an interest rate hedge.
Disclosure: The author is long JQC. The author wrote this article themselves, and it expresses their own opinions. The author is not receiving compensation for it (other than from Seeking Alpha). The author has no business relationship with any company whose stock is mentioned in this article.