A Rate Like This Is Too Low for Your Tastes
With 10-year Treasury yields less than 3%, many investors are dissatisfied with the paltry returns they are getting from bonds, CDs and other safe investments. The following chart shows the S&P 500 (in blue) versus the 10-year Treasury over the last 30 years: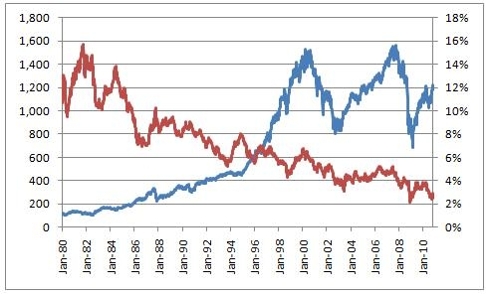 (Click to enlarge)
With QE2, the Fed effectively declares war on the interest rates. The Fed might keep short-term interest rates low for an extended period of time. This "free money" environment is pushing investors to take on more risks. There are cycles of booms and busts, and every boom goes bust. The chart above is telling you that there is not much room for rates to go any lower.
12 Large iShares ETFs With Yields Higher Than 3%
Following are 12 iShares ETFs with assets more than $2 billion and yield more than 3%:
| | | |
| --- | --- | --- |
| Fund Name (Ticker) | Category | Yield |
| iShares iBoxx $ High Yield Corporate Bd (NYSEARCA:HYG) | High Yield Bond | 8.31% |
| iShares S&P U.S. Preferred Stock Index (NYSEARCA:PFF) | Preferred | 7.33% |
| iShares JPMorgan USD Emerg Mkts Bond (NYSEARCA:EMB) | Emerging Markets Bond | 4.95% |
| iShares iBoxx $ Invest Grade Corp Bond (NYSEARCA:LQD) | Long-Term Bond | 4.82% |
| iShares Barclays Intermediate Credit Bd (NYSEARCA:CIU-OLD) | Intermediate-Term Bond | 4.15% |
| iShares Barclays 20+ Year Treas Bond (NYSEARCA:TLT) | Long Government | 4.12% |
| iShares S&P National AMT-Free Muni Bd (NYSEARCA:MUB) | Muni National Long | 3.63% |
| iShares Dow Jones Select Dividend Index (NYSEARCA:DVY) | Large Value | 3.53% |
| iShares Barclays Aggregate Bond (NYSEARCA:AGG) | Intermediate-Term Bond | 3.46% |
| iShares Dow Jones US Real Estate (NYSEARCA:IYR) | Specialty-Real Estate | 3.42% |
| iShares Barclays MBS Bond (NYSEARCA:MBB) | Intermediate-Term Bond | 3.42% |
| iShares MSCI Brazil Index (NYSEARCA:EWZ) | Latin America Stock | 3.40% |
The US has lost more than 8 million jobs over the last 2 years, making it the worst recession since the 1930s. But there is a disconnection between the rocketing stock market and the weak economy. One of main reasons why markets are back to pre-Lehman (OTC:LEHMQ) levels is because investors are betting on the Federal Reserve to support the recovery and sustaining price stability. However, the daily volume for the S&P 500 rarely exceeded 5 billion during the last few weeks. The total lack of volume might be a sign of little conviction in the institutional investment community. How long can a rally continue, based on poor economic news, weak housing and jobs data?
Preferred Shares ETF
iShares S&P U.S. Preferred Stock ETF (PFF) invests in a select group of preferred stocks. In addition to banks such as Barclays Bank (NYSE:BCS) and Bank of America (NYSE:BAC), PFF's holdings also include other non-financial sectors such as Ford (NYSE:F). Over 61% are investment grades.
The following chart from Yahoo shows that PFF was moving in line with S&P 500 (NYSEARCA:SPY) since its inception:

(Click to enlarge)
However, its beta is 0.23 and 12-month-yield is 7.33%. Following is its monthly dividend chart: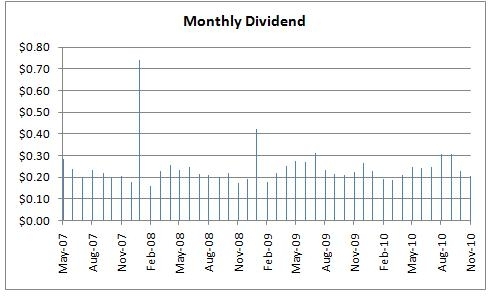 One of drawbacks for PFF is its short of history: the fund has been in the market since March 2007. The other similar preferred stock ETF, PowerShares Financial Preferred (NYSE:PGF), is less than 4 years old too. Also, big hedge funds are unloading high-yield bond positions, concerned that the asset class has become too popular with mainstream investors. This might apply to prefer stock ETFs as well.
Conclusion
Contrary to the efficient-market view, investors frequently react to information gradually. They all absorb developments on their own timescales, so prices respond incrementally rather than in one jump. Traders lack the muscle to enforce price efficiency and that, knowing the limits of their power, they will prefer to ride trends rather than fight them. Some traders also choose to follow the fundamentals in one period and surf the trend in the next one, according to Sebastian Mallaby, author of More Money than God.
There are many things worrying investors now. With interest rates low and no fundamentals to support stock growth, opportunities have become scarce and you have to take some risk to hit your targets. Sometimes we just need to ride trends.
There won't be much growth in the foreseeable future, so you might as well collect dividends.
Disclosure: Author long PFF