By Brad Zigler
Domestic inflation, measured by the core Consumer Price Index, fell to a record low in October, according to the latest data released by the U.S. Bureau of Labor Statistics. Year-over-year, the inflation metric, which represents changes in the value of a basket of goods and services, but excludes volatile food and energy prices, rose by 0.6 percent last month. A year before, core inflation was running at 1.7 percent.
Amid great volatility, gold prices tumbled for the week ending Thursday. When priced in the world's reserve currencies, bullion's biggest loss—outlined below—was registered in U.S. dollars. The yellow metal dipped 3.5 percent in pound sterling, 2.8 percent in yen, 2.5 percent versus the euro and 2.0 percent against the Swiss franc.
The greenback marked several market milestones this week.
In London, morning gold fixes ended 4.0 percent lower on the week at $1,357; fixes averaged $1,362, $10 higher than the week's mean COMEX spot settlement; COMEX gold ended Thursday at $1,352, off 3.6 percent; average daily volume fell 6.7 percent to 272,230 contracts; open interest also eased, lopping off 9,727 contracts to 633,224; warehouse stocks of bullion continued to build, increasing by another 70,936 ounces (2.2 tonnes) to 11.38 million; inventories now cover 17.7 percent of open interest; the maximum immediate demand for bullion delivery through futures is 2,000 ounces, while 2.65 million ounces are in a deliverable position.
London gold lease rates continued to fall this week; one-year contracts netted 15 basis points (0.15 percent), 6 bps less than last week.
SPDR Gold Shares Trust (NYSEARCA:GLD) bullion holdings dipped 4.6 tonnes (146,479 ounces) to 1,286.249.
Junior gold miners lost marginally more than larger-cap producers this week; the Market Vectors Junior Gold Miners ETF (NYSEARCA:GDXJ) slipped 4.7 percent as the Market Vectors Gold Miners ETF (NYSEARCA:GDX) pulled back 4.5 percent; the average reading of the Gold Miners Ratio—GDX over GDXJ—rose from 1.50x to 1.54x.
The broad equities stock market proxied by the S&P 500 Composite fell 1.4 percent this week, nudging up the benchmark's correlation to gold and gold stocks; the blue chip stock index's correlation to bullion climbed 9 points to 66 percent, while its coefficient versus gold producers ticked up 3 points to 80 percent.
WTI crude oil prices slumped 6.8 percent to $81.85; the gold/oil ratio slipped from 16.2x to 16.1x.
One-year TED spreads inched down 4 bps to 0.49 percent on a softening in Treasury rates; the spread reflects the rate premium demanded by financial institutions on interbank loans.
The discount to one-year Treasurys in the COMEX gold futures term structure widened 9 bps this week; the one-year gold contango narrowed 11.5 percent to $12.30 an ounce.
Long bond yields vaulted 10 bps to 4.30 percent, making the Treasury yield curve more acute; the spread between three-month bills and 30-year bonds is now 417 bps.
The U.S. dollar continued to rise against the world's second reserve currency; the euro shed 1.9 percent of its value relative to the greenback, averaging a cross rate of $1.3634 and ending Thursday at $1.3506.
Daily reads of the one-year monetary inflation rate fell from -0.2 percent last week to -1.4 percent; monetary inflation, rather than measuring changes in the cost of a basket of domestic goods and services, tracks the U.S. dollar's gold purchasing power versus that of the euro; at today's rate, the real return, i.e., adjusted for monetary inflation, on three-month Treasury bills is 114 bps.
Year-Over-Year Inflation Metrics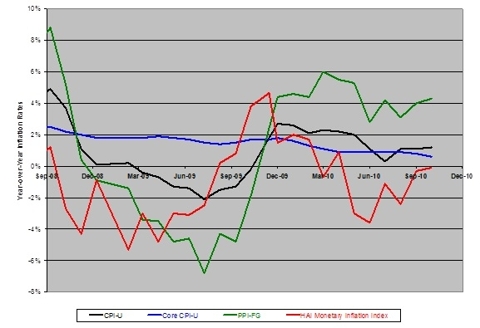 (Click to enlarge)
Disclosure: No positions