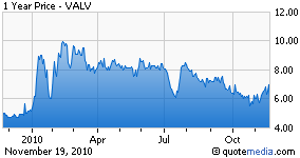 Leave it to Shengkai Innovations (NASDAQ:VALV) to announce their dilutive stock offering of up to $25,000,000 dollars just days after I wrote an article defending their previous earnings and made an argument against further dilution.
So what does this mean?
Well, at their current market price of $6.30 that is 3.968 million more shares outstanding. That's not too terrible considering they have a fully diluted share base of 41.90 million outstanding before the offering (according to their newest prospectus, a raise of 6.9 million from their June 30 conference call, ::sigh::). That's a little less than a 10% dilution; however, this has been something stockholders have been concerned about as the diluted number of shares outstanding approaches the 50 million max and it does not seem as if Shengkai is slowing down.
Part of the concern is that there are only 23 million shares outstanding but now there is the potential for 45.87 million shares to be outstanding over the next two to three years (including the new offering). That lowers any investors expected return by half!
What Is the Good News in This?
It nearly doubles the equity the company currently has. This makes them a "safer" bet in regards to the potential for poor operating conditions in the future.
If this money is spent opening another factory, expanding the machinery in their current one, etc. etc. etc. this is actually good for the shareholders. This capital will drive future earnings growth that will hopefully be just as impressive as they have been.
In accordance with the deal Shengkai is not allowed to issue and securities or items that convert into securities for the next nine months. So, for the next nine months we can look forward to no further dilution. Finally!
My past articles took into account a full dilution to 50,000,000 shares. The investment was not as attractive but it was still attractive; it just gives us a lower margin of safety in the event we are wrong about growth (which we haven't been so far).
Following the announcement shares fell by 10% furthering the likelihood that certain outstanding options and warrants will expire unexercised. Currently there are 1.97 million options outstanding with strike prices of $7.97 and $8.13. These were mentioned for the first time in the June 2010 annual report meaning they had been issued sometime in that quarter. These options vest in equal amounts, 33% per year, or the next three years. If prices stay as they are, next June we can reduce the number of diluted shares outstanding by 650,000 or 1.4% of the current diluted shares outstanding. This is a small consolation but is an improvement nonetheless.
Lastly, the insiders currently own 87% of all outstanding shares and institutions another 10%. If Shengkai keeps diluting us remaining 3% shareholders they are also diluting their 87% stake and making it less valuable. It doesn't make sense to print yourself $25,000,000 in a stock offering while lowering the value of your current investment by $14,000,000 (the management's share of the 10% drop the day it was announced) as well as the value of all of your outstanding options and warrants that have a time limit on them. This sum that the management lost is probably comparable to the $25,000,000 that was gained and it would also limit their claim on future profits. It would not make sense for any management team that is expecting to be with the company for a long time to pursue this course of action and our management team has been with Shengkai for a long time.
So, in conclusion, this leaves us with one of two options:
The management is not as bad as we might think and this issuance was done for the benefit and future growth of the company and not to make the author look like an idiot or to print themselves a $25,000,000 paycheck.
Or the author just has a really bad case of confirmation bias and this company is printing itself cash and crushing any investor confidence that is left.
You decide and let me know.
Disclosure: Author long VALV