Apple Inc. (NASDAQ: AAPL) reported strong third-quarter earnings, driven largely by iPhone sales in China and BRIC economies. Japan has also become one of the iPhone's fastest-growing markets, despite the region's revenue not growing quite as fast in the April-June period. Apple's strategic partnership with NTT DoCoMo (NYSE: DCM) is a significant catalyst for further accelerating Apple's revenue growth in Japan. Apple is reportedly launching new products and services this fall, which could catapult shares to new highs in the months ahead.
Higher earnings and gross margins
Apple's revenue reached the high-end of the company's guidance range at $37.4 billion, rising 6% from the year-ago quarter. Strong iPhone demand in Brazil, Russia, India, and China--the so-called BRIC countries--increased handset sales by 55%. This helped boost earnings per share, or EPS, growth rate by 20% year-over-year, the company's highest EPS growth rate in the last seven quarters. Profits swelled 12%, to $7.7 billion, or $1.28 per share, in the June quarter.
A key metric that impressed Apple executives and investors was the company's better-than-expected gross margin. Gross margin came in at 39.4%, up from 36.9% from a year ago, and beat the company's outlook of 37%-38%. These results are combinations of solid sales of higher margin products, including iPhone, iPad and Mac computers, and lower production costs through effective company-wide cost containment measures.
Management expects a third consecutive quarter of year-over-year gains in gross margin going into the company's fourth fiscal quarter. Apple forecasts gross margin to range between 37%-38%, compared to 36.9% in the same period last year. A beat on gross margin would mark a full fiscal year of Apple topping its own quarterly gross margin estimates. Katy Huberty at Morgan Stanley believes Apple's healthy gross margins "removes the margin bear case" narrative that ringed on Wall Street last year.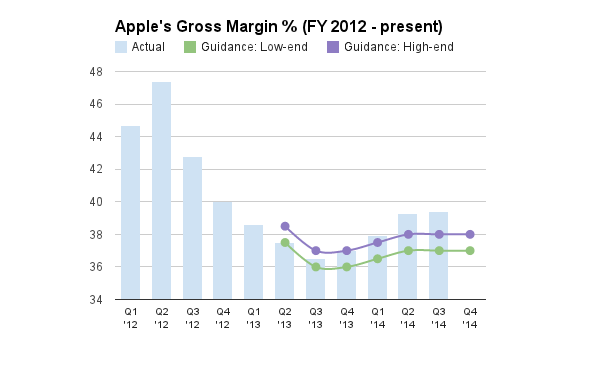 Figure 1: Apple's gross margin percentage from FY 2012 - present. Data retrieved from Apple's quarterly 10-Q filings.
Japan is expanding
Apple's third-quarter revenues in Japan grew slightly by 1% to $2.56 billion, compared to last year, but this should not dampen investor sentiment about the company's overall performance in the Japanese market. Apple's performance in Japan has expanded considerably over the past couple of years (see Figure 2) and has become "one of iPhone's fastest growing markets in recent quarters," Apple's CEO Tim Cook said on the third-quarter earnings call.
For the first nine months of fiscal 2014, Apple has generated year-over-year growth in net sales of iPhones, iPads, Macs, and iTunes, Software and Services in Japan, the company highlighted in the most recent 10-Q filing. Net sales in Japan grew 13% over the past nine months, making Japan Apple's second-fastest growing market, following Greater China's 22%.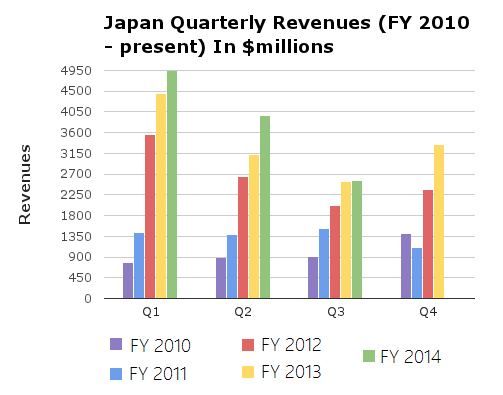 Figure 2: Japan's quarterly revenue performance from FY 2010 - present. Source: Data retrieved from Apple's quarterly 10-Q filings.
Apple cited higher value-added taxes, or VAT, from 5% to 8% near the beginning of the quarter for affecting net sales growth in Japan. Changes in the Japanese regulatory environment relating to carriers' incentive programs and weakness in the Japanese Yen relative to the U.S. dollar also curtailed revenues.
In the March quarter, Apple posted 50% year-over-year iPhone sales growth in Japan, resulting in significant market share gains. Apple credited NTT DoCoMo, Japan's biggest wireless carrier with 63.57 million subscribers, for the company's impressive net sales in Japan, which grew 26% during that quarter. Apple now controls approx. 55% of the Japanese smartphone market, according to Tim Cook.
NTT DoCoMo sees business improvement
Apple has benefited greatly from NTT DoCoMo's extensive distribution channels across Japan, while the Japanese telecom giant has regained competitiveness after releasing iPhone models. In NTT DoCoMo's 2013 third-quarter earnings presentation, the company highlighted the following visible iPhone effects on underlying business operations:
Increased net additions (subscribers) and improved mobile number portability performance
Broadened 4G LTE smartphone user base
Expanded average revenue per user, or ARPU
Improved cost efficiency
NTT DoCoMo was the third and last of the Japanese wireless telecoms to offer iPhone devices after striking a deal last September with Apple. Apple's iPhone has performed well for NTT DoCoMo, attracting new subscribers from local telecom rivals Softbank (OTCPK:SFTBY) and KDDI (OTCPK:KDDIY). Softbank first supplied iPhone smartphones in Japan with the release of iPhone 3G in July 2008. KDDI offered the iPhone more than three years later, selling the iPhone 4S in October 2011.
The chart below illustrates how much NTT DoCoMo's net additions, or subscriber base, has bettered since the launch of iPhone models on its network.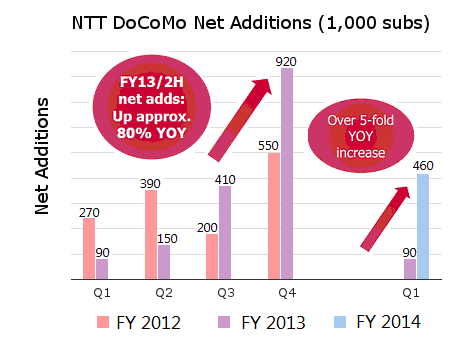 Figure 3: Net additions (subscribers) increased significantly after the iPhone launch in the company's second fiscal quarter of 2013. Source: NTT DoCoMo presentation slides. (I, II)
Apple is widely rumored to launch new iPhone 6 models with 4.7-inch and 5.5-inch screens. That would result in the first-ever iPhone launch on NTT DoCoMo after a year of selling iPhone devices. NTT DoCoMo President and CEO Kaoru Kato revealed that iPhone 6 will come out this fall, but the exact timing is "still in the dark," he said on the most recent earnings call to investors. A new iPhone would balloon Apple's top and bottom line, but also help NTT DoCoMo capitalize on the brisk demand and realize growth after losing profits to local rivals.
Bottom line
Apple saw third-quarter revenue growth in the company's entry price, mid-tier, and lead iPhone categories, and these results positively affected all geographical markets. The Japanese market has become one of Apple's fastest-growing markets. NTT DoCoMo has boosted Apple leadership position in the Japanese smartphone market, while Apple has bolstered NTT DoCoMo's subscriber base and ARPU.
Apple's current return on equity and return on investment of 31.56% and 22.69%, respectively, more than doubles the industry average. A conservative trailing 12-month P/E ratio of 15.44 coupled with an attractive 2% dividend yield could fetch some bids before Apple begins to roll out new products and services in the second half of this year.
If investors maintain bullish sentiment on Apple, the company's share price could reach new highs and surpass the psychological $100 resistance level.
Disclosure: The author has no positions in any stocks mentioned, and no plans to initiate any positions within the next 72 hours. The author wrote this article themselves, and it expresses their own opinions. The author is not receiving compensation for it (other than from Seeking Alpha). The author has no business relationship with any company whose stock is mentioned in this article.