"The great enemy of the truth is very often not the lie, deliberate, contrived and dishonest; but the myth, persistent, persuasive and unrealistic." - John F. Kennedy
Abstract
It's undeniable China's EV market has begun its phenomenal growth. In addition, the car ownership paradigm has been gradually shifted to car usership that has created a huge opportunity for car sharing companies like Kandi (NASDAQ: KNDI).
Despite overwhelming criticism by naysayers, Kandi Technologies and Tesla Motors, Inc. (NASDAQ:TSLA) stocks have done very well over the short term as well as long term.
Electric Car Market Growth
According to the Global Electric Vehicle Forecast, 2013 - 2021 by Zpryme, the global EV market is predicted to experience extraordinary growth past the end of this decade. China is among top three in both annual growth and market size. The worldwide EV market is forecasted to grow from just over 700,000 vehicles in 2014 to more than 12 million vehicles in 2021, an average annual growth rate of 66%. By 2021, more than 12 million electric vehicles will be sold annually.
South Korea, Australia and China are expected to be the fastest-growing EV markets. Between 2013 and 2021, South Korea will grow 115% per year on average, followed by Australia with 105%, and China with 81%.

PEVs are expected to grow faster than PHEVs. Between 2013 and 2021, PEVs will grow 78% per year on average compared to 52% for PHEVs.

The U.S., China and Japan will be the largest EV markets. These three countries will comprise 58% (7 million units) of the worldwide EV marketplace.
Car Sharing Market Growth
Several recent articles and reports on the future of mobility recognize a major new trend - the shift from car ownership to car usership.
The Roland Berger study released in June titled "Sharing the future - Perspectives on the Chinese car sharing market", states that "Car sharing has enormous potential with disruptive effects on car rental and car ownership...The Chinese car sharing market is currently emerging and offers significant potential and opportunities going forward. Chinese consumers have a positive attitude towards car sharing - Awareness is expected to increase strongly".
The report recognizes car sharing is becoming increasingly important in all global markets, and has strong further growth potential. It suggests that China's car sharing market will quadruple between 2014 and 2017 due to governmental subsidies, tax reduction, enhanced product offering, mobile communication, free parking and positive customer sentiment towards car sharing. National and provincial governments are expected to provide enlarged free parking zones to car sharing operators. More than 76% of Chinese consumers surveyed are interested in car sharing and view it as a new, attractive, convenient form of mobility.
The forecast points out Hangzhou, Beijing, Shenzhen and Shanghai are the most attractive pilot cities to start a car sharing business in China.
Kandi Car-Share Update
In June, I mentioned in an article ChinaEV.org reported that there were twenty-three Car-Share locations in operation, including seven multi-level smart garages and sixteen flat locations. Also reported was Kandi JV was in the process of signing contracts with as many as twenty high-end hotels in Hangzhou to add Car-Share stations. Car sharing demand in Hangzhou has picked up tremendously after the city imposed internal combustion engine (ICE) license place restrictions in March and since then, each month the chance to win a car plate becomes slimmer.
Kandi's press release dated July 30 confirmed that "At present, ZZY has a total of 50 stations within the Hangzhou Car-Share network, including on-street stations, high-end hotel EV charging/parking stations, and smart vertical charging/parking garages." This came after the company affirmed that it has full support from Hangzhou's government to roll out a total of 100,000 cars in Hangzhou alone over the next four to five years as originally planned. Reporter Chen Xiaobo of Xinhua Hangzhou reported on August 3rd that Kandi JV is building 40 Smart garages and 100 flat sites in Hangzhou this year.
Meanwhile, Kandi is entering the pilot program of the City of Wuhan with its pilot Car-Share program. In addition, the on-going discussion between Geely (OTCPK:GELYF) and Chengdu Mayor for over a year now is finally making good progress, as reported by China News.
All eyes will be on Kandi for the upcoming earning release on August 11, not only for its second quarter revenue and earnings report, but also for any hint on its Car-Share pilot progress in Shanghai, in which the company will deliver 3000-5000 EVs to the city by the end of this year.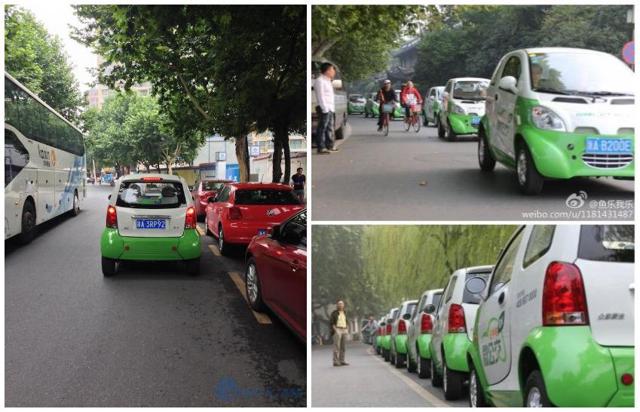 Exhibit 1 - Micro buses are spotted in the vicinity of West Lake District, Hangzhou (Source: Electric Car Forum)
Kandi Group Leasing Update
As I reported in June, Kandi JV launched its group leasing program on May 28, when it delivered 707 PEVs to Xiangshan community residents who signed up for the three-year, effectively free government subsidized lease. In addition to residential communities, Kandi has been quickly adding enterprises to its long lease listing. To date, more than 2,000 cars have been delivered to various communities and corporations, with a waiting list of more than 1,400 residents and growing. In order to meet growing demands, Kandi requires a minimum of 100 EVs per community, and each group entity is now responsible for its own charging facility, but ZZY still provides each group entity with a maintenance service team for any technical support.
With the new government's mandate requiring that electric cars must make up at least 30 percent of government vehicle purchases by 2016, it is anticipated that Kandi will begin enjoying increasing demands for its EVs from government entities soon.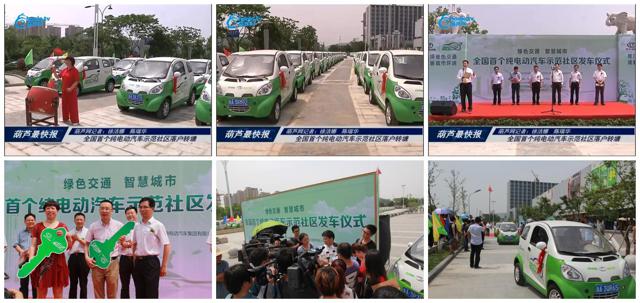 Exhibit 2 - Group lease ceremony at Xiangshan community (Source: Kandi and Hangzhou TV)
KNDI Performance Analysis
Despite the recent setback, KNDI charts show positive returns for both short and long term holders. Exhibit 3 shows three-month, six-month, one-year and three-year returns of approximately 30%, 45%, 240%, and 560%, respectively. KNDI's returns beat Tesla, Nasdaq composite and Russell 2000 indices for periods of one year or shorter. For periods of two years or longer, KNDI trails Tesla (due to Tesla phenomenal tenfold run-up last year), but still outperforms the other two popular indices.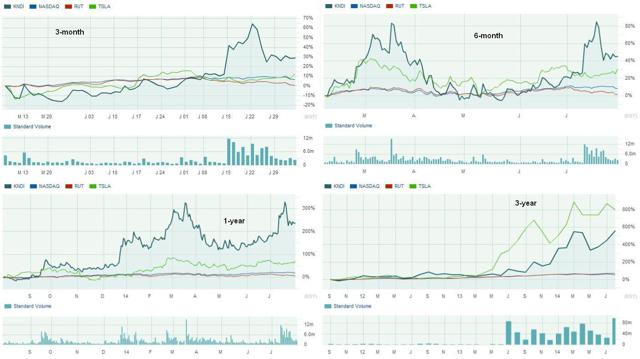 Exhibit 3 - KNDI performances vs. Tesla, Nasdaq composite and Russell 2000 indices (Source: MarketWatch.com)
Exhibit 4 shows KNDI performs better than its Chinese peers, including BYD (NASDAQ: OTCPK:BYDDY, OTCPK:BYDDF), Geely, Great Wall (NASDAQ: OTCPK: OTCPK:GWLLY) and Dongfeng (OTCPK:DNFGY). The main reason is, like Tesla, Kandi only produces PEVs, which is the fastest growing market in China.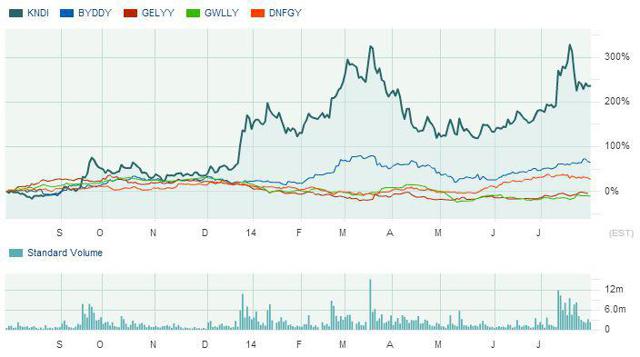 Exhibit 4 - KNDI one-year performance vs. BYD, Geely, Great Wall and Dongfeng (Source: MarketWatch.com)
Remember Cramer's famous "hurry sell" call on March 31 this year that made KNDI dropped to $16.40 on that day? Subsequently, Nasdaq corrected nearly 10% along with the momentum stock sell-off brought KNDI down to $10.80 where it bottomed, before advancing to close at a new high on July 21 at $21.60, an impressive gain of 32% in less than 4 months (see Exhibit 5).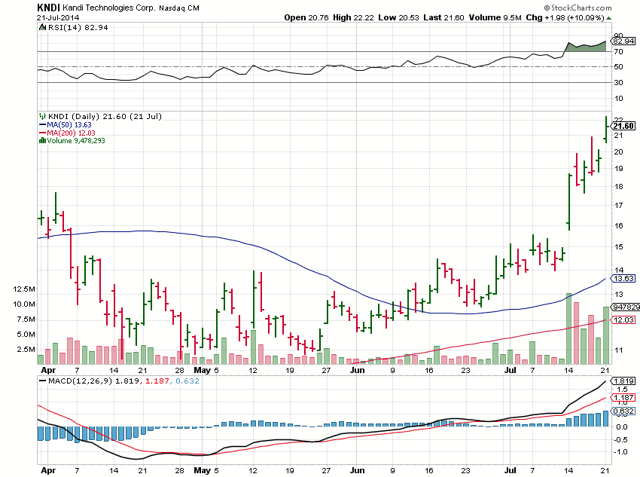 Exhibit 5 - KNDI is up 32% four months after Cramer's "hurry sell" call followed by Nasdaq sell-off (Source: StockCharts.com)
Last year, 2013, there were two negative articles published by a short seller on October 1 and October 4 calling for KNDI to drop below $5.50 level in one week. The articles had some short-term success, KNDI fluctuated for several months. However, positive developments continued to be reported and the stock broke out and closed at $21.41 on March 17, a 180% gain in less than six months after the articles were released (Exhibit 6).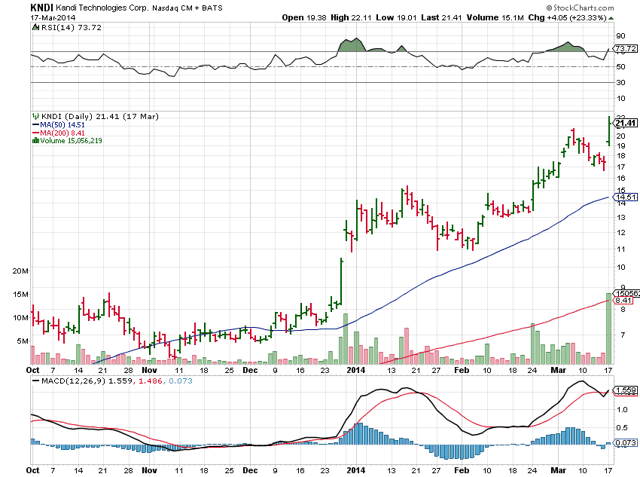 Exhibit 6 - KNDI was up 180% in less than 6 months after two negative articles (Source: StockCharts.com)
Breakout Remains Intact
My previous article reported KNDI looked to form a cup-with-handle (aka cup-and-handle) pattern which remains intact, see Exhibits 7 and 8. Despite the recent attack attempt by a flip-flopping trader who shorted KNDI then published a negative article questioning KNDI's Form-10-Q filed three months earlier, followed within minutes by a peculiar law firm announcing an investigation on behalf of the article's quotes. The attack helped form the handle portion of the chart (Exhibits 7 and 8).
As seen in Exhibit 7, KNDI formed a similar cup-with-handle pattern last year, resulting in a breakout that moved KNDI from $8 to $22 in merely three months.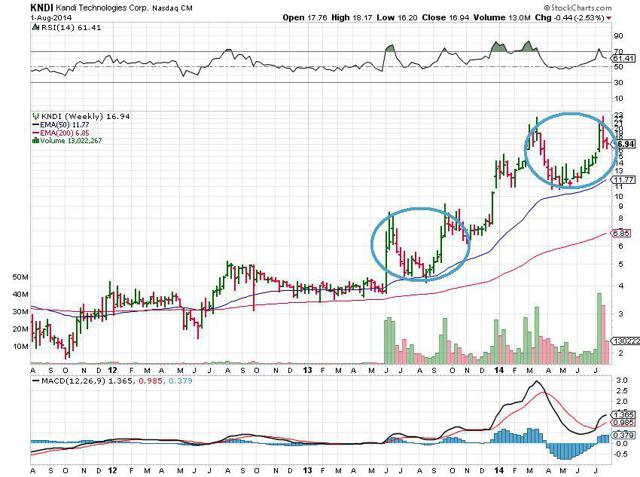 Exhibit 7 - KNDI forms a cup-with-handle pattern similar to last year's 180% breakout (Source: StockCharts.com)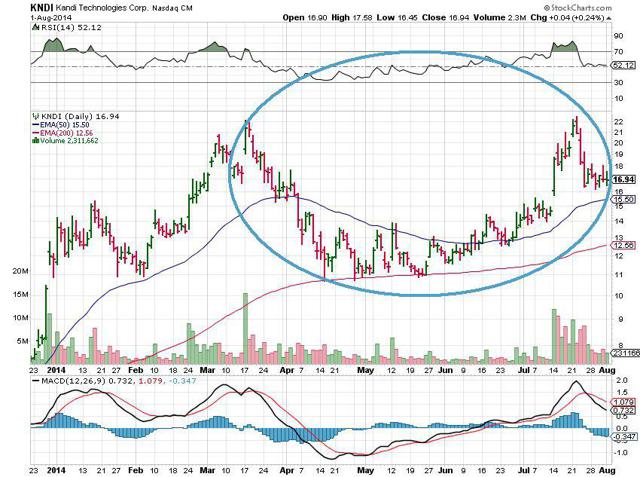 Exhibit 8 - Daily chart shows cup-with-handle formation began on March 17 (Source: StockCharts.com)
Conclusion
KNDI and TSLA have made very remarkable run-ups over the last several years. While both stocks have rewarded their long-term investors tremendously, they also have suffered a lot of criticism. Tesla naysayers suggest the stock is overpriced, and due to the delay of Model X, sale of Model S eventually dries up causing the stock to crash and fall back to low double digits. In February, CNBC reported that a "major options player" made a bet that the automaker's stock would plummet to $50 a share by next January. The firm reportedly bought 2,000 January 100 / 50 one-by-two put spreads in Tesla for $3.50 each, hoping to make up to $9.3 million in profits. That means Tesla stock has to drop over $180 in less than six months from now.
Investors should check out both bull and bear camps, their reasoning, and do their thorough research before making the bet. Don't just listen to analysts, specialists, short and long term holders, or short sellers. The so-called analysts and specialists can sometimes make grave mistakes that cost their followers dearly. There are always opportunities in stocks like Tesla and Kandi for traders, short-term and long-term investors, and even short sellers to make money. TSLA and KNDI sometimes are ahead of themselves, therefore subject to profit taking and short selling. However, over the long term, both stocks have been going up, thus rewarding their long-term, patient investors greatly. As China's EV market keeps accelerating, car sharing and group leasing markets keep growing, KNDI will keep humming along.
Disclosure: The author is long KNDI, TSLA. The author wrote this article themselves, and it expresses their own opinions. The author is not receiving compensation for it (other than from Seeking Alpha). The author has no business relationship with any company whose stock is mentioned in this article.