In my previous article, I announced a new portfolio for the next 10 years that would incorporate the principles of Dividend Growth Investing, but at the same time it would be a "Passive" portfolio that anyone could follow. By passive portfolio, I meant that once we have completed the initial stock selection, we would have minimal trading except buying or adding money to the positions at fixed intervals. This portfolio is purposed to demonstrate how a common investor can build a solid stream of income over time without spending too much of the time. The positions would be bought in a spread-out manner on a set timetable. If things were to pan out perfectly, we would not sell any of the positions for the entire duration of the portfolio. But in real life, this will not hold true and I am sure there will be situations when we would need to sell (and replace) a position when it no longer meets the basic principles and goals of this portfolio. The portfolio would have 30 positions at all times with equal weight (in terms of invested money without counting the re-invested dividends). The detailed rules and goals for the portfolio were outlined in my previous article or they can be seen on my website here.
I was able to finalize the selection of 30 stocks (at the time of writing of previous article) and they are re-produced in the below table for easy reference.
Sector

Company Name

Aerospace & Defense

Lockheed Martin Corp (NYSE:LMT)
United Technologies Corp (NYSE:UTX)

Agriculture

Monsanto Co (NYSE:MON)

Technology

Microsoft Corp (NASDAQ:MSFT)
Qualcomm Inc (NASDAQ:QCOM)
Intel Corp (NASDAQ:INTC)

Beverages - Non-Alcoholic

PepsiCo Inc (NYSE:PEP)

Business Services

Automatic Data Processing (NASDAQ:ADP)

Chemicals

Air Products & Chemicals (NYSE:APD)

Consumer Goods

(Packaged products, Cleaning products)

Colgate-Palmolive Co (NYSE:CL)
Nestle SA ADR (OTCPK:NSRGY)
Procter & Gamble Co (NYSE:PG)
Clorox Co (NYSE:CLX)

Drug Manufacturers

Johnson & Johnson (NYSE:JNJ)
Teva Pharmaceutical ADR (NYSE:TEVA)

ETF - International Dividend (Foreign Large Value)

SPDR S&P International Dividend (NYSEARCA:DWX)

Industrial Products

Emerson Electric Co (NYSE:EMR)

Insurance - Life

Aflac Inc (NYSE:AFL)

Medical Devices

Oil & Gas

REITs

Realty Income Corp (NYSE:O)
HCP Inc (NYSE:HCP)
Omega Healthcare Investors Inc (NYSE:OHI)

Restaurants

McDonald's Corp (NYSE:MCD)

Retail - Defensive, Drugstores

Wal-Mart Stores Inc (NYSE:WMT)
Walgreen Co (WAG)

Tobacco Products

Altria Group Inc (NYSE:MO)

Waste Management

Waste Management Inc (NYSE:WM)
As outlined earlier, purchases in the 30 stocks would be made, per the following schedule:
· $1,000 to be invested on August 1st, 2014, in each of the 30 stocks [already completed].
· $1,000 to be invested on November 3rd, 2014 (first trading day of November 2014), in each of the 30 stocks.
· $1,000 to be invested on February 2nd, 2015 (first trading day of February 2015), in each of the 30 stocks.
· Thereafter, starting 2016 (until 2025), $500 to be invested in each of the 30 stocks on the first trading day of every year.
As per the above schedule, $30,000 was contributed to the portfolio cash on August 1st and $1000 was invested in each of the 30 stocks at the market-close. The current position of our portfolio is shown in the table below: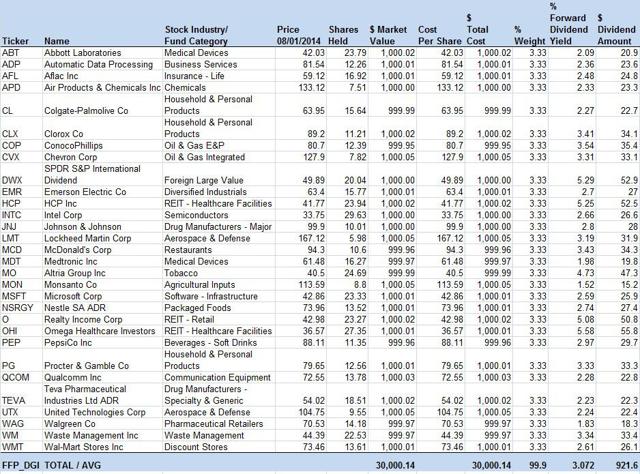 So here we go, we have formally launched our Passive-DGI portfolio. Every three months, I will review the positions and monitor & compare our dividend growth and overall returns with S&P500 (NYSEARCA:SPY) as well as the S&P dividend ETF (NYSEARCA:SDY). Though our main goal is dividend growth and income and we would not be overly concerned with beating the market from year to year, but over the long term, it may still be a good idea to compare the overall returns with market indexes.
What I am going to review periodically
I plan to provide a periodic review of the portfolio. The review will have four main sections:
[A] Dividend Growth and Income report
I will categorize each of the 30 positions in the following manner:
Symbol
DYC (Div Yield on Cost) as on current date
DYC (Div Yield on Cost) at the time of Initial purchase
Div Amt expected to be recd during the current year (full year)
Div Amt received during the previous year
Position Status **

Green/

Yellow/

Red

Reason for YELLOW or RED status
** GREEN status would mean that the position is moving as planned and still meets the DGI goals. Continue to hold.
YELLOW status means the position is under review and will be on watch
RED status would mean that the position no longer suits the portfolio and it will be actively considered for SELL and Replace.
Ideally, we would want all our 30 positions are in GREEN status, but that won't happen all the time. A few positions, especially under the YELLOW or RED status may be reviewed in detail as to why they may be a candidate to Sell/Replace.
[B] Transactions
This being a Passive DGI portfolio, we expect few transactions other than our pre-targeted purchases as per the schedule outlined before. Nevertheless, this section will provide all the transactions for the review period.
At this time, we do not have any transactions except the initial purchases made at the close prices of August 1st, in all the 30 positions. The list of transactions made on 08/01/2014 can be seen here.
[C] Individual Stock review
This will not cover all 30 stocks and will be provided for a stock that has some significant developments going on that may have an impact on our portfolio.
[D] Portfolio Summary
This section will provide an overview of portfolio growth and comparison with broad market indexes or benchmarks. Though the major goal of this portfolio is Dividend Growth and Income, we would still want to compare the overall returns in comparison to market indexes like S&P500.
Concluding Remarks
This is a work in progress. Today's article was meant to report the formal launch of the portfolio and lay the foundation/structure for the future. I know that after several years of a bull market, there is a widespread fear that the bull market may have run its course. This belief is also strengthened by the fact that valuations for most companies are a bit stretched and it is difficult to buy good companies at reasonable prices. To mitigate this risk, however, our portfolio will adopt dual strategies, i.e., Buy & Hold and Dollar Cost Average. Though 37% of the contribution amount will be invested within the first 180 days, we are assuming that our investor will be saving and contributing the balance 63% over the next 10 years.
For this portfolio, the basic premise is that the performance and goals of this portfolio would not be dependent on market-timing, but on investing in a set of carefully selected solid dividend paying companies and sticking to a well thought out plan through thick and thin and without fear or greed. During the next 10 years, we do not know how the markets will perform. We may have some good, bad or even ugly times in the next 10 years, but our goal will be to generate a consistently growing income without unduly worrying about the total returns from year to year. Let's begin the journey.
Full Disclaimer: The information presented in this article is for information purpose only and in no way should be construed as financial advice or recommendation to buy or sell any stock. Every effort has been made to present the data/information accurately, however the author does not claim for 100% accuracy. The stock portfolio presented here is a virtual portfolio for demonstration purpose, however the author holds many of the same stocks in his personal portfolio.
Disclosure: The author is long ABT, ADM, CL, CLX, COP, INTC, JNJ, MCD, MSFT, NSRGY, O, PG, WAG, WMT. The author wrote this article themselves, and it expresses their own opinions. The author is not receiving compensation for it (other than from Seeking Alpha). The author has no business relationship with any company whose stock is mentioned in this article.
Editor's Note: This article discusses one or more securities that do not trade on a major U.S. exchange. Please be aware of the risks associated with these stocks.