When the US housing bubble popped, Canada also saw a slight turndown in their housing prices, and rightly so. Canada has many of the same problems that the US had when it comes to the housing market. However, whereas the US saw property prices stay down until recently, Canada stayed on the trend and has left old highs in the dust.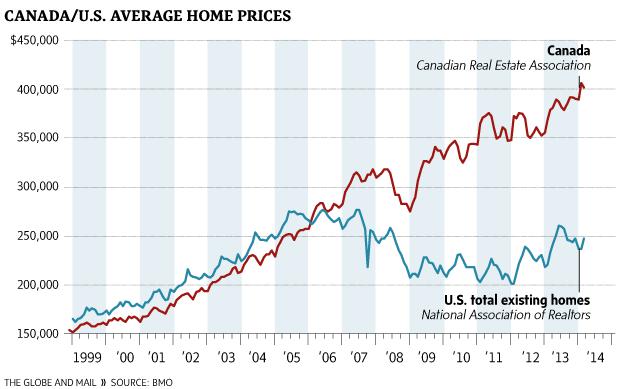 Source: The Globe and Mail
However, home prices alone do not tell us the whole story. Housing prices tend to follow incomes quite closely, so how has this relationship changed in the past two decades?
Prices Relative to Income
Much like what has happened in the US, in Canada, we see a large divergence between incomes and home prices starting in the 2000s.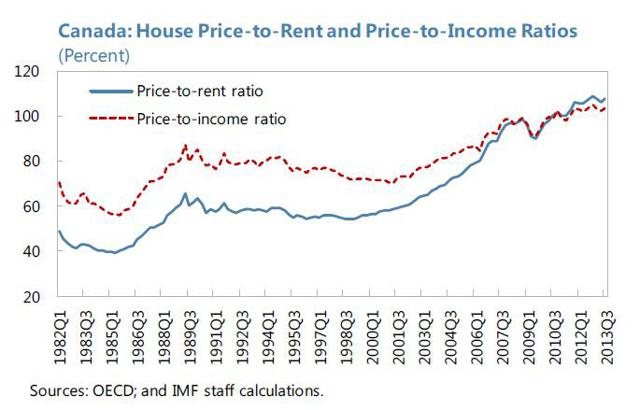 Source: Toronto Condo Bubble
However, unlike in the US, we do not see much of a correction in the latter half of the last decade. In the US, between 2008 and 2012-2013 home prices were closer to historical trends relative to median household income. Only recently have US prices started to see a significant rebound. In Canada, however, there is a brief dip and continuing rise, such that home prices relative to income are at their highest level since at least the 1980s.
Mortgage payments, currently, are affordable, but that is due to a low interest rate environment. However, as I showed recently, rates are set to rise, and once that happens, mortgage affordability tanks, taking home prices along with it.
While I believe this to be a death blow for Canada's housing market, there are more data to highlight how seriously vulnerable this market is to a downturn.
Construction Statistics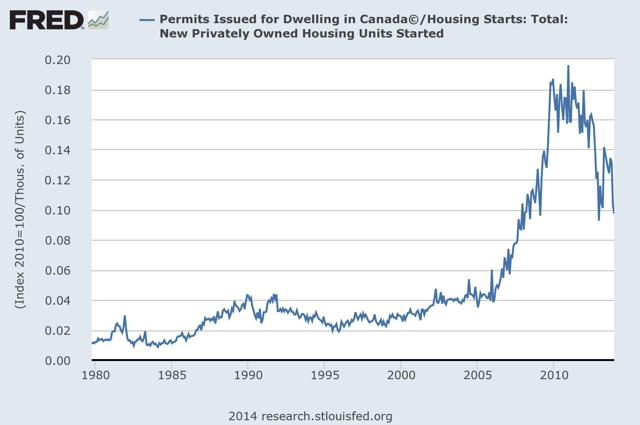 Between 1980 and 2006, we see a relatively steady trend in construction between Canada and the United States. There was a relative increase in Canada in the early '90s and also in the early 2000s, but those are these are nothing compared to what happened when the US housing bubble popped. At that point, Canadian construction soared relative to US construction. Yes, much of this is due to a large slowdown in US construction, but is there any reason why Canada should not have seen the same correction? Home prices were also seriously overvalued in Canada, but construction never stopped, nor did prices ever really come down.
How to Respond
With the case against Canada's real estate market quite solidified, how does an individual investor take advantage? Much like what happened in the US, when home prices fall, banks holding mortgages will be left seriously vulnerable. For instance, between August 16, 2006 and August 16, 2008, Bank of America (NYSE:BAC) saw share prices fall 75%. Citigroup (NYSE:C) fell 61%. Can we expect similar results for Canadian banks?
I have included a few quotes from equity analyst Dan Werner concerning Canadian banks.
[A]ll the Canadian banks, well at least the top five, have [on average] 55% of their loans in residential mortgages.

If you look at CIBC and compare their mortgage book to their overall tangible capital levels, it's almost 900%. If you look at the uninsured portion, the portion that's not insured by the CMHC, it is still over 250% for CIBC as well as for Royal. So, there is still some significant exposure by the banks to residential mortgages.

You know there is constant press about the inflated housing in Canada. The International Monetary Fund has come out and said yes - their economists have said that housing is inflated in Canada. Maybe not to the extent of that other, but they say it's overpriced by about 10%. Then you have the Organization of Economic and Cooperative Development, the OECD and their economists have come out and said that it's overpriced by 30%.

I think it depends upon who you talk to, what their opinions are and what kind of model assumptions that they have. But the general conclusion is that it is overpriced.
With these quotes concerning specific Canadian banks and the general information for Canadian housing that I have provided, I am fully convinced that now is the time to short Canadian banks. In particular, I have initiated a put option against Royal Bank of Canada (NYSE:RY) with an expiration in January of 2016. The put options that I have purchased are slightly out of the money. I usually prefer deep in the money options, but I am convinced that RY is due for a steep correction and soon, such that I wanted to get more leverage by going slightly out of the money.
RY has been up significantly over the past few years, and has been a steady performer with a dividend currently standing at 3.8%. Normally, this is the type of company that I would love to DRiP, but with the massive exposure to the housing market I feel that this company is set for large losses. During the 2008 crash, the value of RY fell about 60% (though it recovered very quickly). If this happens again, my put option will easily be in the money, though I am not convinced that RY will be able to recuperate as it did during the last financial crisis, as rising rates will finally clear the housing market for the foreseeable future.
Disclosure: The author is short RY. The author wrote this article themselves, and it expresses their own opinions. The author is not receiving compensation for it (other than from Seeking Alpha). The author has no business relationship with any company whose stock is mentioned in this article.