Seeking Alpha founder and CEO, David Jackson, published a great piece last week talking about short sellers and Seeking Alpha. His piece, which you can read here, went into detail about why Seeking Alpha allows pseudonyms and why they allow short sellers to publish multiple articles on the same topic.
The reason, in theory, is actually really simple: despite what millions of anti-short investors tell you, there's no difference between short sellers publishing 100 articles on an equity claiming it's a short than long investors publishing 100 articles on an equity claiming it's going to rise in value.
It's as if when you're not touting or talking up buying a name, you're expected to simply shut up about it. Short sellers that write on Seeking Alpha often get comments like, "if you didn't have anything good to say about (horrible equity), why even take the time to publish this piece filled with half-truths and lies?"
Statements like that are par for the course.
Except, most of the time - barring examples that you could also find on the long side - they're not half-truths, nor are they lies. In the case of extremely well respected short sellers like Citron Research, the Geo Team, and Muddy Waters, the due diligence done before publishing something is usually worlds beyond what most people put into their long analyses of companies. Now, scroll down to the comments of this very article to see what I meant.
There will likely be zero people eager to point out that since 2001, more than 50 companies covered by Citron Research have become targets of regulatory interventions. Here's a small taste of what someone like Mr. Left has done to tidy up areas of the market that the SEC simply doesn't have time to police 24/7.
(Source wikipedia - read the full list here)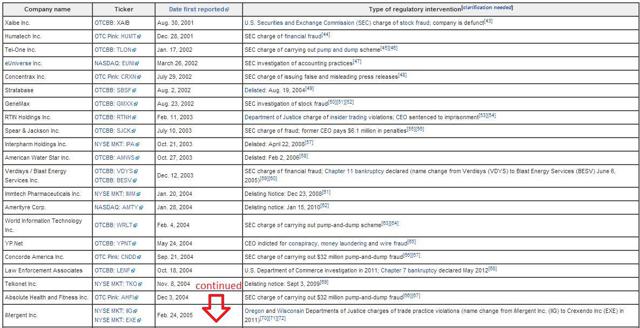 The numbers stack up higher when you throw boutique research firms like Muddy Waters and GeoInvesting into the mix. And, if you ask the SEC - at least the people I've spoken with - they'll agree that short sellers' purposes in pointing out fraud is extremely helpful to regulators.
Obviously, there are many fundamental reasons why short selling is important:
1. First, let's look at it from a Darwinist market sentiment. The market is capable of going two ways, up and down. The numbers of the economy and of the individual companies drive which way the numbers are going to go. If they go up, a lot of people make money. But, if you recognize an economic slowdown or stunted growth in a company, should you not be allowed to find benefit in the research that drew you to those conclusions?
The market is very Darwinist - the smart and strong survive and can position themselves accordingly, the rest are carried off in whatever economic slowdown comes next, only to try and evolve and start over during the next upturn. Banks and big companies get a pass because of politics - if you're not sharp enough to be able to position yourself accordingly during slowdowns, these companies are literally just taking the public's money for themselves as the average retail investor gets fleeced.
In an economic crisis, the markets then simply become a vehicle for transferring your money to people that know how the "game is played".
2. Secondly, let's look at fraudulent companies.
Short sellers are like the spiders of your household. Sometimes, you let them go without killing them because you know they're going to be killing other, smaller insects that don't belong roaming around your house. Short sellers are like the constant dragnet being pulled over the market from an "on the ground" perspective - doing research the SEC doesn't have the time or the funding to do, and raising issues to regulators that they may not have noticed themselves.
Short sellers are absolutely instrumental in pointing out fraudulent companies and they keep institutions and public corporations healthily aware of the scrutiny they are under when they choose to become a public entity. It's fun being public - insiders usually make a massive sum of money and sometimes the shareholders can take a ride with them. The cost of being public is being subjected to the ongoing scrutiny of your required public disclosures.
A good CEO, playing by the rules, supports short sellers because he/she knows they're valuable. Sometimes they even offer valuable insight to companies that they can use - very similar to activist shareholders. Companies that know they're acting in a questionable manner often get combative and ad hominem with short sellers, leading the American public to believe that the corporations are the "good" party and that the short sellers are the "evil, Un-American" party. The funny thing is that usually when a company goes ad hominem, it's just the opposite.
3. Lest we forget companies that are simply overvalued - short sellers do a great job pointing out stocks where the market has become too speculative and has put too big of a multiple on stocks that are risk laden.
Even if you don't invest short, short sellers could be crucial in pointing out reasons to keep you out of long investments.
The issue is that when you're long a company, in the general consensus, you're innocent until your case is proven guilty. If you're short, you're automatically guilty until you can prove your innocence through the stock moving the way you want. Even then, people will reject your short thesis, just because it's a short thesis.
Short selling is seen as un-American the same way that betting the "Don't Pass" line at the Craps table is seen as going against the whole table. Sure, the odds of the dice rolling a seven on any given roll may be exponentially higher than rolling any other number, but when someone bets "Don't Pass" (in which the payouts are adjusted so the house STILL wins), they're seen as the jerk at the table. I've bet "Don't Pass" before when a table was cold - you get glares and stares from those at the table betting "Pass".
So it's a 100% legal move to make, you place the dice odds in your favor for the moment, and all of a sudden everyone at the table can think only about smashing their Heineken Light bottles on your head.
I guess that's the price you pay for going against the grain. This is where I'd insert corny philosophical quotes about standing your ground and going against the status quo - but, you know why that's important and you know why it's led so many people to greatness.
At the end of the day, you have to ask yourself - are you here to appease the masses and make friends, or are you here to stick to your convictions and research, and then hope to profit from it?
Short selling is slightly more confusing than buying and holding, which makes it an everyday tool for far less people than buying and going long. The worst part is that there's a faction of people that take personal offense to short sellers, instead of embracing the role that they play.
It's amazing that in the case of massively fraudulent companies, that sometimes short sellers that blow the whistle are often cast in a terrible light. The facts that they present get tossed out the window solely because they're a short seller. Company has blatantly cooked the books! "Yeah, well, he's biased! They passed their audit!" Company claims a rail spur has been transporting oil every day but pictures from China show it hasn't been opened in years! "Yeah, well, maybe they built another rail spur!". It's amazing how much people want to believe. The mental gymnastics I've seen some investors perform could win gold at the next Olympic games. It would be an interesting psychological experiment to see what keeps people in some stocks after shorts have come out and presented massive evidence to the contrary.
If you want proof of this, pick any company that's been bankrupted or shut down for fraud and go back and read the message boards and articles about it right before it collapsed. You'll see exactly what I'm talking about.
Surely, if a long in a company came out and said that he/she discovered a company had an additional $10 billion in the bank it didn't know about it, it would get some traction with longs. Shorts would likely even take notice and be a bit quicker to cover. It's not the same when you're trying to expose a fraud.
In fact, you could make an argument that you need to be able to position short in order to be an investor that's making money all of the time. Sure, if you spread out the timetable long enough, buy and hold may be a sound strategy - I don't contest that, but how do you find alpha when the market has just started to crash and before the point that equities are cheap enough for you to dig in and start loading long again?
There is usually a bargain somewhere from the long side all the time, but why would you limit yourself from all of the tools put at your disposal in order to make money? The sooner you embrace going short as a potential option in combination with going long, or using something like puts as a hedge, you're putting yourself at a major disadvantage.
Short selling, as an act, is a fantastic way to stay hedged. In a previous piece I argued that even in the most bullish of markets, you should at least allocate a small part of your portfolio to "fundamental" shorts - companies that will collapse no matter what the macro economic climate is.
And you know what? Short sellers sometimes do get things wrong. That's the case where you do see someone get carried out of a position during a squeeze. And it's also the reason that short sellers take on infinite risk with limited upside (100%) when they do sell stock short.
This comes from someone who is mostly a long investor, as well. I love to go long great names that I believe are going higher. I'm in no way a "short only" investor. Longs can do just as much fantastic due diligence as shorts on names - that's what makes a market.
Remember - being a public company is a privilege, not a right. Corporations need to be looked at from both sides of the coin at all times. Remember - going short carries substantial risk, requiring short sellers to be that much more convicted to their position.
It's time we embrace short sellers - they're not the bad guys.
Disclosure: The author has no positions in any stocks mentioned, and no plans to initiate any positions within the next 72 hours. The author wrote this article themselves, and it expresses their own opinions. The author is not receiving compensation for it (other than from Seeking Alpha). The author has no business relationship with any company whose stock is mentioned in this article.