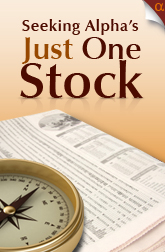 Several times a week, Seeking Alpha's Jason Aycock asks money managers about their single highest-conviction position - what they would own (or short) if they could choose just one stock or ETF.
---
[Editor's note: Jason Aycock is going on vacation, but will return with more Just One Stock and Just One ETF interviews the week of Nov. 29.]
Richard Hanlon is co-founder and managing member of Glenville Capital Management, a general partner of long/short investment partnership Glenville Capital Partners. Prior to Glenville's founding, he worked as managing director at Silvercrest Asset Management Group and as a director at Credit Suisse Asset Management.
If you could only hold one stock position in your portfolio (long or short), what would it be?
United Online (NASDAQ:UNTD), which operates under three distinct business segments.
By revenues, the largest is FTD Inc. FTD markets flowers and specialty gift items primarily through its online sites FTD.com and Interflora.co.uk in Great Britain. FTD also offers products and services to its member florists to capture online order flow. FTD's Mercury Man logo is a widely recognized global brand.
Next is Classmates Media, an operator of the online social network site Classmates.com and the online loyalty marketing services site MyPoints.com. Finally, UNTD's legacy business is the Communications segment. This segment offers dial-up Internet access under the NetZero and Juno brand names, along with other services like DSL, e-mail, Internet security, and web hosting.
How does your choice reflect your investment approach? Tell us a little about your approach and goals.
Valuation is paramount in our investment approach. At current prices [UNTD closed Thursday at $6.58] the stock is trading at 5x our estimate of 2010 free cash flow. The shares are similarly cheap at 4.7x enterprise value to EBITDA. These are our two primary valuation tools in looking at nonfinancial stocks. The current dividend is $0.40 per share, giving the stock a dividend yield of about 6%. This payout amounts to 30% of current-year free cash flow, and is easily sustainable.
For candidates meeting our valuation hurdles, we do an in-depth analysis of the balance sheet to gauge financial leverage risk and to gain a better understanding of the business model. We are leery of indebted companies, and so we look at levels of debt net of cash in relation to sustainable cash flow. We also look at asset and liability composition, looking to avoid capital intensity in favor of negative working capital models that tend to generate excess cash flow.
United Online's balance sheet has a modest level of net debt that amounts to about one year of pretax cash flow, and typically operates with negative working capital. With no material debt maturities until 2014, and our projection that the company will be in a net cash position sometime in 2013, we are very comfortable with the liquidity profile here. In the most recent quarter management repurchased about 2.5% of the outstanding shares - the first buybacks in five years - signaling their comfort with debt levels and future cash flow prospects. Our modeling of cash flows, growth, and our expectation that the shares are more fairly valued at 9x free cash flow, yields annualized return expectations for the stock of more than 30% from current prices.
How much is your selection based on United Online's industry, as opposed to a pure bottom-up pick?
In the case of United Online, there are really three industries to analyze. First is the online floral/florist industry. Next is the entire Internet social network industry. And third is the broad Internet access industry.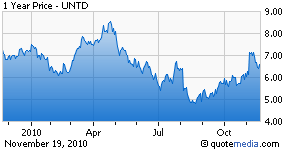 Our analysis of the industry or industries a company competes in is a very important part of our investment process. Like others, we use Porter's Competitive Framework as a guide to understanding industry dynamics. What we look to avoid are companies with catastrophic risks typically coming from some form of government regulation or rapid product obsolescence. Once we've determined the industry-level risks and are comfortable with them, we base our decisions wholly on a bottom-up analysis of a company's prospects given industry dynamics and company-specific characteristics.
Specific to the industries UNTD competes in, we do see secular decline in communications that is predictable, driven mostly by the obsolescence of slow-speed dial-up Internet access. Having said that, there is a very large segment of the U.S. population that can neither afford broadband, or has no access to it, so we don't think this business declines to zero over our investment horizon. For online retail and social networks we see significant growth prospects ahead and we think UNTD has decent to very good assets in those spaces.
Describe the company's competitive environment. How is UNTD positioned with regard to competitors?
In all three segments United Online faces tough competition. FTD's largest competitors are 1-800-Flowers.com (NASDAQ:FLWS) and ProFlowers.com, but we also would include alternative channels for flower sales, like grocery stores and discount club retailers. 1-800-Flowers.com is a public company and therefore gives us good comparative data to judge FTD. Since UNTD's purchase of FTD in 2008, they have had significantly better order trends than FLWS and have delivered much better value to their florist network. ProFlowers.com is part of the Liberty Media (LINTA) empire and its results are not broken out publicly.
For Classmates.com, there are no meaningful direct competitors in the space. But we view other social networks like Facebook and Ancestry.com as properties to look at for industry trends. We would also mention sites like Groupon.com that fit into the loyalty marketing space as competitors for MyPoints. We think the move to improve nostalgia content on Classmates.com is very smart because it will drive subscriber growth and it has the potential to drive growth from other revenue sources like the sale of certain content through links on the site.
For communications, the biggest competitors are Earthlink (NASDAQ:ELNK) and AOL (NYSE:AOL). Both are showing similar declines in net subscribers in their respective dial-up businesses.
How does the stock's valuation compare to its competitors?
When we do a blended valuation for UNTD we come up with a stock that is worth more than $9 per share on current-year cash flow estimates. To arrive at that valuation, we assign EBITDA multiples of 8x for FTD, 7x for Classmates, and 3x for Communications, and then subtract out roughly $2.20 per share of net debt.
You've mentioned their liquidity position going forward based on cash flow models, but their free cash flow has been on the decline this year. Where do you see that going forward, and how does UNTD improve it?
UNTD's free cash flow decline has come entirely from lower GAAP net income. In early 2010, the company decided to terminate all of its post-transaction marketing arrangements across the three operating segments. These were advertising arrangements with third parties for offers presented after a consumer completed a purchase on one of UNTD's websites.
This practice came under intense political scrutiny late in 2009, and management felt it prudent to terminate the practice. UNTD's estimate for lost revenues was about $25 million at virtually 100% incremental margin, meaning that they would be losing almost $25 million of operating profit in 2010 versus 2009, right out of the gate. After tax, we assume this source of lost revenue and profits will account for approximately 80% of the year-over-year decline in free cash flow we are forecasting this year. It's a one-time event and will not recur.
We are forecasting modest growth in free cash flow in 2011 and beyond, mostly coming from revenue and profit growth at Classmates Media and FTD, without the need for incremental capital investments to fund the growth.
Does your view differ from the consensus sentiment on United Online?
Current sentiment on the stock is negative largely because both the Classmates Media and Communications segments are experiencing declining revenues. In the case of the Communications segment, where the majority of revenues come from the dial-up service providers NetZero and Juno, the industry is in secular decline. As pricing for broadband alternatives has come down, demand for the slower dial-up service has fallen. We expect this trend to continue throughout our investment horizon.
The good news is, while revenues are in secular decline, the company is managing the business for cash flow and has done an excellent job. Operating margins in the segment are healthy above the 30% level and we expect them to remain at or close to these levels for the next several years.
At the same time, management is doing a complete overhaul of the Classmates.com website in an attempt to make it a leading nostalgia-based social network. Adding attractive content is key to the effort, and their first program involves digitizing yearbooks and making them available for viewing or purchase on the site. While the overhaul is in full swing, they have pulled back on advertising and marketing spending aimed at signing up new subscribers. This has hurt top-line growth over the last several quarters and has gotten most of the attention from analysts and investors.
Our view does differ from the consensus because we have already factored in a secular decline in communications and believe the refresh at Classmates will be successful in driving renewed revenue growth, not only from new subscribers but also from new sources of revenue on the site tied to the enhanced content.
What catalysts, near-term or long-term, could move the stock significantly?
Starting with the first quarter of 2011 management has indicated the first major updates to Classmates.com will be largely complete and they will begin advertising to drive new subscriber growth. We should also see some top-line growth from new revenue sources on the website. At FTD, we believe revenue growth and operating margin expansion will begin again starting in the first quarter of 2011. Since purchasing the business, much of the marketing and operational improvements at FTD have been masked by a nasty consumer recession and we see those headwinds dying down a bit next year.
Longer term, we think management believes there is greater value to Classmates Media as a standalone entity, creating the possibility of spin-offs or even an IPO. Just three years ago UNTD came close to an IPO of Classmates before the equity markets declined. With the redesigned website, we believe the property is worth more today than three years ago. And then within Classmates Media they have MyPoints, a business that isn't directly linked to Classmates in any way. MyPoints is an asset that could be monetized as well, particularly as larger success stories like Groupon.com get more exposure.
What could go wrong with your pick?
One key element of our investment process is downside risk assessment. The primary risk to this stock is if management can't get Classmates Media growing again. If this effort fails, we think the secular growth in FTD will not be enough to offset the declines in both Communications and Classmates Media.
However, if that were to happen, we think the worst we will do is a flat stock price with a 6% annual dividend yield, because the valuation already reflects this outcome to a large degree. We also note that each year management pays down debt with excess cash flow, more of the enterprise value accretes to the equity holders.
Thanks, Richard, for sharing your thesis with us.
Disclosure: Long UNTD.
Read more Just One Stock interviews »
If you are a fund manager and interested in doing an interview with us on just one stock or ETF position you'd hold, please email us at Just One Stock.